Friday, August 7th 2020, 5:40 pm - Drastic warming due to climate change is causing widespread melting even in Canada's Far North.
The Milne Ice Shelf on Nunavut's Ellesmere Island, said to be the last intact shelf in Canada, has collapsed, according to observers.
The Canadian Ice Service announced the collapse over the past weekend on Twitter, saying the shelf had lost more than 40 per cent of its volume after it calved an enormous ice island around 79 km² in area.
"Above normal air temperatures, offshore winds and open water in front of the ice shelf are all part of the recipe for ice shelf break up," the service said.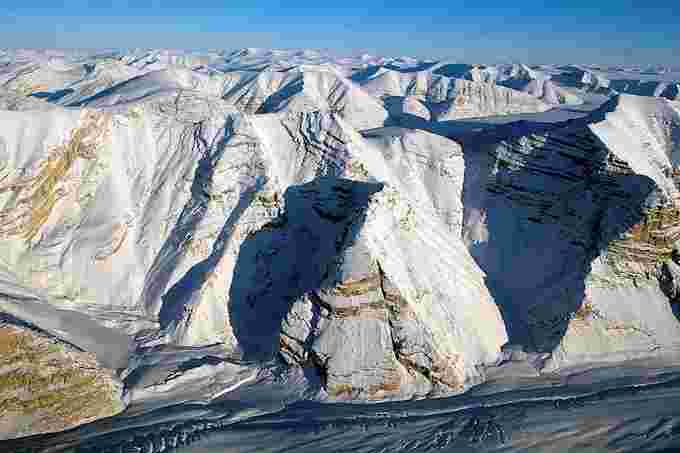 Glaciers on Ellesmere Island seen during the Apr. 1, 2014, IceBridge survey flight. Credit: NASA / Michael Studinger
Carleton University's Water and Ice Research Laboratory (WIRL) confirmed the breakup happened at the end of July, and the new island had since broken in two, likely 70-80 metres thick. Moreover, pre-existing fractures on what was left of the ice shelf made further fragmenting more likely.
WIRL says the Milne Ice Shelf is one of the last vestiges of a single ice shelf that covered 8,600 km² of the northern Ellesmere coast at the beginning of the 1900s. By 2000, it had been reduced to six rump shelves covering less than an eighth of that area, with periodic major breakups over the past two decades.
Luke Copland, University Research Chair in Glaciology in the Department of Geography at the University of Ottawa, explicitly drew a line between the decline of the ice shelves, and climate change.
"This summer has been up to 5°C warmer than the average over the period from 1981 to 2010, and the region has been warming at two to three times the global rate," Copland said in a release from WIRL. "The Milne and other ice shelves in Canada are simply not viable any longer and will disappear in the coming decades."
The Milne Ice Shelf is the northwest of remote Ellesmere Island, Canada's northern-most island. The island is home to fewer than 200 people, divided between the civilian community of Grise Fiord, the research base at Eureka, and Canadian Forces Station Alert, which is the most northern permanently inhabited place on Earth.
Ellesmere Island has been in the news already in recent days, making headlines when satellite imagery confirmed that two ice caps in the island's northeast, likely dating back to the Little Ice Age, had completely melted.
Top Photo Credit: Eureka Sound on Ellesmere Island seen during the Mar. 25, 2014, IceBridge flight. Photo Credit: NASA / Michael Studinger
WATCH BELOW: CANADA'S PERMAFROST IS MELTING FAR FASTER THAN ANTICIPATED