Thursday, January 6th 2022, 7:00 pm - A full-fledged nor'easter will slam into Atlantic Canada to end this first full week of January. The system's heavy snow and high winds could create blizzard conditions in many areas.
A fast-moving system brought some snow to northern Newfoundland and New Brunswick Thursday, but that was just a tee-up for a more powerful nor'easter that will bring its full force to the Atlantic region Friday into Saturday. Heavy snow in the 20-50 cm range is likely, along with very strong wind gusts as this system's pressure drops rapidly enough to qualify as a 'weather bomb.' More on what to expect with this first major storm of 2022, below.
FRIDAY INTO SATURDAY: POTENT NOR'EASTER ARRIVES
The opening act of the messy latter half of this week is in the rearview mirror: a quick system that traversed the northern parts of New Brunswick and Newfoundland Thursday, bringing snow to those areas but largely "nuisance rain" elsewhere.
The next system approaches Friday, and it will be a far more extensive hit – a nor'easter with strong upper-level winds. The system will likely qualify as a 'weather bomb', a term given to low-pressure centres that rapidly deepen their central minimum pressure in a short period of time.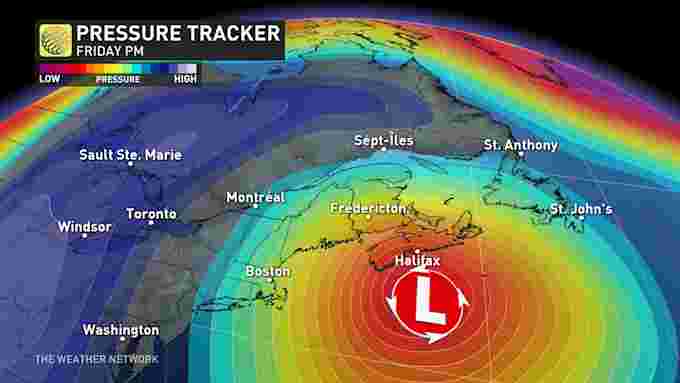 MUST SEE: 'Weather bombs' are explosive storms that create ferocious conditions
This swift intensification will allow the storm to produce fierce winds and heavy snowfall rates as the system spreads over the Maritimes.
Snow will likely begin in southern Nova Scotia and along the Fundy shores early Friday, gradually spreading across the rest of the Maritime province through the day on Friday.
Conditions will worsen on Friday night with heavy snow and high winds across the region, likely lasting into the day on Saturday before tapering off from south to north.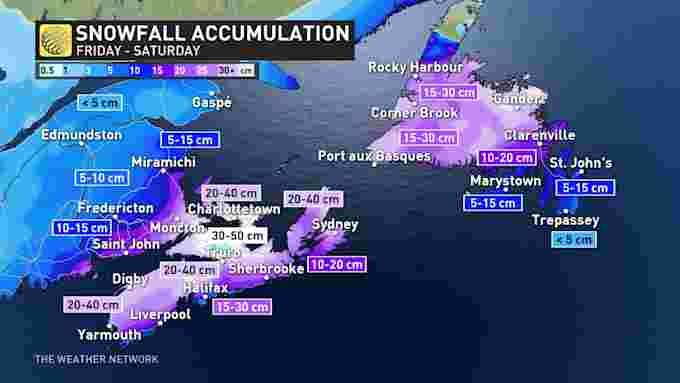 The precise track of the system will determine where the heaviest bands of snow set up, but storm totals of 20-50 cm are possible through Saturday. This is one to watch for Halifax, Moncton, Saint John, Fredericton, and Charlottetown.
As mentioned, one major feature of weather bomb systems is powerful winds, and indeed, wind gusts of 80-100+ km/h are likely across coastal areas along the path of the storm through Atlantic Canada, especially in coastal Nova Scotia and the western and northern coasts of Newfoundland.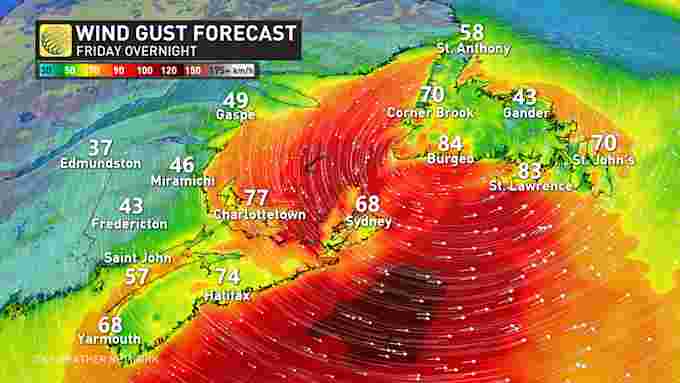 A period of blizzard conditions is likely during the height of the storm in Nova Scotia, southern New Brunswick, Prince Edward Island, and the western and northern coasts of Newfoundland as the stiff winds and heavy snow significantly reduce visibility. Drivers are urged to consider postponing any non-essential travel during this event.
WATCH BELOW: A 'WEATHER BOMB' IS HEADED FOR ATLANTIC CANADA, BUT WHAT EXACTLY IS IT?
BEYOND: THE COLDEST AIR OF THE SEASON MOVES IN
Northwesterly winds behind the snowstorm will allow frigid air to flood across the Maritimes to end the weekend. Temperatures on Saturday will plummet to the double-digits below zero, with overnight lows near -20°C possible in northern New Brunswick.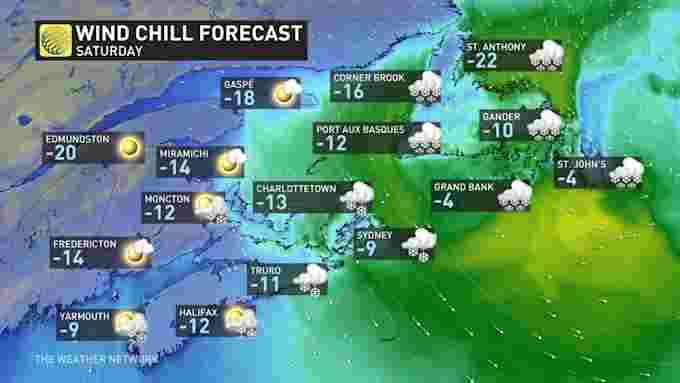 A major pattern flip across Canada will allow the frigid air to finally relent across Western Canada and begin shuffling toward the eastern half of the country. This will allow very cold air to filter into the eastern provinces, reaching Atlantic Canada next week.
Daytime highs could struggle to climb out of the minus-double-digits with dangerously cold wind chill values in many spots for several days next week. Active weather could accompany the colder air, leading to opportunities for additional snow across the region.
STAY SAFE: PREPARE FOR HIGH WINDS AND POWER OUTAGES
The impending nor'easter will bring high winds that could cause damage, especially to trees and power lines. Make sure to secure or remove any loose objects that could blow around during the storm. Remain mindful of trees and tree limbs that could fall during the storm.
The combination of heavy snow and high winds could lead to power outages heading into this weekend. It's a good idea to prepare now for potential power outages.
Make sure you have ready-to-eat food if you can't cook during a power outage. Charge up mobile devices before the storm arrives and keep a rechargeable battery pack on hand to juice up your device when needed. Dig out flashlights and fresh batteries so you don't have to strain your cell phone battery looking around in the dark.
WATCH NOW: NOR'EASTER APPROACHES ATLANTIC CANADA, HALIFAX ASKED TO PREPARE AHEAD
Stay tuned to The Weather Network for the latest on the approaching nor'easter.