Wednesday, May 18th 2022, 10:37 am - Alberta will be a tale of two seasons this week, with the risk of thunderstorms Wednesday but will then jump right back into winter by Thursday -- with the threat of snow for southern areas.
Alberta has seen a tumultuous spring so far, a trend that looks to continue this week. A pair of low-pressure systems that will eventually merge into one will offer up a buffet of spring and wintry weather -- starting off with thunderstorm risk Wednesday followed by a threat of snow Thursday, potentially seeping into populated centres such as Calgary. More on the timing and possible impacts of the systems this week, below.
---
DON'T MISS: 6 long weekend must-haves for parks, picnics and camping
---
THIS WEEK: FROM THUNDERSTORM TO SNOW AS SEASONS SWING BACK AND FORTH
It's been a drier than usual spring for southern Alberta, but finally some much-needed rain is on the way this week, along with some not-so-needed snow for some areas.
A low pressure will develop over central Alberta Wednesday, bringing the chance of thunderstorms to the region and southern areas in the afternoon and evening. The risk will extend for areas along the foothills and north of Calgary, and south of Edmonton, with another pocket at the top end of the province.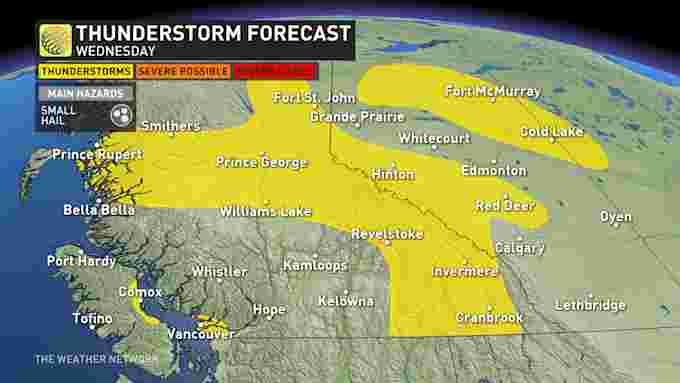 Also on Wednesday, the battle of Alberta will commence during the second round of the NHL playoffs, pitting the Edmonton Oilers against the Calgary Flames.
Game 1 will take place on a day that will also feature a battle of air masses of sorts between the two cities, with colder air in Edmonton while Calgary will be a few degrees warmer during the day.
West of the two will be Banff, which will sit at the freezing mark with the chance of a rain-snow mix.
The system will then will track southeast and merge with another low developing south of the border. This will bring widespread rain and wet snow across the southern Prairies Thursday. Precipitation totals will be well short of what is needed across southern Alberta but 10-20 mm is a good start. Areas in northern Alberta may see 15-30 mm through Friday.
Meanwhile, heavy wet snow is expected for the southern and central Rockies, with forecasters watching the potential for significant snow extending closer into the Calgary area once again. Much higher amounts are possible for the Kananaskis Valley, Canmore, Banff and Jasper area.
Needless to say, travel will be impacted in regions that do see the snowfall.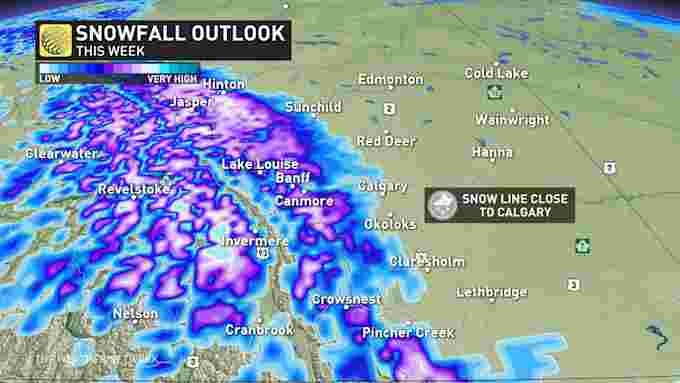 As well, a blast of very chilly air is expected late week as unusually cold air from the Arctic will plunge south across the Prairies. Temperatures on Thursday are forecast to be up to 12°C below seasonal across southern Alberta. Widespread frost and a quick freeze are likely for several nights. Temperatures will recover somewhat Sunday and Monday.
MUST SEE: Spring gives Canada the cold shoulder for the unofficial kick-off to summer
Stay tuned to The Weather Network for the latest updates across Alberta.