Thursday, June 9th 2022, 9:07 pm - Watch out for the potential for flooding across parts of B.C. as an atmospheric river brings heavy rain and rising freezing levels to end the week.
Steady rain that soaked portions of British Columbia on Thursday will continue through the overnight hours for many areas. The rainfall, courtesy of an atmospheric river, will combine with rising freezing levels to lead to a threat for flooding in some areas. Flood watches are in effect. More on what to expect into next week, below.
THROUGH FRIDAY: HEAVY RAIN CONTINUES FOR B.C.
A surge of atmospheric moisture straight from the steamy tropics of southeastern Asia is washing over British Columbia to end the week. This is quite the unusual pattern for June—so unusual, in fact, that the amount of moisture in the atmosphere could set a record for the month of June.
---
RELATED: Canada will introduce a new impact scale for atmospheric rivers
---
Widespread heavy rainfall spread over Vancouver Island and the South Coast during the day on Thursday. This rain will continue through the overnight hours.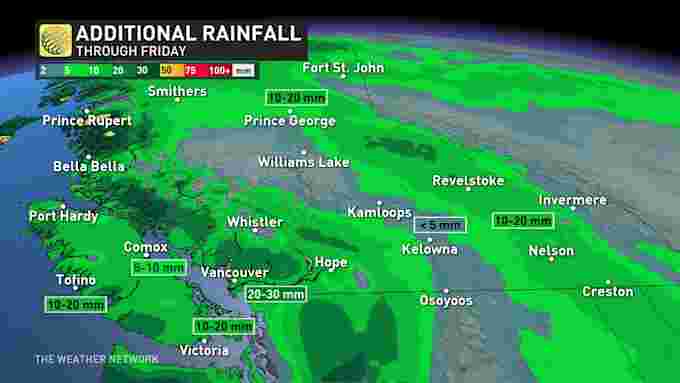 We could see an additional 20-30 mm of rain across the South Coast into the day on Friday, with lower totals expected on eastern Vancouver Island and the Lower Mainland.
The arrival of an atmospheric river means that rising freezing levels are also a concern. Snowpack remains significantly above normal for this time of the year, with snowpack measuring 150-160 percent of normal across the South Coast and Vancouver Island.
The combination of snowmelt and runoff from the steady rainfall could lead to localized flooding issues in some areas.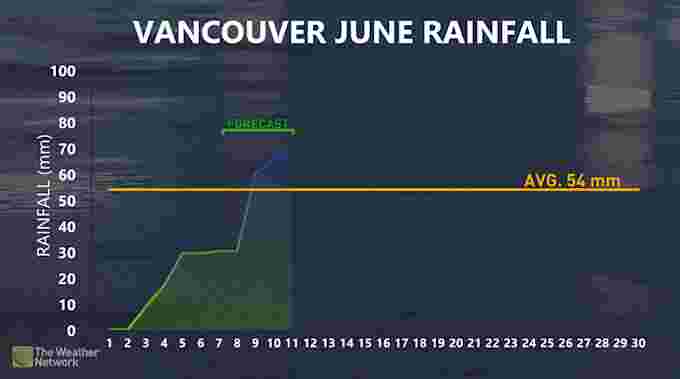 B.C.'s River Forecast Centre issued a high streamflow advisory for the length of the Fraser River from Quesnel to Vancouver. The organization also issued a flood watch for the Dean River below Tanswanket Creek and the Middle Fraser Basin.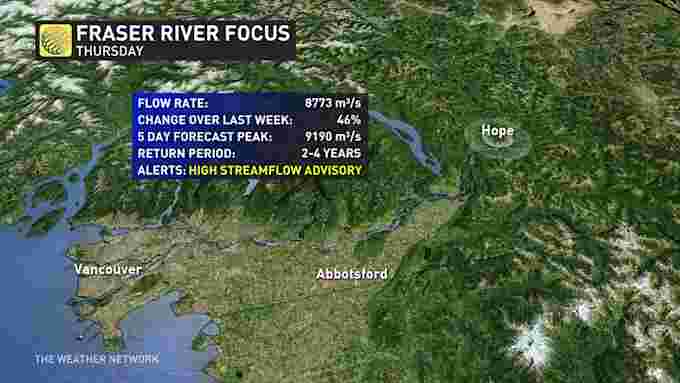 As always, remain mindful of watches, advisories, warnings, and any orders issued by local officials. Never try to drive across a flooded roadway. It's impossible to tell how deep the water is until it's too late, and it only takes a small amount of moving water for a vehicle to lose traction.
WATCH: DELAYED SNOWMELT INCREASES FLOODING RISK ACROSS B.C.
LOOKING AHEAD: UNSETTLED WEATHER CONTINUES INTO NEXT WEEK
We'll see the potential for more showers across coastal sections on Friday as another, weaker disturbance moves through the area.
DON'T MISS: Blame the jet stream: Where in the world is the summer heat?
Don't expect conditions to change much heading into next week. An upper-level low meandering over the Gulf of Alaska will keep conditions unsettled well into next week, leading to periods of showers and temperatures that remain stuck below seasonal.
Stay tuned to The Weather Network for the latest forecast across British Columbia.
WATCH BELOW: B.C.'s SUMMER FORECAST - COULD WE SEE ANOTHER 'HEAT DOME'?