Wednesday, December 23rd 2020, 1:24 pm - Co-housing is becoming an increasingly popular way of life and aims to promote community and sustainability.
Treehouse Village Ecohousing will soon become Atlantic Canada's first co-housing community and will feature 30 private, energy-efficient homes and a shared common house on a 15 acre property in Bridgewater, Nova Scotia. This co-housing community aims to create "a sustainable community designed to reduce our environmental impact" and is designed to "share resources and joy."
Aside from the features that will be in each of the 30 private houses, there is a large communal kitchen, playroom, library, coworking space, fitness area, and a dining room for shared meals.
Using the Passive House standard, the building envelopes are thick and tight with the private homes clustered together as stacked flats in row houses. The stacked units and shared walls are designed to reduce building materials and heating demand. Construction will only take place on a fraction of the property to preserve the forest that currently exists and building materials will be sourced locally when possible.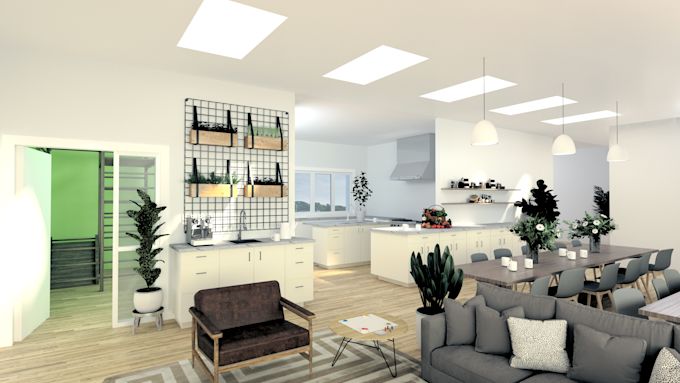 Renderings from inside the Common House. Credit: Treehouse Village Ecohousing
Emma Savage currently lives in Dartmouth with her family of four, but is already signed up and ready to move and says it was an opportunity her family couldn't pass up.
"Thirty households coming together to say hey, how can we live lightly together? All of the sudden, the idea is maybe we are growing food together, maybe we're buying bulk foods and reducing the packaging, maybe we're looking at sharing our cars and having an electric vehicle," explains Savage.
This co-housing community will be a multi-age and multi-generational neighbourhood with half of the homes dedicated to young families and young people, while the others are for inhabitants over 40 or without children at home. Construction is slated for spring of 2021 and there are one, two, and three bedroom homes with prices ranging from $230,000 to $380,000.
Watch the video above to learn more about Treehouse Village Ecohousing and the families that have applied to move in.
Thumbnail credit: Treehouse Village Ecohousing