Wednesday, February 17th 2021, 6:10 pm - As clean-up continues from an early-week snowstorm in Ontario, the next swath of snow is already set to push in.
Bitter cold, heavy snow – it's mid-February, and definitely feeling like it this week in southern Ontario, with the season's so-far strongest storm in the rearview mirror, and another round inbound. Though not as potent as its predecessor, the new system, set to arrive midday Thursday through Friday, will still bring a fair bit of snow, once again enhanced by the lake-effect to bring some substantial amounts to the western shores of Lake Ontario once again. More on the timing of the next snowy blast and where travel conditions may be especially difficult to round out the work week, below.
---
WEATHER HIGHLIGHTS:
Next system for Ontario is set to track south of the border Thursday into Friday
Generally 5-10 cm for the southwest, with lake-effect enhanced amounts of 10-20 cm for parts of the GTA
Snow squall watches in effect for Toronto and Halton and Peel regions
---
THURSDAY INTO FRIDAY: ACTIVE STORM TRACK SOUTH OF THE BORDER PUSHES MOISTURE NORTHWARD FOR ANOTHER SWATH OF SNOW
Though Thursday will start off fair, the stage is set for the next shot of substantial snow, once again coming from a potent U.S. system.
That system, packed with moisture from the Gulf of Mexico, will keep its heaviest impacts in the U.S., but will be substantial enough that significant snow will spill northward into a wide swath of southern Ontario, beginning midday Thursday and lasting into Friday.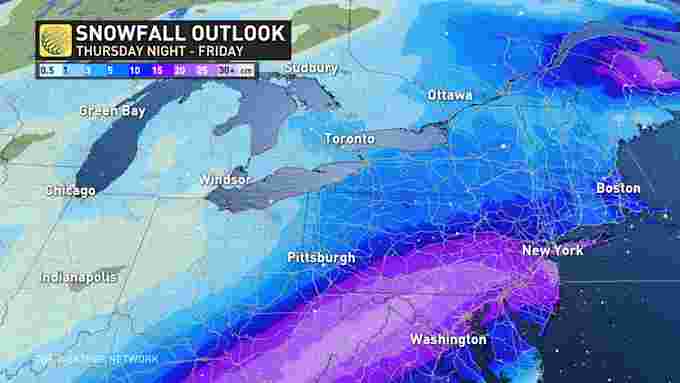 MUST SEE: Texas deep freeze leaves millions without power, 21 dead
In general, this system won't be a repeat of the storm earlier this week. Most of the southwest and much of the GTA will be in the relatively manageable 5-10 cm range, with less than 5 cm for most of eastern Ontario. But it does come at a time when temperatures will still be too frigid for much melting of the last round of snow.
"So even with a few fresh centimetres, this additional snow will only compound the lingering complications from that first storm," Weather Network meteorologist Michael Carter says.
Those same cold temperatures, coupled with some stiff winds, will cause some trouble once again for the western shores of Lake Ontario.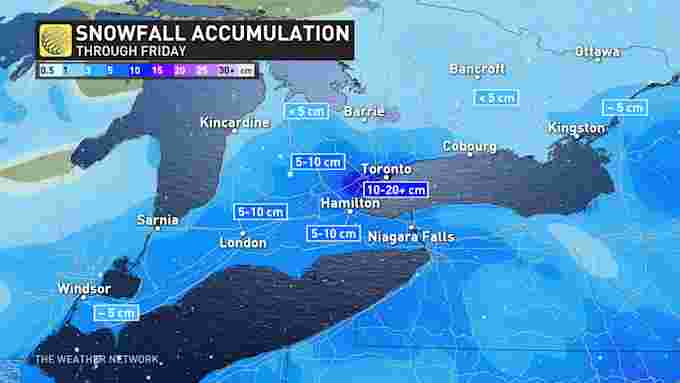 An easterly flow will help set up a band of lake enhanced snow for those areas. Snow squall watches were issued Wednesday afternoon for Peel Region, Halton Region, and the City of Toronto, and the areas where squalls do set up could see higher totals of 10-20 cm and difficult travel conditions, including parts of the QEW corridor.
WEEKEND: IDEAL FOR OUTDOOR WINTER SPORTS
Fair weather and near seasonal temperatures are expected for the weekend, which will make for some ideal conditions for enjoying any outdoor activities.
Another system is expected late Sunday and into Monday, though the exact track is still uncertain at this time. This system does have the potential, however, to bring another 5-10 cm snowfall.
By next week, milder weather is expected to return, with near or slightly above seasonal conditions marking the final week of February.
WATCH BELOW: ONTARIO SKI RESORTS SET TO REOPEN
Be sure to check back for updates on the active winter weather making a comeback across Ontario.
Thumbnail image courtesy: Mark Robinson