Another Messy System; Colder Weekend & Next Week
Showers Ending; Windy & Turning Colder
Rain showers will end during the morning commute. We have already hit our high temperature for today - currently above freezing, but temperatures will steadily fall through the day with a strong and gusty west wind (gusts 60-70 km/h). Bands of lake effect snow will develop east of Lake Huron and Georgian Bay.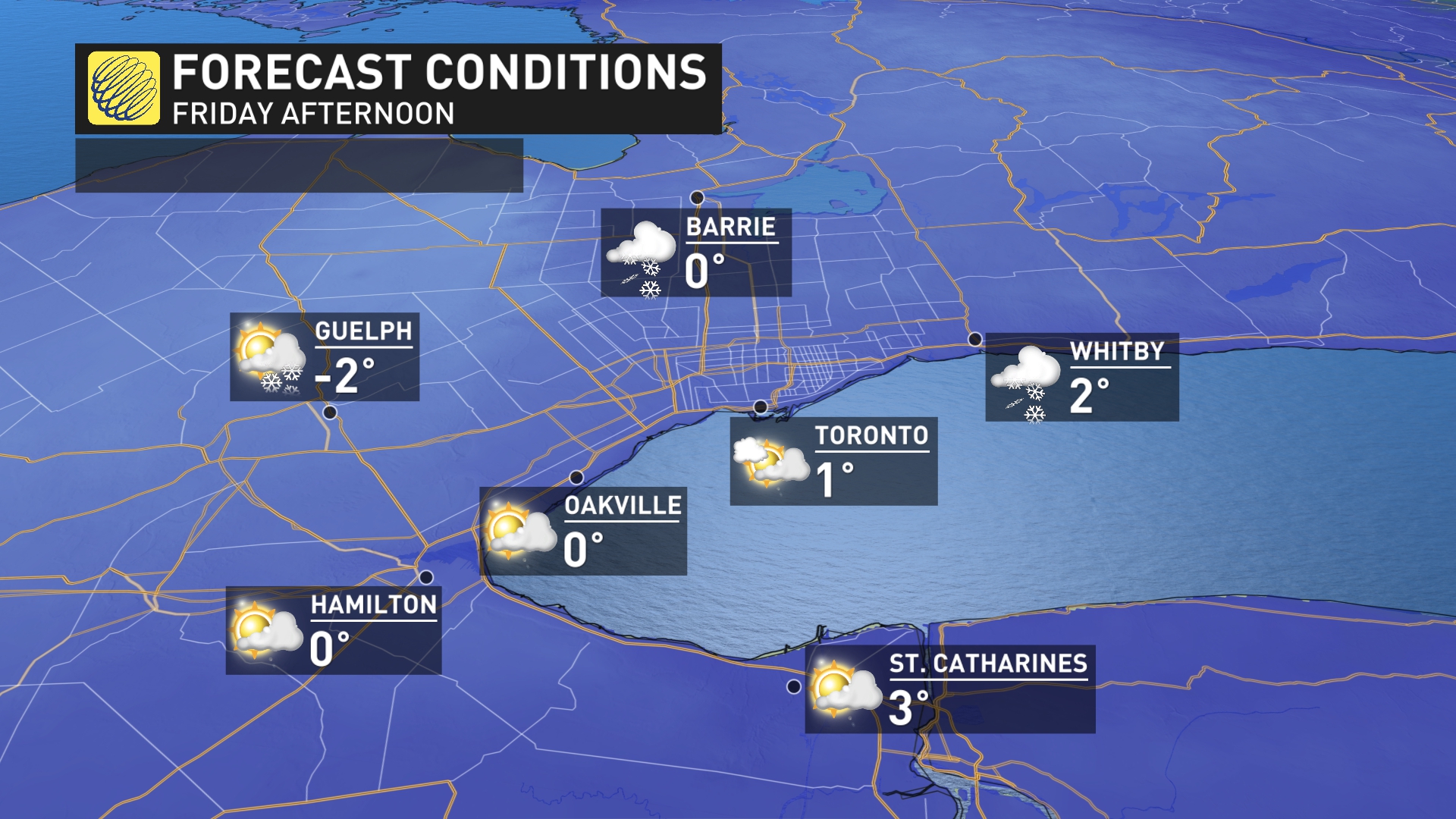 Lake effect flurries will continue this evening in the snow belts, but a band of lake effect snow could drift south through the GTA during the evening and overnight with a dusting to 2 cm of snow possible.
Fair & Cold this Weekend
Saturday will feature a mix of sun and clouds with temperatures just a few degrees colder than seasonal.
Fair weather is expected for Sunday as well as clouds mix with some limited sun. We are keeping an eye on the track of a relatively weak system that should pass well south of the border during Sunday evening. At this point it looks like this system will remain too far to our south to have a significant impact on our weather, but some light snow or flurries are possible near Lake Erie. We could also see light flurries at the west end of Lake Ontario with a northeast wind off the lake.
Fair & Cold for Family Day
Our stretch of quiet weather will continue into early next week with temperatures several degrees colder than normal (but not as cold as we saw at the end of January).
Messy System Mid-Week
The significant system to impact southern Ontario is expected for next Wednesday. A system with abundant moisture from the Gulf of Mexico is expected to track just south of the Great Lakes and bring some snow and possibly some freezing rain to our region.
Another system with Gulf moisture and milder temperatures is expected for next weekend.
Late February & Early March Pattern
During the second half of February, the focus of the coldest arctic air will continue to be across western Canada, especially across the Prairies. At times this arctic air will spread into the Great Lakes region, though temperatures will not be as cold as what we saw during late January, and at times milder air from the Gulf of Mexico will attempt to push north into our region. Southern Ontario will continue to be the battle zone between the two air masses, giving us an active pattern.
However, a shift in the pattern is still expected - though substantially delayed from what was initially expected. As we head towards the start of March, the focus of the coldest weather will shift back to the Great Lakes region, including Southern Ontario. Colder than normal temperatures are expected to dominate during the first half of March.
Winter 2019 Seasonal Forecast
El Niño likely setting up for a winter comeback

Super Blood Wolf Moon the star for Winter 2019 skywatching

Nine weird winter festivals we'll need in the coming season

SNOW SQUALL 101: 11 things to carry in your car this winter

Chris Hadfield's guide to Canada's winter from space

The six freakiest kinds of winter weather

Weathering the winter woes: Four tips to a healthier season

Five simple ideas to boost your holiday spirit