Polar Vortex to make April feel like February in Northeast
Friday, April 1, 2016, 9:37 -
Blast of cold Arctic air behind the storm for the weekend 
The first weekend of April will be marked by a blast of cold Arctic air moving in through the northern states all the way from interior Canada. 
A series of Clippers will slide through the Great Lakes and northern states Friday into Monday accompanied by gusty winds and snow. 
This brief incursion of the southern edge of the polar vortex will mean a significant plunge in temperature values bringing back winter like conditions to some northern cities like Minneapolis, Chicago, Detroit or Boston.
---
SPRING IS HERE: Find out what the next 3 months have in store in our OFFICIAL Spring Forecast, here!!
---
With temperatures 15 to 20 degrees below normal in some areas and wind gusts in the 40 to 50 mph range, expect significantly colder weather to invade the region over the weekend. In some cities the temperature wind chill difference between Friday and Sunday will be 50 F lower.
Nighttime and early morning temperatures Sunday into Monday could drop into the lower teens and even single digits in some locations. 
Lake effect snow along with blizzard and icy conditions are expected at times on many roads around the Great lakes region but will also extend along the upper New York, Vermont, New Hampshire and Maine corridor.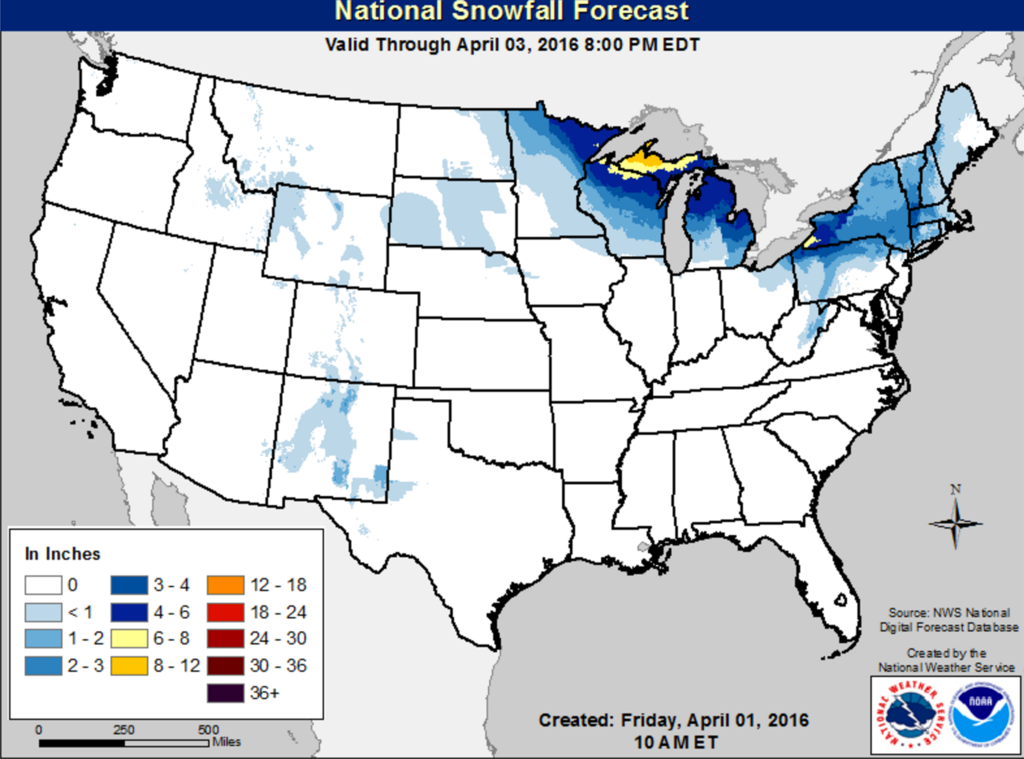 Snowfall forecast through Friday-Sunday. Up to 8 inches of snow, locally higher, possible for Western New York (via NWS)
---
SEE ALSO: Getting a grip on winter driving
---
The worst of the cold air invasion should arrive by next Monday. However, other Clippers are expected to maintain the door open for more Arctic air to arrive midweek next week. Despite this later cold air invasion, wind chills will not be as low as wind speeds are expected to calm down keeping values above what´s in store for this weekend.
WATCH BELOW: LONG RANGE FORECAST