Slight tornado risk for S. Texas, heavy rain for Gulf Coast
Tuesday, April 12, 2016, 4:11 -
After slamming North Texas Monday, the severe storm threat shifts further south and east as we approach midweek.
Large hail, damaging wind gusts, and an isolated tornado will be possible Tuesday for portions of South Texas to the Gulf Coast, according to the National Weather Service (NWS).
The Storm Prediction Center has highlighted in yellow (see below) the area most at risk of severe weather Tuesday afternoon through the evening. Major cities include: Laredo, Del Rio, Uvalde, Pleasanton and Hondo.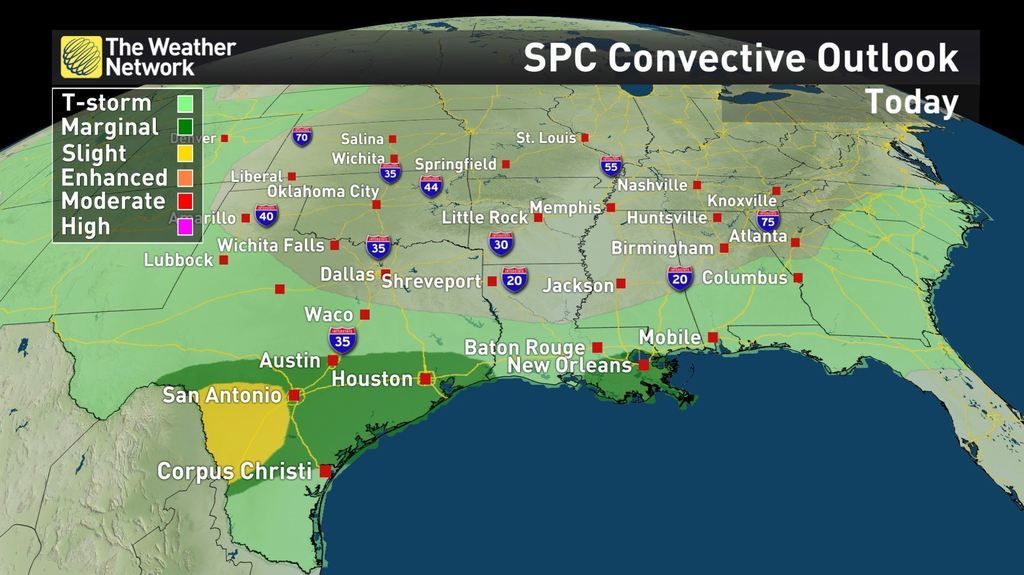 SPC Severe Storm Outlook Tuesday
---
STORM TOOL KIT: Be prepared for severe weather with The Weather Network's online essentials: ALERTS | LIVE RADAR | UPLOAD PHOTOS/VIDEOS | LATEST NEWS | FOLLOW ON TWITTER | HIGHWAY FORECAST | AIRPORT FORECAST
---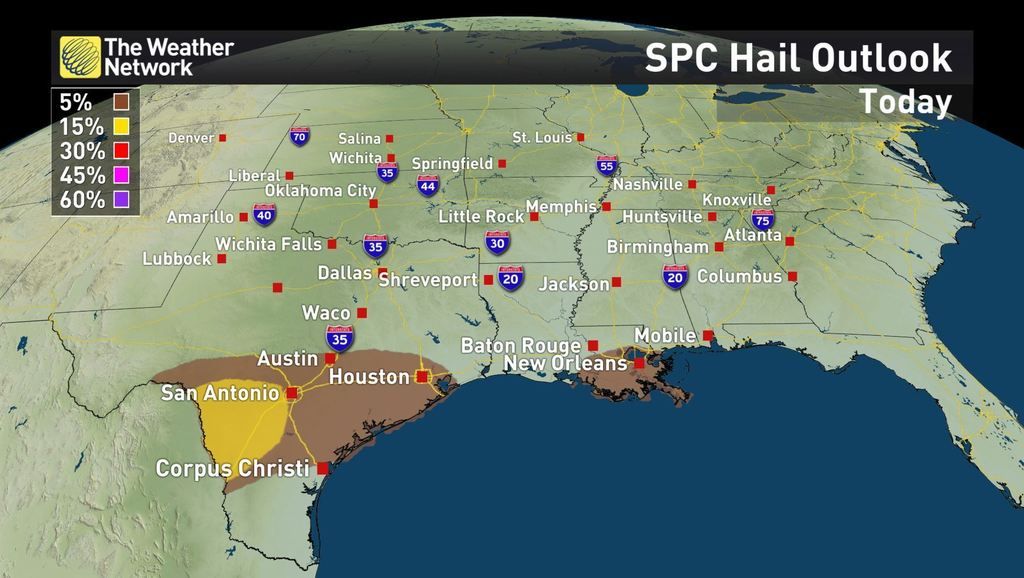 SPC Hail Forecast
Meanwhile, conditions will also be favorable for heavy rainfall along with scattered thunderstorms through Tuesday evening, with the best concentration over southern Texas to the Florida panhandle, according to forecasters.
"A few inches of rainfall is possible for some areas, and flooding remains a localized concern," says the NWS in a summery. 
These same storms spawned baseball-size hail in North Texas on Monday, causing schools to shut down due to damage. 
Residents are advised to monitor our ALERTS page for city-specific updates on watches and warnings. 
WATCH BELOW: Long range forecast