WESTERN U.S. STORMS
Damaging, typhoon-enhanced storms slam Northwest, NorCal
Staff Writers
Sunday, October 16, 2016, 2:03 - A powerful series of storms continues to impact the West Coast through to Monday, with the potential for hurricane-force winds, flooding rain and mountain snow across Northern California, Oregon and Washington state.
There's the potential for a few thunderstorms as well through coastal regions, with heavy rainfall in the forecast from northern California onward.
The National Weather Service has issued various weather warnings across the region as Sunday storms continue. Updates on watches and warnings can be found on the ALERTS page of our website.
---
STORM TOOL KIT: Be prepared for severe weather with The Weather Network's online essentials: ALERTS | LIVE RADAR | UPLOAD PHOTOS/VIDEOS | LATEST NEWS | FOLLOW ON TWITTER | HIGHWAY FORECAST | AIRPORT FORECAST
---
Onshore flow will persist along the West Coast into Monday and Tuesday, although precipitation should gradually become less widespread through the next couple days," the National Weather Service (NWS) said in a statement Sunday morning EDT. "Farther inland, a cold front moving across the Rockies [Sunday] will lower snow levels ... heavy snow is possible at the highest elevations of Idaho and Wyoming into Monday morning."
Watch below: Chris St. Clair discusses the outcome of the region's typhoon-fueled storm
Colder temperatures, coastal flooding and snow in higher elevations 
This storm, the second to slam the region, was stronger and featured energy from the remnants of Typhoon Songda. Damaging winds toppled trees and power lines, while heavy rains and high surf lashed the coastal areas of western Washington Saturday afternoon and evening.
More than 6,000 customers through Oregon continue to go without power Sunday afternoon
A tree fell on a vehicle as it traveled along Bull Mtn Rd in Tigard. Alert driver and passenger escaped with minor scrapes. Be careful. pic.twitter.com/VwgttdkSug

— Tigard Police (@TigardPolice) October 15, 2016
This storm was a more compact and energetic storm, with the center of the low having moved into southern British Columbia, but with heavy rain, snow, strong winds and high surf affecting coastal areas of Washington, Oregon and northern California.
Click Play to Watch Below: Wind forecast
Waves coming up as high as the wall at this viewpoint in West Seattle. Water is COLD! #wawx @KING5Seattle pic.twitter.com/AfRl9WkiBo

— Taylor Mirfendereski (@TaylorMirf) October 16, 2016
In western Washington, forecasters called the system "a major windstorm", with gusts nearing 80 mph.
The National Weather Service posted High Wind Warnings for hurricane-force winds along the coast of Northern California, Washington and Oregon. These winds brought wave heights of 30 to 40 ft., which may lead to coastal flooding.
---
SAFETY: Six important flood safety tips
---
Precipitation from this second storm will extend into Monday and reach the Inner Mountain and northern Rocky states with snow in the higher elevations, a good start for the upcoming ski season.
---
SEND US YOUR PHOTOS!: Highlight the ever-changing weather in your area by uploading your photos and videos into our gallery
---
By Monday, rainfall along coastal areas of Washington, Oregon and northern California could total anywhere from 5 to 12 inches (see map below), and even greater amounts could be measured locally.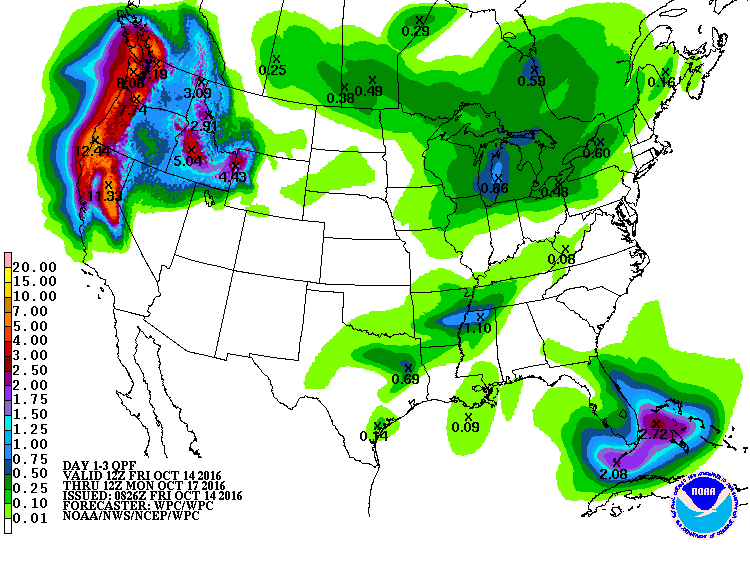 Flooding, landslides, downed trees and power outages will be common in the region over the next few days with the strongest impact along the coast and on the windward side of coast mountain ranges.
Typhoon Songda, which peaked on Tuesday (Oct. 11) as a high-end Category 4 storm, will weaken over the relatively cooler waters of the north Pacific on its eastward journey.
However it is still expected to reach the North American coast as an impressive low pressure system with a minimum pressure of 965 millibars or lower. 
Click Play to Watch Below: Satellite loop of past 3 days showing transition from ridge to stormy pattern in the Pacific NW (NASA)
Storm #3: Arrives in time for the new work week
A third very active storm is expected to arrive in the same area impacted by the other two sometime early Tuesday but exit by Wednesday. Again, heavy coastal and mountain precipitation together with 50+ mph winds are expected to affect the region. By the time this third system moves east, several areas along the Pacific Northwest coastline will have accumulated anywhere from 10 to 12 inches or rain.
This very active weather pattern tracking into the Pacific Northwest could mean the beginning of a very wet end of Fall or early winter for the region. It is the kind of pattern we would expect to see this time of year in the northwest US and southwest Canada region during La Niña, although La Niña as such has yet to gain full strength in the tropical equatorial Pacific. 
As the end of the year approaches, we should have a better idea if La Niña does finally form, and how active of a storm track we see over this sector of the country.
Wind Safety Tips, courtesy NWS:
---
What is La Niña? | What is El Niño?
---
Watch below: Long range forecast - what to expect over the next 5 days.
Friday Recap - First of three storms slammed the region
The first storm pummeled parts of Oregon and Washington state unleashing a fury of intense winds and heavy rains Thursday.
The main frontal band was moving into the Cascades at 3 am Friday, while precipitation had decreased over most of Western Washington in its wake. 
"Southerly pressure gradients peaked around midnight, and strongest wind gusts overnight were 45 to 55 mph at the coast and in the north interior and 35 to 45 mph in the Puget Sound region," said the National Weather Service (NWS) in a forecast discussion. "Rainfall amounts for the past 24 hours have been impressive across Western Washington with 2 to 3 inches at the coast, 3 to 5+ inches in the Olympics, generally 1 to 3 inches in the interior lowlands and 2 to 5+ inches in the Cascades."
The morning continued with tornado warnings across coastal regions of Washington and Oregon.
RELATED: Tornado sparks State of Emergency in Oregon. Video here. 
"Batten down hatches!," wrote PJ Irwin in reply to a tweet warning about the storm by The Weather Network. "My sister in law at beach is sheltering in basement. Lived here all my life & never seen tornadoes [at] the beach."
With files from Reuters