HURRICANE MATTHEW: HAITI AFTERMATH
Haiti: Corpse in street, no aid; anger grows after hurricane
Friday, October 7, 2016, 9:10 - A lifeless body caked in blood and mud lies in the street for days, and promised food and water supplies fail to materialize. Desperation turned to anger in southwest Haiti on Thursday as residents grappled with the aftermath of Hurricane Matthew.
RELATED: Hurricane Matthew batters Florida as it chugs up the coast
Dozens of men and women in the town of Cavaillon gathered by the corpse, which they said washed up when a river burst its banks as the hurricane hit on Tuesday. The male victim was one of at least 840 storm deaths in Haiti.
"There is a man on the road. The state is not taking its responsibility," said Ashley Dody, a resident of Cavaillon, which was cut off by flood waters until Thursday, leaving locals with little food or drinking water.
"Where is the Haitian government, where are they?" one woman yelled. One man shouted, "We are hungry now" as the town mayor tried to calm tempers and peacekeepers from the United Nations Stabilization Mission in Haiti looked on. 
The hurricane hit Cavaillon with winds up to 145 mph at about midnight on Monday, but it wasn't until the next afternoon that flood waters forced people to seek higher ground in the hills behind the town, said resident Roosevelt Esperance. 
---
FALL IS BACK: After a hot summer what can Americans expect from fall? Find out with The Weather Network's 2016 Fall Forecast | FORECAST & MAPS HERE
---
Into the night, men from the town helped women and children cross roads that had turned into raging brown rivers.
---
What is La Niña? | What is El Niño?
---
SEE ALSO: Hurricane Nicole forms on the heels of Hurricane Matthew. Hurricane Matthew's looping track may result in rare binary.
When they came down on Wednesday morning they found destruction. Houses in the town have been reduced to rubble. In one, a television and stereo system could be seen poking through chunks of concrete and thick mud, along with a suitcase full of sodden school books. 
"Water, food, clothing for people in dire need, we need all of that," said Esperance, who said he found the unidentified body. "He came to seek shelter in the mountains like everyone else, but he fell."
Nine people died in the town, including at least three children, the mayor said. In the distance, a coffin for another victim was carried away.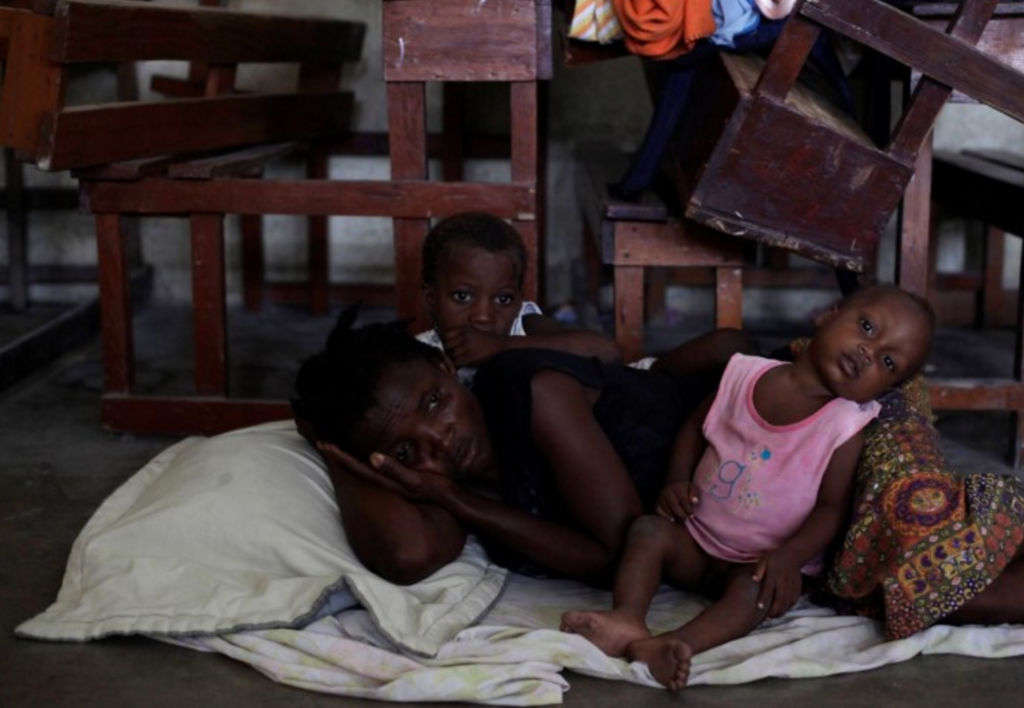 A woman with two of her children rest on the floor at the shelter set up in the Lycee Philippe Guerrier ahead of Hurricane Matthew in Les Cayes, Haiti. REUTERS/Andres Martinez Casares
OASIS OF THE SOUTH
The reach of the state is minimal in much of Haiti, and in the absence of help from authorities, people turn to each other. 
Along the coast from Cavaillon, the sleepy fishing village of Torbech was heavily damaged by Matthew. Many people tried to ride out the storm at home when the village's only shelter filled up but fled when trees and surging seas crushed their huts and houses.
With nowhere else to go, some 200 of them arrived amid howling winds and lashing rain at Villa Mimosa, an upscale resort run by former government minister Mimose Felix. 
Teacher Juditte Destin grabbed her three kids and ran to the hotel at 4 a.m. on Tuesday when a tree fell on her home.
"The madame gives us food, water and a place to sleep," said Destin, whose school was also destroyed in the storm. 
But even in the relative comfort of the hotel, the lack of government support was pressing. Felix said she had run out of food to give to her unexpected guests. 
A girl walks in a flooded area after Hurricane Matthew in Les Cayes, Haiti, October 5, 2016. REUTERS/Andres Martinez Casares
"Before it was like an oasis, it was heaven. I called it the oasis of the south," Felix said, surveying the broken walls and fallen trees, and her swimming pool, now a swampy green. 
Among those at the hotel, heavily pregnant Emma Etienne was due to have a cesarean section at a local hospital, other women said, but she was turned away after the storm. 
Wearing just a night gown and no shoes, Etienne groaned and grimaced in the agony of labor, and a natural birth would be dangerous for her, friends said. 
But many doctors have not returned to hospitals in Les Cayes, the nearest town, since the storm, and no easy solution was in sight for her.
---
STORM TOOL KIT: Be prepared for severe weather with The Weather Network's online essentials: ALERTS | LIVE RADAR | UPLOAD PHOTOS/VIDEOS | LATEST NEWS | FOLLOW ON TWITTER | HIGHWAY FORECAST | AIRPORT FORECAST
---
Video source: Storyful