Winter Preview: See when cold and snow arrive for you
Visit this Fall Forecast Guide to the Season for the Fall Forecast, Winter Weather Preview and more.
Dr. Doug Gillham
Meteorologist, PhD
Monday, August 17, 2015, 12:30 PM - This winter will be a tale of two seasons and two regions, The Weather Network predicts in this Winter Preview of what to expect for December, January and February. One weather pattern will dominate the West all winter while the rest of Canada will see winter weather split into two distinct phases.
And you can blame a twist in the typical El Niño effect, as the weather-impacting event builds toward being one of the strongest on record.
Temperatures, December 2015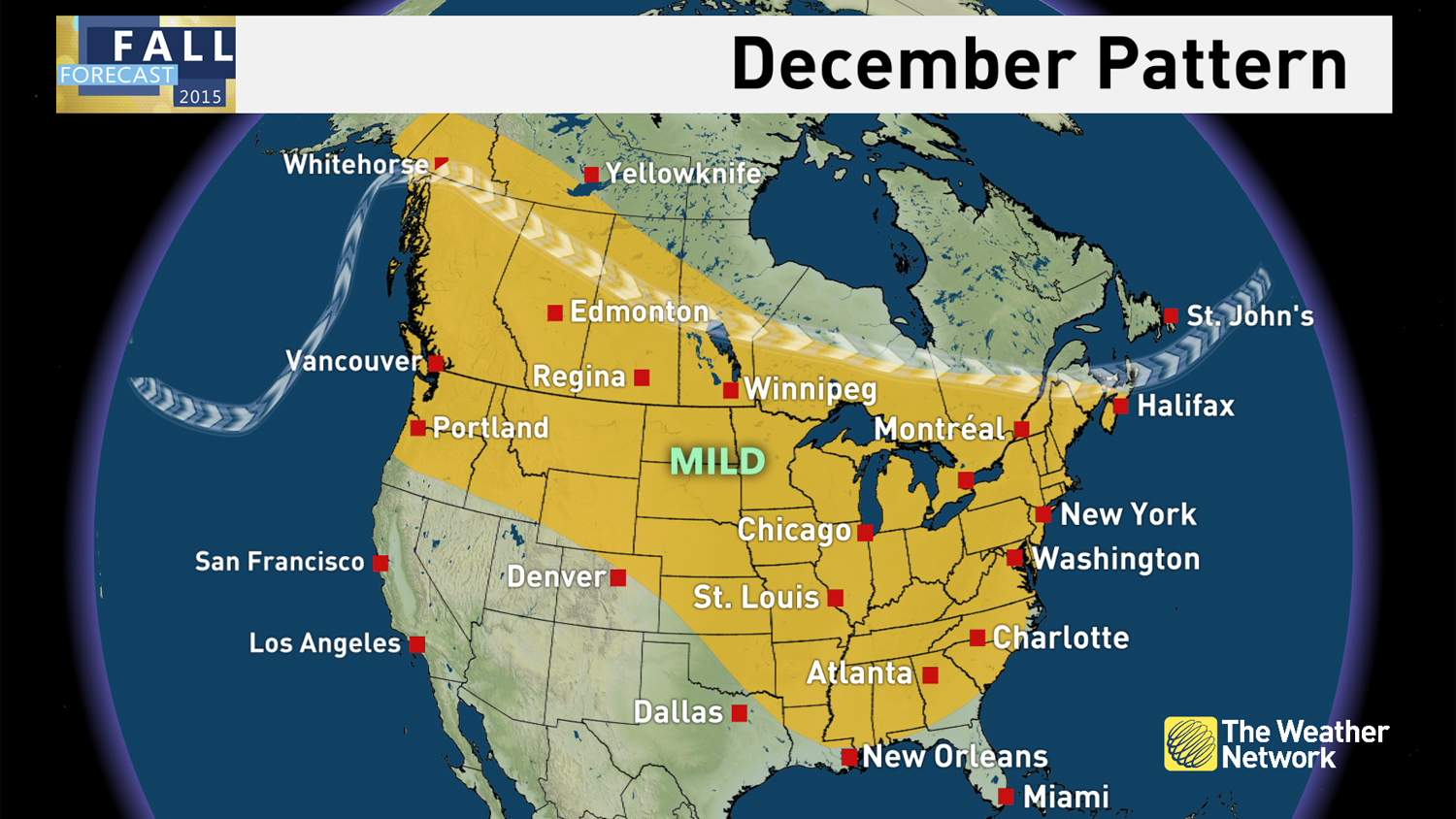 Most of central and eastern Canada will see a period of wintry weather before we get to December, according to this 2015 Fall Weather Forecast. But that will be a false start to winter as a mild weather pattern will dominate almost the whole country during the month. The map above for December looks a lot like the classic El Niño pattern that dominated the strong El Niño winters of 1997-98 and 1982-83. We do not, however, expect that this pattern will persist all winter.
Temperatures, Late Winter 2015-16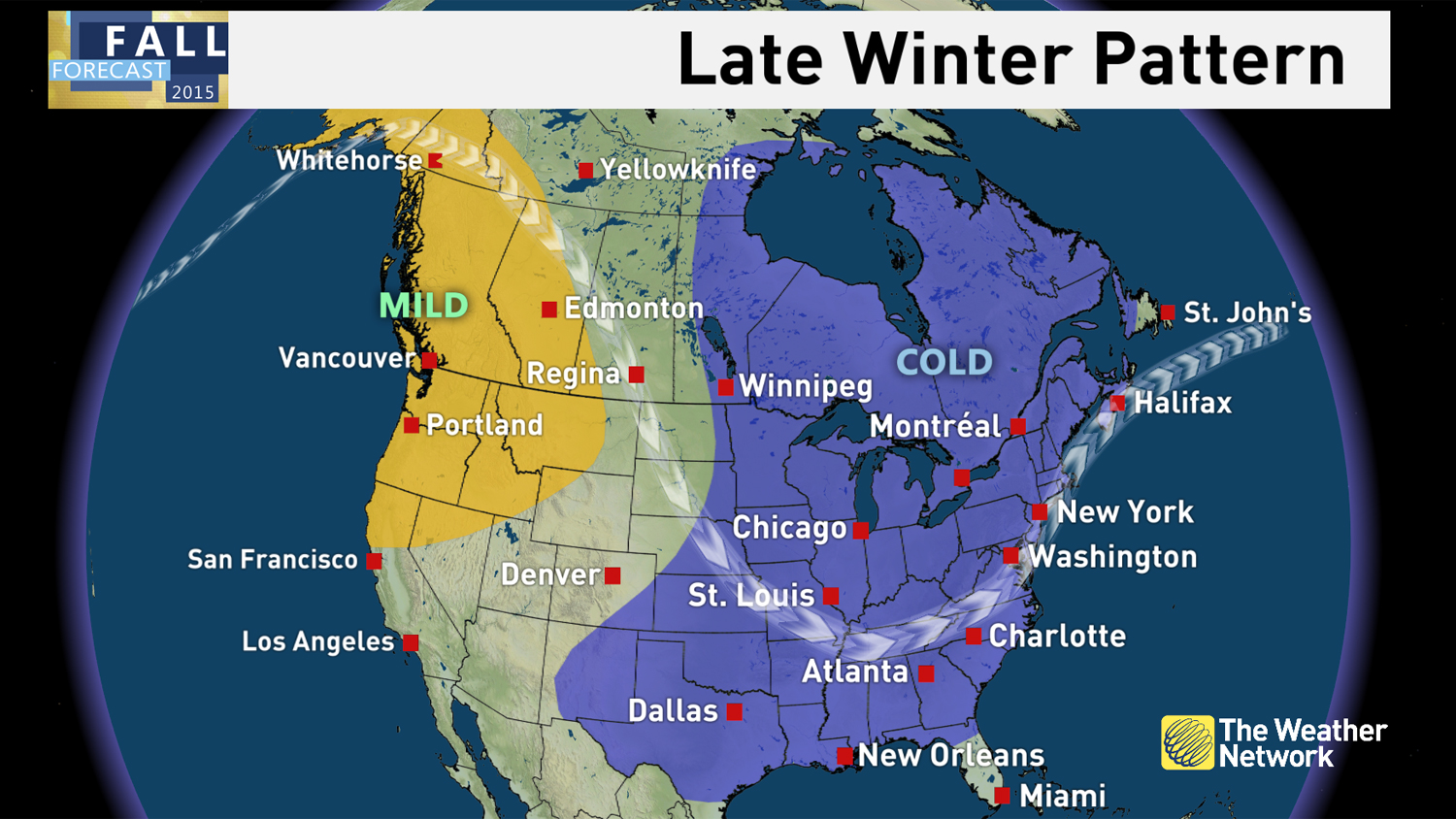 Before we get to February, we expect a major pattern change that will bring an extended period of classic winter weather from Manitoba to the Maritimes. It is unlikely that February will turn as cold as it did this past winter across this region, but below-seasonal temperatures are expected to dominate the month. Colder temperatures will also be experienced at times across Western Canada, but above-seasonal temperatures will continue to be the dominant weather pattern in Alberta and British Columbia.
Temperatures Overall, Winter 2015-16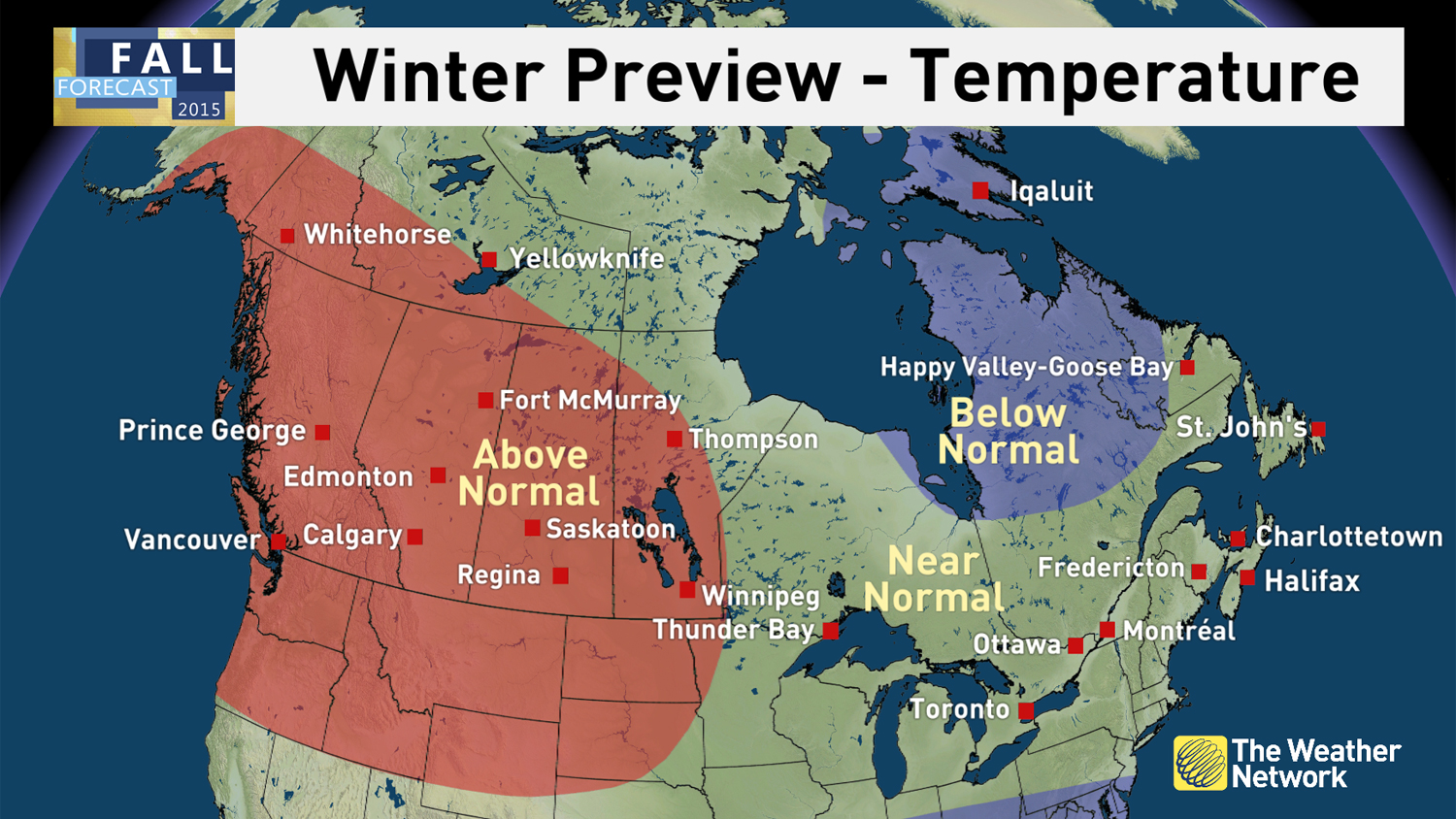 As we look at the three month period of December, January and February, British Columbia, the Prairies and parts of the Yukon and Northwest Territories will see above-seasonal temperatures for winter as a whole.
For most of the eastern half of Canada, the mild start to winter will be offset by the cold conclusion and result in final numbers that are close to "normal" for the winter as a whole. This is noticeably warmer than the past two winters across this region, but considerably colder than other strong El Niño winters of the past.
Precipitation Overall, Winter 2015-16
Nearly all El Niño winters in the past have featured an active storm track across the southern United States, with a turn up the East Coast to the Maritimes. It looks like that pattern will dominate our winter this year. Therefore, we expect above-average precipitation for the Maritimes. However, below-average precipitation is expected from British Columbia to the Great Lakes.
Coastal areas of British Columbia will likely see a below-average number of rainy days, but the final precipitation totals should approach normal due to a few periods of rather wet weather in which storm systems will tap into subtropical moisture. These periods of active weather, however, will typically be associated with very mild temperatures and bring predominately rain rather than snow to many ski areas.
The long-range models and El Niño winters of the past show a consistent pattern year after year with above-average precipitation just south and east of the Great Lakes in close proximity to below normal-precipitation across much of the Great Lakes. The exact location of the dividing line between the two does vary from year to year (with significant implications for the Highway 401 corridor, Toronto, Montreal and Ottawa), so we will continue to fine-tune our complete Winter Forecast to be released in late fall as confidence in the dominant storm track increases.
After a few lake-effect events during the fall, there will be rather limited amounts of lake effect snow during December. When colder weather does return for the end of winter, however, the lakes should still be mostly wide open and able to contribute to some significant mid to late season lake-effect snow events.
Sea surface temperature anomalies, Late August 2015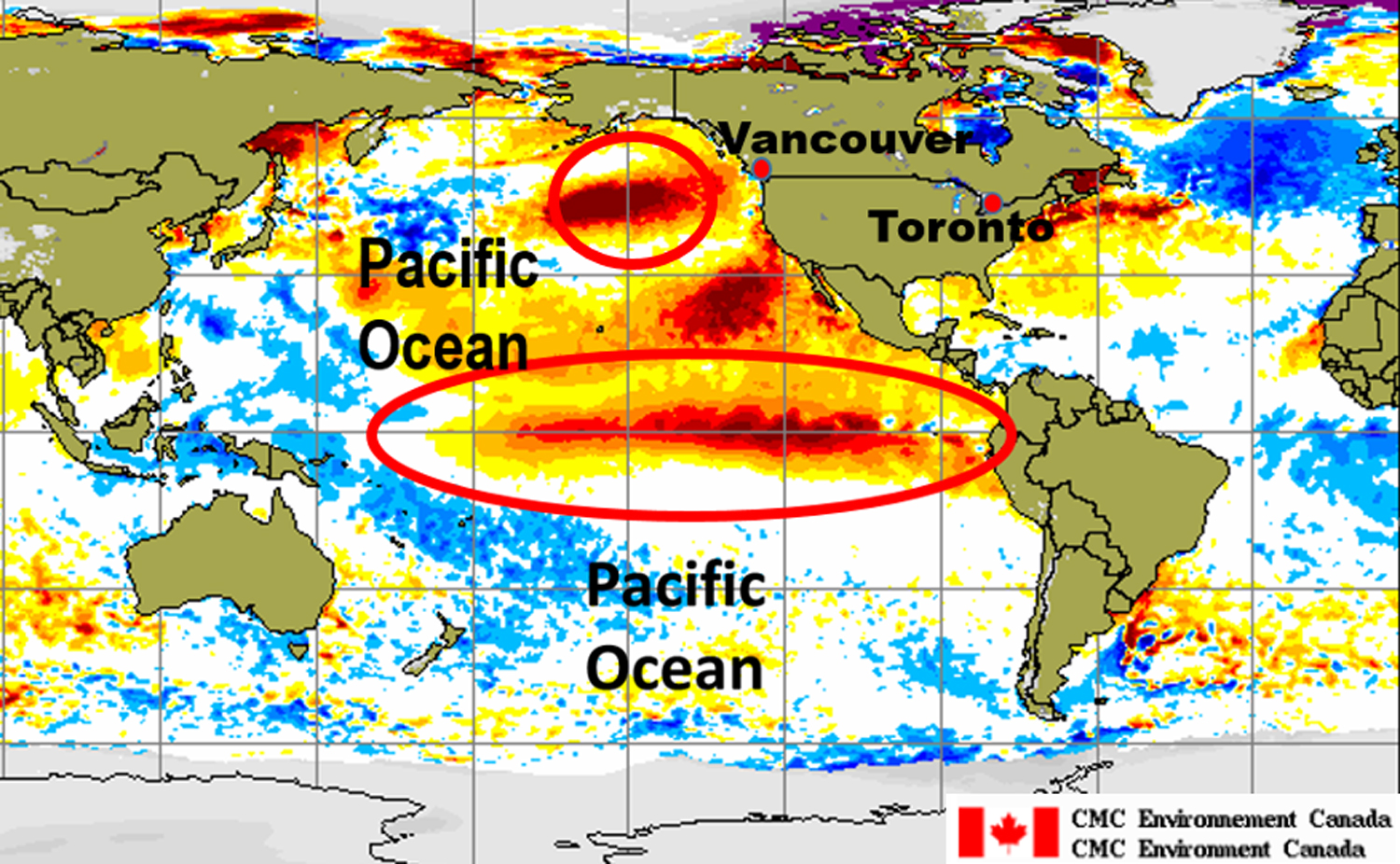 Forecast factor: Strong El Niño with a twist
El Niño, shown in the oval in the centre of the map above, has a reputation for bringing mild winters to Southern Canada, and the strongest two El Niño events on record prior to this year (1982-83 and 1997-98) were quite mild from British Columbia to Newfoundland. However, a review of other El Niño winters shows that El Niño does not guarantee a mild winter across the country.
When the warmest water relative to normal (the darkest shades of red) is found close to the coast of South America, we usually see mild winters across Canada like we experienced in 1982-83 and 1997-98. When the warmest water is found in the Central Pacific rather than closer to South America, however, the winters over the eastern half of Canada typically turn significantly colder compared to what we expect with a classic El Niño. If the warmest water continues to shift west towards the central Pacific, the threat for a more extended period of classic winter across Eastern Canada will likely increase.
As we progress through the fall we will track changes in the ocean-water temperature pattern, but there are signs that warmest water will be found closer to the Central Pacific and not just off the coast of South America.
Another key to upcoming winter is whether El Niño peaks later this fall and then starts to weaken as we progress through the winter or whether it continues to strengthen during the winter. A strengthening El Niño rather than a weakening El Niño during the heart of winter would likely mean a milder winter for Eastern Canada.
Forecast factor: The blob
A unique feature of the upcoming winter compared to other strong El Niño winters of the past is the persistence of the warmer-than-normal ocean-water temperatures off the West Coast of Canada, shown in the top circle in the map above.
This feature has become known as "the Blob" and has been a key contributor to the dominant weather pattern across North America for the past two years, which has featured extended periods of warm and dry weather in the West and two of the coldest winters in recent memory farther to the east. If "the Blob" persists into the winter, the threat for a cold conclusion to winter east of the Prairies will increase.
Are seasonal forecasts accurate?
A common audience comment to every seasonal forecast article questions the accuracy of our daily predictions, and concludes that we can't possibly produce an accurate seasonal forecast.
While this feedback is understandable, it is important to keep in mind that seasonal forecasts are fundamentally different from daily forecasts. Our seasonal forecasts provide an overview of the pattern for the upcoming season (such as a mild winter vs. cold winter). We do not attempt to tell you if it will rain or snow at your house on a specific date.
Our forecasts for the past six seasons have been very effective in describing the dominant weather patterns for the upcoming season. This type of forecast is often easier to accurately do than to tell you what you really want to know: whether the scattered afternoon showers will directly affect you this weekend.