ONTARIO | Mild mid-December
Ontario: Mild, but searching for sun this weekend
Digital writers
theweathernetwork.com
Saturday, December 15, 2018, 6:50 PM - Saturday was largely dry across southern Ontario, and Sunday looks set for more of the same, but despite temperatures above zero, there'll be little in the way of sun for most people in the province.
There are some spots more likely to see those peeks of sun than others, however. See if you'll be one of the lucky ones, plus a look at how long this mild spell will last, below.
WINTER IS HERE: How will El Niño shape Canada's upcoming winter? Find out with The Weather Network's 2019 Winter Forecast | FORECAST & MAPS HERE
---
WEATHER HIGHLIGHTS:
Grey skies, but generally dry conditions continue into Sunday
Mild-for-December temperature trend holds on into next week
Could be a close call for holiday cold air
---
A NEAR MISS; LARGE STORM TO THE SOUTH
It's the large low pressure system to the south we've been keeping an eye on this week, as this moisture-laden system tracks south of the Great Lakes region this weekend. However, the storm has stayed largely south enough to allow for a most rain-free weekend so far, though if the low does creep a bit further north, a few spotty showers may dot the northern shores of Lake Erie and the Niagara Peninsula.
Sunday starts off foggy for much of southern Ontario, but dissipate by mid morning. Except for central Ontario, most areas will be generally cloudy. As the low tracks up the Eastern Seaboard, clouds begin to clear across southwestern and central Ontario in the afternoon. 
Much of the GTA through eastern ON and southern QC will remain locked in cloud through Sunday evening, which is a product of the moist, mild flow from the south.
WATCH BELOW: CLOUDY SKIES LINGER
(See also: Why your long range forecast changes)
MILDER AIR STAYS WITH US
While we're not heading for a tremendous warm spell, by any stretch, a milder pattern is settling into southern Ontario, and it's looking to stick around for a while as we move into mid-December. "Pacific, rather than Arctic, air will spread across Canada and bring a period of mild weather for the middle of December," says Weather Network meteorologist Dr. Doug Gillham. 
Keep in mind, that's 'mild for December' -- average high temperatures for this time of year run about 1 or 2 degrees in Toronto and Windsor, and around -2 C in Ottawa. So while these milder temperatures are a good 5 degrees above seasonal for some, you won't be trading your snow shovel for shorts.
WHITE CHRISTMAS WATCH: WHEN DOES THE MILD PATTERN CHANGE?
As move into the middle of the month, many thoughts are turning toward one question: What are the chances for a white Christmas? With a milder trend on the way, this may be an especially tricky call for southern Ontario, where several shots of snow have already fallen this season, only to melt thanks to repeated warm-ups.
"Much of central Canada will see a transition to a colder pattern right before Christmas (December 22 - 24)," says Gillham. "Such pattern changes are often accompanied by some active weather, but it is too early to know whether this will bring rain vs. last minute snow for a white Christmas for our region."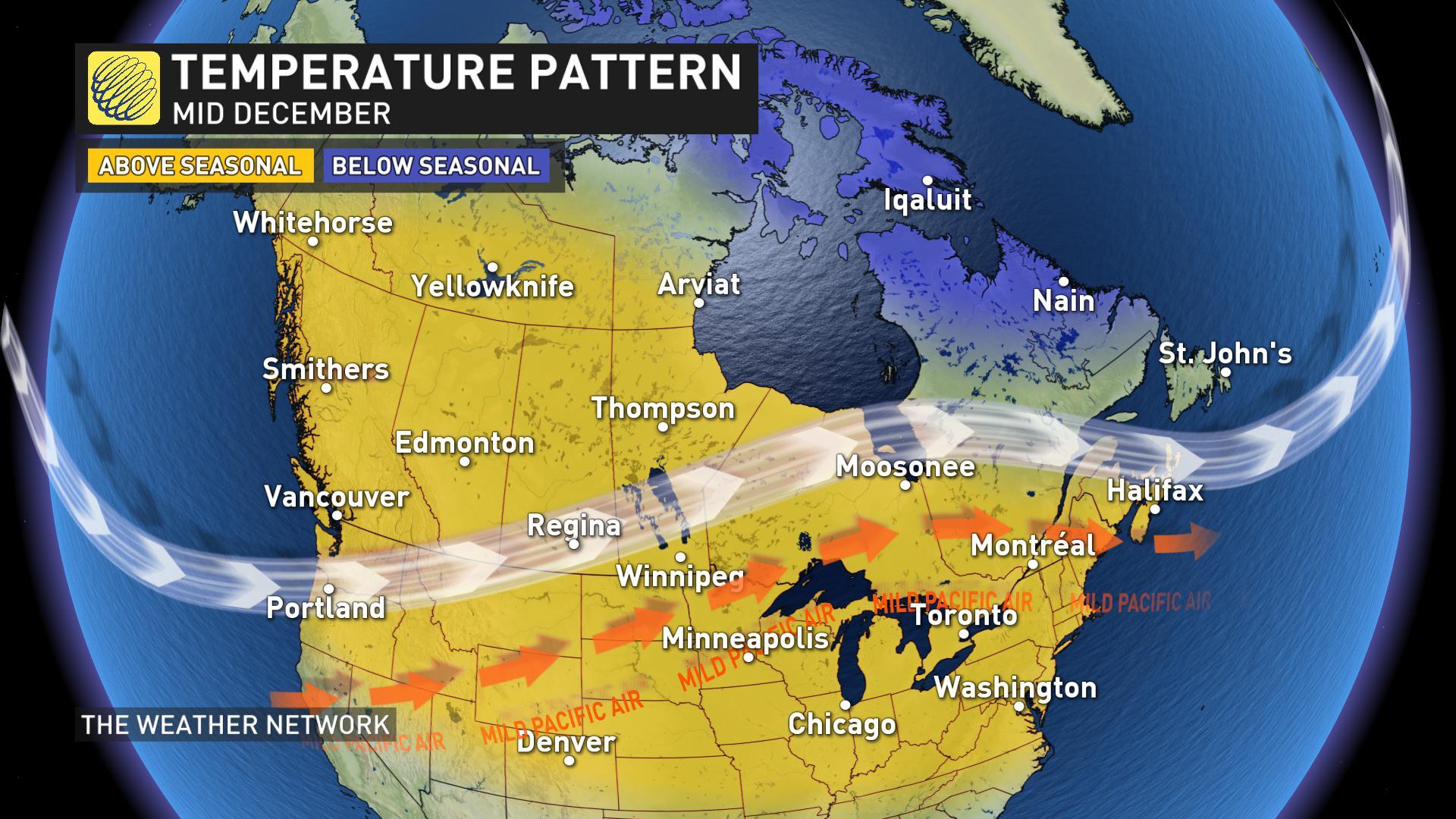 SIGNS OF EXTENDED WARMTH OVER THE HOLIDAYS
Although signs initially showed conditions cooling off for the end of 2018, forecast confidence in the long range pattern has really diminished. 
"We have been talking about a transition to a more wintry pattern, but with the potential for the warmer pattern to resist and fight back. The overwhelming majority of the most recent models have flipped and are now highlighting the potential for the mild pattern to make a more extended comeback during the holidays," explains Gillham.
Be sure to check back as we closely watch this changeable weather pattern between Christmas and New Year's and through the first week of January.
WATCH BELOW: WOMAN CREATES PERFECT CABBAGE LEAF SCULPTURE -- WITH ICE