ONTARIO | Train deraillment
Five cars from CN freight train derail in Toronto
CBC News
Sunday, November 11, 2018, 11:38 AM - Five cars of a freight train carrying an industrial chemical derailed in Toronto early Sunday, but no one was injured and nothing harmful was leaked, according to CN and a federal official.
Three of the derailed cars contained vinyl acetate, but the chemical was not spilled, according to Julie Leroux, spokesperson for the Transportation Safety Board of Canada. Two derailed cars were carrying grain and only the one carrying rice leaked, she added.
The federal government says the chemical, not considered harmful to human health, is used in the production of latex paints, adhesives, sealant material and glues. It is found in cosmetics, personal care products and food packaging.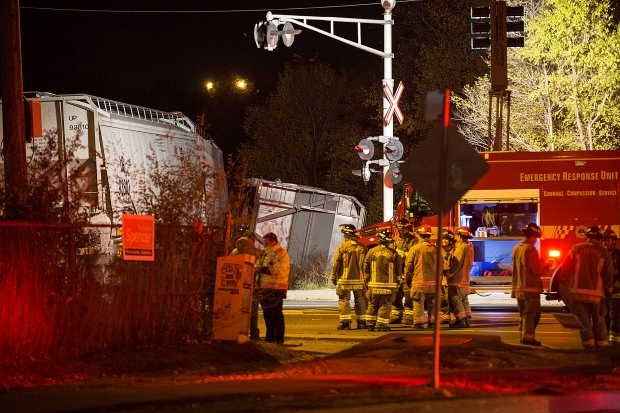 Toronto firefighters gathered at the scene of a freight train derailment in Toronto early Sunday. Five train cars jumped the tracks. No one was injured. Three cars that derailed were carrying vinyl acetate, an industrial chemical not considered harmful to human health. (John Hanley/CBC)
Emergency crews were called to the scene of the derailment on Kennedy Road, south of Eglinton Avenue East, in Scarborough, Toronto's easternmost district, at about 2:43 a.m. ET.
Firefighters found the cars off the tracks and they tried to determine whether any harmful material had spilled, according to Capt. Adrian Ratushniak, spokesperson for Toronto Fire Services. They found nothing harmful had spilled, he added.
Firefighters then created a "safe perimeter" of about 300 metres surrounding the derailment to contain the scene before handing it over to CN staff, Ratushniak told CBC Toronto.
"There is no threat. There is no danger. And there were no injuries at the scene. At this time, our fire crews have cleared."
About 25 firefighters and six trucks responded to the call, he said.
CN 'REGRETS' IMPACT ON LOCAL RESIDENTS
Jonathan Abecassis, spokesperson for CN, said in a statement that CN is investigating the derailment.
"Current reports indicate that five cars have derailed in various positions, that there are no injuries or release of any dangerous goods and that the train is blocking a crossing on Kennedy Road," he said.
"We regret any impact this incident may have on local residents."
That train has since been removed and the roadway has been reopened, according to Toronto police.
The cause of the derailment hasn't been determined.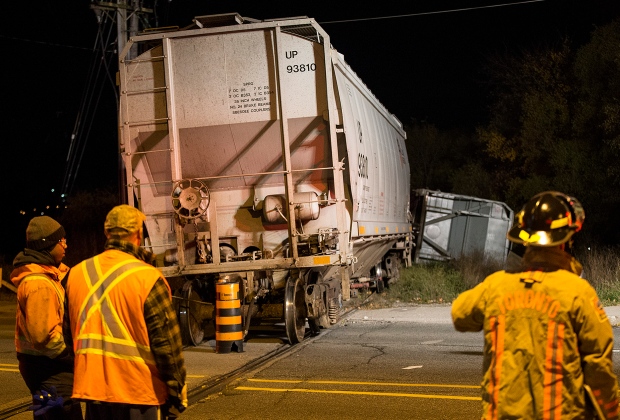 The Transportation Safety Board of Canada has been notified about the derailment that occurred overnight. (John Hanley/CBC)
Const. David Hopkinson, spokesperson for the Toronto Police Service, said they were told there was "hazardous material" on the train and police were ready to evacuate the area, but nothing leaked from the derailed cars and an evacuation was not necessary.
Hopkinson declined to say what kind of hazardous material was reportedly on the train.
"There was no leak," he said. "Traffic has resumed in the area."
DERAILMENT OCCURRED NEAR MOSQUE
The Toronto Transit Commission suspended passenger pickup service at nearby Kennedy Station and closed access to its south parking lot, but service and access have resumed.
Leroux, based in Gatineau, Que., said the board was notified about the derailment at 5:37 a.m. She said cleanup is underway.
"We are still gathering information but we have decided not to deploy," she said.
The derailment occurred close to the Salaheddin Islamic Centre, a mosque in Scarborough.
This article was originally published on CBC.ca by Muriel Draaisma. Thumbnail image: John Hanley/CBC
WATCH BELOW: VITAL TRAIN SERVICE RESTORED FOR MANITOBA COMMUNITY