British Columbia | MASSIVE SNOWS
Metres of snow target B.C. alpine, big low lurking on Friday
Tyler Hamilton
Meteorologist
Wednesday, December 12, 2018, 4:04 PM - Metres of snow on the way to the alpine (yes, we're serious...) and a potentially stronger low on Friday. In fact, I guarantee an amazing holiday season in the alpine with all local ski resorts benefiting from this pattern change over the next couple of weeks.
THE WEEK AHEAD, BY THE NUMBERS
1 active storm track
3 more frontal systems target B.C.
100+ cm forecast in parts of the alpine
1000 metre freezing level (or lower through the week)
1,000,000+ happy skiers
Keep on top of active weather by visiting the ALERTS page.
A picture is worth a thousand words, right? If that's the case, may I present to you the snowfall outlook over the next SEVERAL days for the province of British Columbia. And, keep scrolling if you're interested in a couple more potent fronts targeting the B.C. coast.
LOCAL SKI HILL FORECAST NEXT 24 HOURS
Mt. Washington 15-30 cm
North Shore Mountains: 15+cm
Whistler: 50+ cm
POTENT FRONTAL SYSTEM WEDNESDAY EVENING:
The vigorous frontal systems that approach the coast have an associated risk of damaging winds along the cold front. These ones have a little tighter pressure gradients than some of the previous frontal systems that have meandered towards shore this fall.
Pretty typical, really for December.
But a system on Friday has stronger potential to bring some damaging winds to parts of coastal British Columbia.
STRONG WINDS AHEAD?
Computer models have changed their tune, instead of a weaker low that would have tracked south of British Columbia, increasing the threat of lowland snow, now a stronger low is the consensus. But, there's still a fair bit of uncertainty.
The graphic below shows the possible locations of some of the major computer models used: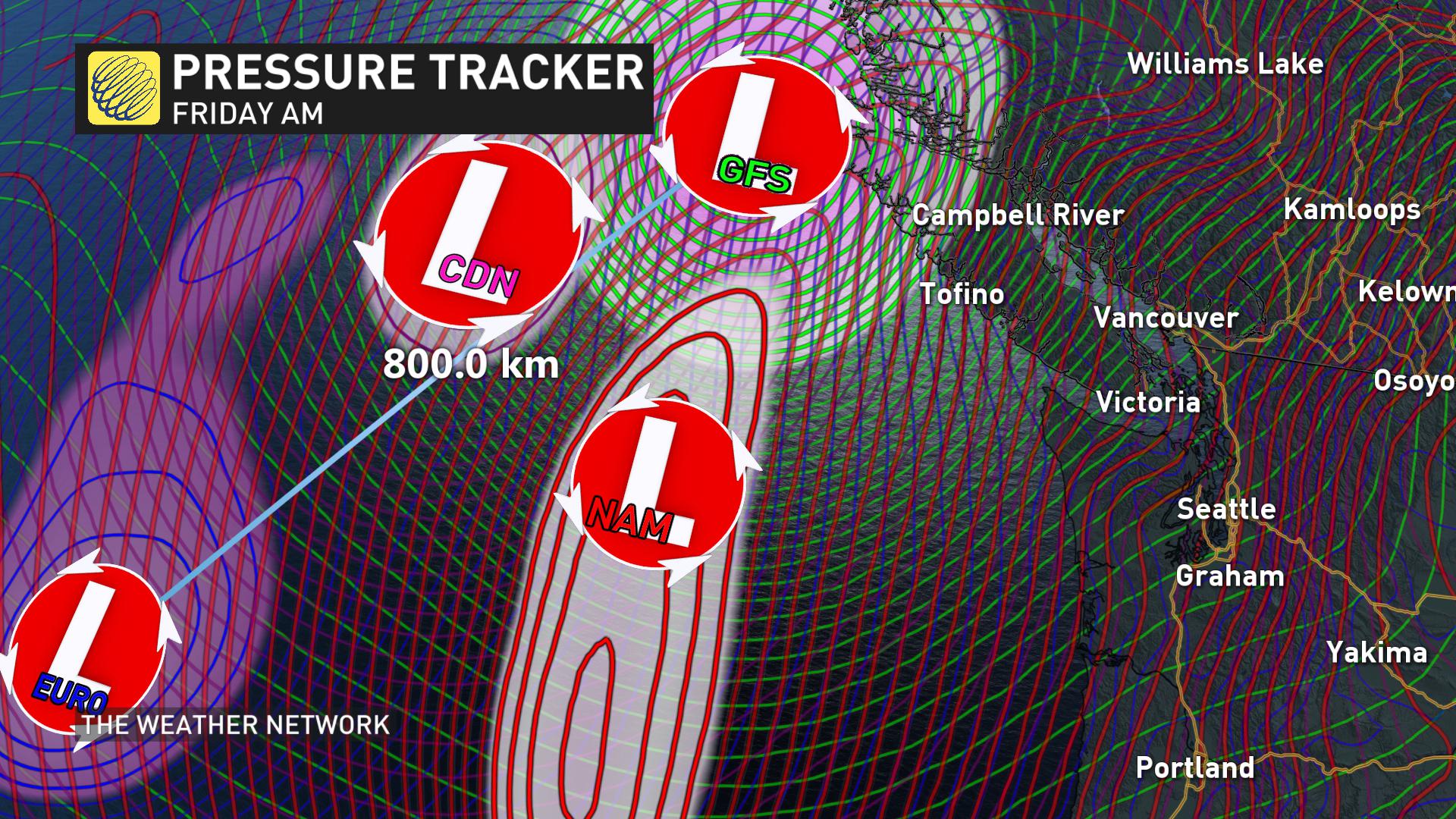 Vancouver Island has a higher probability of some accumulating snow Friday evening as the low passes to the north (>200 m elevation), but the strong wind threat will depend on intensity and where the low makes landfall. The GFS low above would be most dangerous, but still somewhat unlikely to occur, as the pressure gradient across Vancouver Island is nearly 30 hPa with that solution – that would be a behemoth of a wind event, but it's unlikely to verify.
Right now, I favour a track weaker and little further northwest, mitigating the damaging wind threat a little bit.
WHY ARE FORECASTS SOMETIMES WRONG IN THE LONG RANGE?
MUST SEE: POLICE DOG BREAKS IN NEW WINTER BOOTS...