Tree Science | Myth-busting
'Scissors' make leaves fall from trees, here's how
Isabella O'Malley
Digital Writer/Climate Change Reporter
Friday, October 26, 2018, 3:21 PM - The vibrant gold and crimson colours that appear on trees during the fall months is a familiar sight that many are fond of. Raking the fallen leaves and hauling them into giant paper bags is a chore that many aren't as fond of.
Cooling seasonal temperatures are often pointed to as an explanation for the extra yard work, which prompted Digital Reporter Andrew Osmond to set off on a myth-busting mission to help us better understand this seasonal change.
MYTH: LEAVES DIE, WHICH CAUSES THEM TO FALL
During the fall months deciduous trees shed their leaves as a survival strategy as they prepare for harsh weather conditions. Rachel Irwin, an Interpretive Naturalist at The Arboretum, explains that if trees kept their leaves on during harsher conditions they would become damaged and ruin their ability to function in the next season.
In the Northern Hemisphere leaves receive less sunlight as winter approaches, which causes them to change colour and deliver less nutrients to the tree. A twig extending from a tree is connected to the stem of a leaf by an abscission layer that acts like a 'scissor' by sealing off the stem and slowly cutting them off so the tree can conserve water and energy and use these resources more efficiently. The airborne motion of the leaves are attributed to both the weakened link caused by the 'scissor' and movement caused by winds.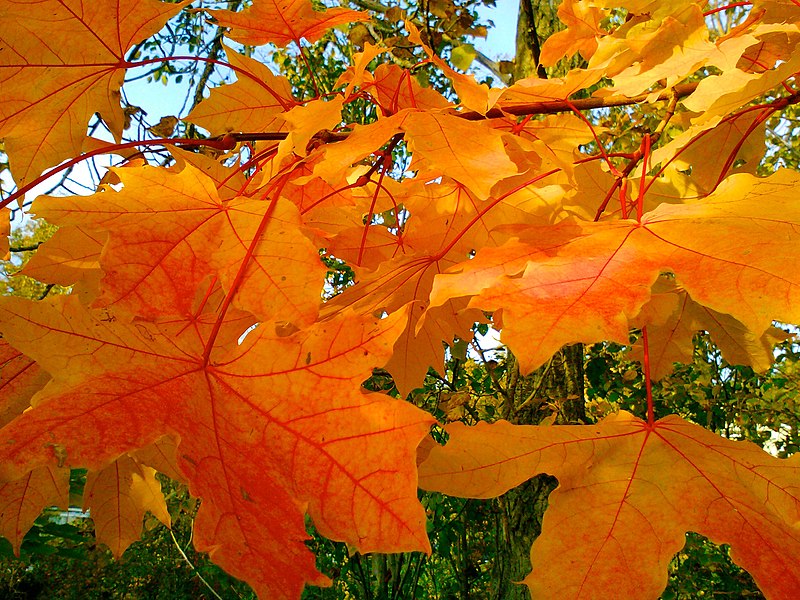 Credit: Wikimedia Commons
DO LEAVES NEED TO BE RAKED?
While trees remove leaves because they are no longer delivering satisfactory amounts of energy, some choose to leave them on their lawn because they act as fertilizer and bring nutrients into the soil. Canadian gardening expert, Mark Cullen, explains that the ideal method of dealing with fallen leaves would be raking them into the garden so natural plant cycles can be enhanced and the cleared grass can continue to benefit from sunlight, which will prevent brown patches from occurring. 
PAUSE AND TAKE IN THE BEAUTIFUL SIGHTS OF FALL 
WATCH BELOW: NO ONE IS AS EXCITED ABOUT FALL LEAVES AS THIS PUG IS