Satellite image shows lethal landslide caused by Nepal quake
Leeanna McLean
Digital Reporter
Sunday, May 3, 2015, 4:14 PM - New satellite imagery shows the aftermath of a landslide in Langtang Valley, northeast of capital Kathmandu after it was triggered by the 7.8 earthquake in Nepal.
With monsoon season approaching the country, the threat of landslides and mudslides remains high.
The country has been hit with more than 70 aftershocks and the death toll has surpassed 7,000. Among the latest fatalities to be counted were the 51 people whose remains were found in the Langtang Valley, Associated Press reports.
Edmonton couple Bruce and Kathy Macmillan who were hiking in the village of Chyamki in the Langtang Valley was confirmed dead on Saturday. The area had been buried by the avalanche.
Cloud cover had blocked observation of much of the region, however, on Sunday NASA released images captured by The Operational Land Imager (OLI) on Landsat 8 which showed the drastic change from March 29 to April 30, five days after the earthquake struck.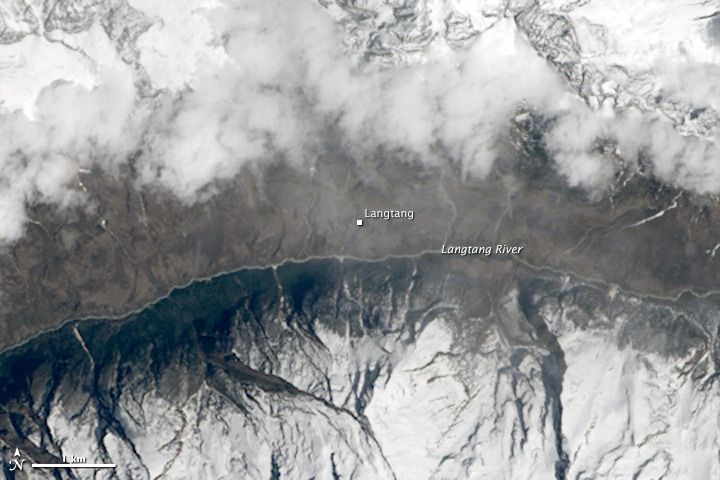 March 29, 2015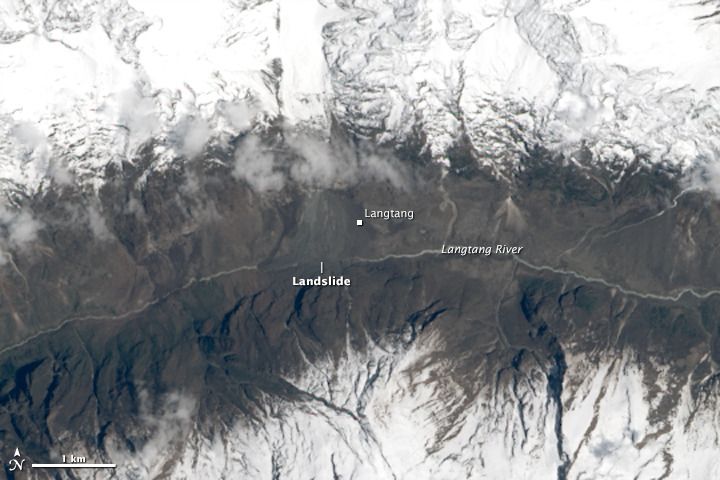 April 30, 2015
"A mixture of snow, ice and debris that originated in snowfields on northwestern slopes above Langtang buried the village as the debris slid toward the Langtang River," NASA reports.
Scientists say there is a threat of destructive downstream floods because the Langtang River was completely covered by debris that buried the village. One member of a group of volunteer scientists was responsible for discovering and analyzing the landslide using Landsat 8.
"...There is no evidence yet of a lake forming behind the blockage," said the mountain hydrology experts. "This may indicate that the water has found its way through the debris, snow and ice."
FULL QUAKE COVERAGE
---
---
The mountainous area along the Nepal-Tibet border, north of Kathmandu and west of Mount Everest is the region at highest risk for landslides and mudslides, according to PreventionWeb.net.
"The highest risk zone is at elevations above 8,200 feet in a region that covers 17,550 square miles, which is roughly twice the size of Massachusetts," PreventionWeb.net reports.
The 2008 magnitude 7.9 earthquake in Sichuan, China triggered more than 200,000 landslides, many of which blocked roads and slowed down aid efforts.
Nepalese authorities temporarily closed the main airport Sunday to large aircrafts delivering aid due to runway damage. The runway was built only to handle medium-size jetliners and not the large military and cargo planes that have been flying supplies into the country, Birendra Shrestha, manager of Tribhuwan International Airport told Associated Press.
SOURCE: NASA | Associated Press | PreventionWeb