Record start to hurricane season says little about future
Andrea Bagley
Digital Reporter
Friday, June 10, 2016, 10:29 AM - The Atlantic hurricane season officially started on June 1, but there has already been three named storms, with Alex kicking off the season back in January.
---
Are YOU prepared for a hurricane?: An active Atlantic Hurricane season is predicted, so it's important to brush up on safety tips and disaster protocol
---
"Alex was one of the earliest subtropical storms to form in the Atlantic Basin since we began keeping records," says Weather Network meteorologist Jaclyn Whittal.
Tropical Storm Bonnie picked up strength back in May and then Tropical Storm Colin followed in June becoming the earliest named "C" storm on record.
So does this record start to the Atlantic hurricane season indicate a more active season overall? While most would assume the answer to that question is "yes," Weather Network meteorologist Dr. Doug Gillham, says the record start says very little about the future course of the season.
"While we do expect a more active season than normal, you can not use an active start to the season to predict what we're going to see into the heart of the hurricane season because the triggers for storms early in the season is very different from what we see producing the majority of storms later in the season," Gillham says.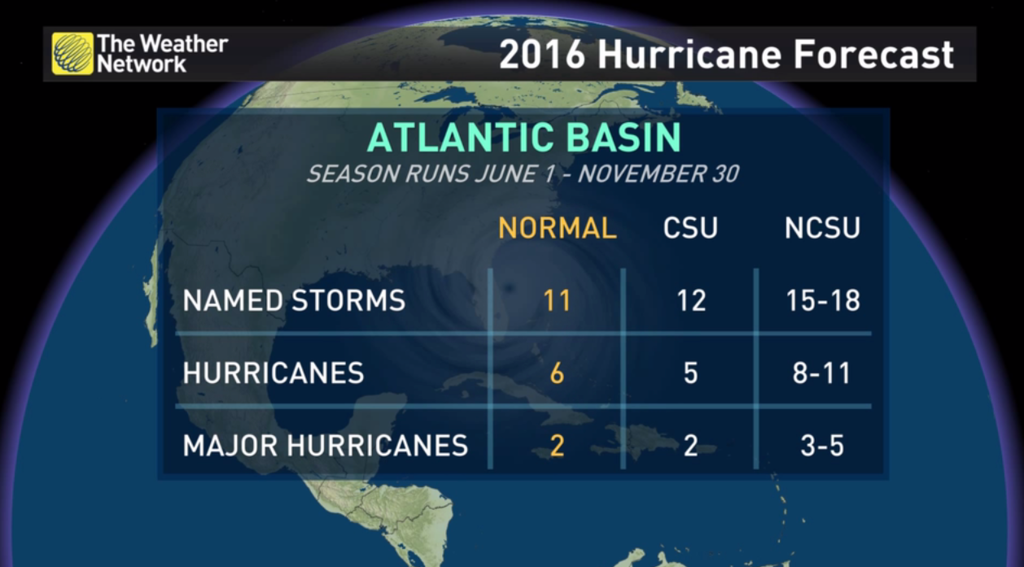 Spring vs. late summer storms: The triggers are much different 
Non tropical triggers are often associated with chilly patterns and are typically what help to contribute to an early start to the hurricane season.
"When you have a big dip in the jet stream bringing cold air aloft and stalling that over tropical waters for the course of several days, they can go from non tropical systems and eventually become tropical storms," Gillham explains.
By late summer and early fall, ocean temperatures however, are much warmer.
"Then at that point, the majority of the storms are triggered by systems that come off Africa and then they have a chance to intensify once they get over the tropical waters of the Atlantic Ocean," Gillham says.
The convergence zone that occurs in the tropics also lifts north as the season progresses and that helps to trigger some of the storms.
"And so those triggers are very different from what has caused the storms early this season," Gillham says.