QUEBEC | Wintry Weekend
Messy winter weather inbound to Quebec
Digital writers
theweathernetwork.com
Saturday, October 27, 2018, 12:21 PM - The first measurable snow event of the season is on Quebec's doorstep as a strong east coast low tracks through the province this weekend, part of a system that will affect most of eastern Canada from Ontario to Newfoundland that has its roots in the tropics. 
More on the timing and areas of impact, below.
RELATED: WHAT A CATERPILLAR'S STRIPE SAYS ABOUT WINTER
---
WEATHER HIGHLIGHTS
System arrives late on Saturday with rain changing to snow; messy weather for Sunday
Special weather statements in effect for 'first measurable snow' of the season for some; mixed precipitation
Storm surge warnings in effect for Sunday for parts of the St. Lawrence, including for Quebec City, where a wind warning is also in effect
Snow accumulations likely for western Quebec, with highest amounts for the Laurentians
---
WINTER STORM'S COLOURFUL PAST
Earlier this week, all eyes were on major Hurricane Willa as it made landfall on the Mexican coast Tuesday, but its story didn't end there. While its structure was stripped over land, Willa's moisture lived on, drifting as a remnant low over the Gulf states this week. On Friday, the remnants of Willa fueled an East Coast storm with tropical moisture in the mid-Atlantic, before it began tracking north, strengthening as it approaches Quebec this weekend.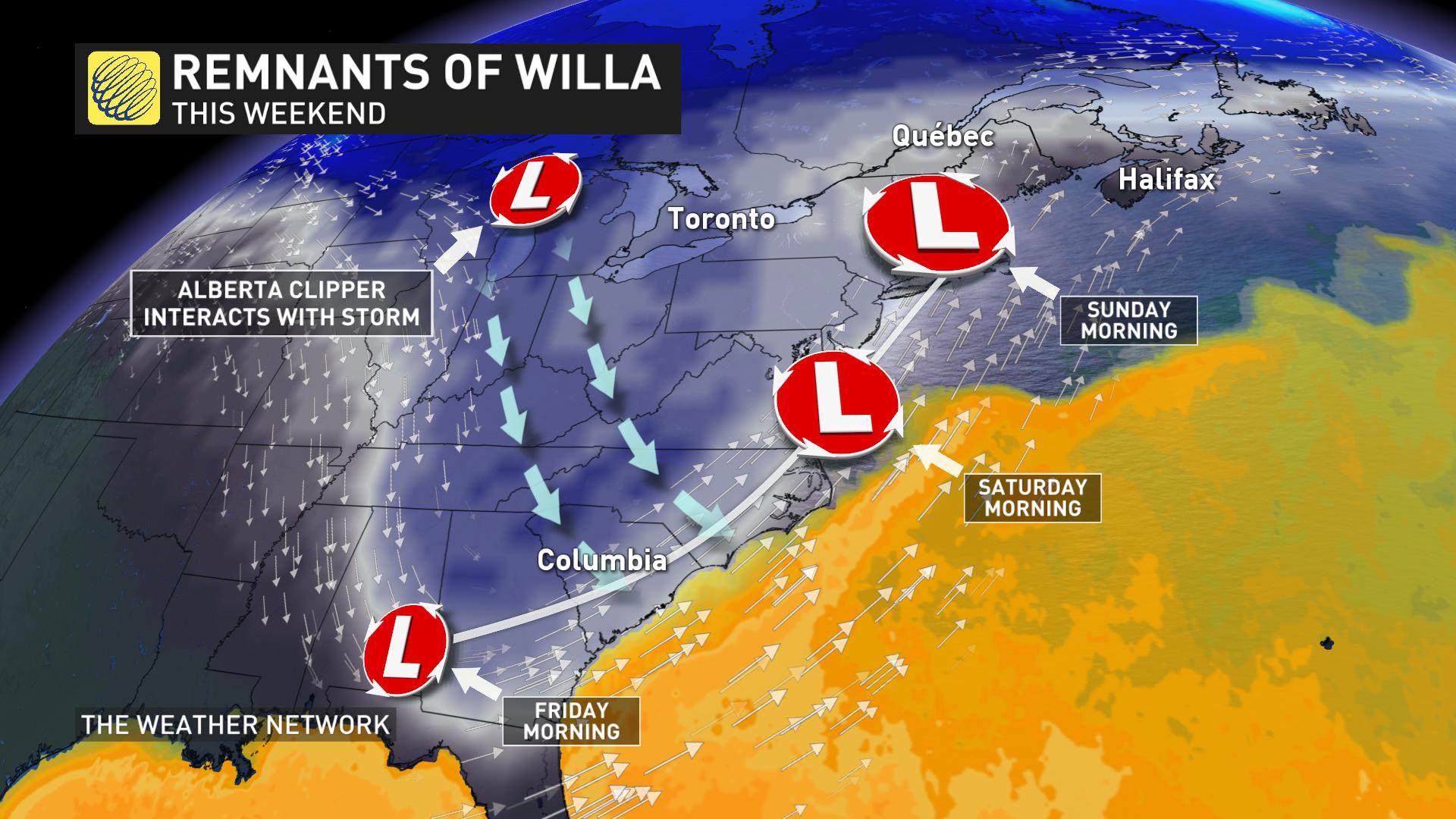 TIMING
Beginning on Saturday, the storm will approach from the south and work its way north into Sunday. In the afternoon and evening, rain showers mixed with wet snow will start it off in southern Quebec, with a messy mix of precipitation with mostly wet snow through Saturday night into Sunday morning. 
With temperatures hovering near the freezing mark in the overnight, nailing exact precipitation types will be challenging, as a one degree difference can cause rain to switch to snow.
Winds will be increasing Saturday night into Sunday morning, with gusts of 60-80 km/h out of the northeast. If you have any outdoor Halloween decorations, be sure to secure them beforehand. 
(MUST SEE: TRUCK TOPPLING WINDS, BLIZZARD-LIKE DRIVING)
Through the day on Sunday, the winds will ease across southern Quebec and Metro Montreal, but will still be gusting up the mouth of the St. Lawrence, where a wind warning is in effect for Quebec City. A storm surge warning was also in effect for Quebec City, as well as some other areas along the St. Lawrence.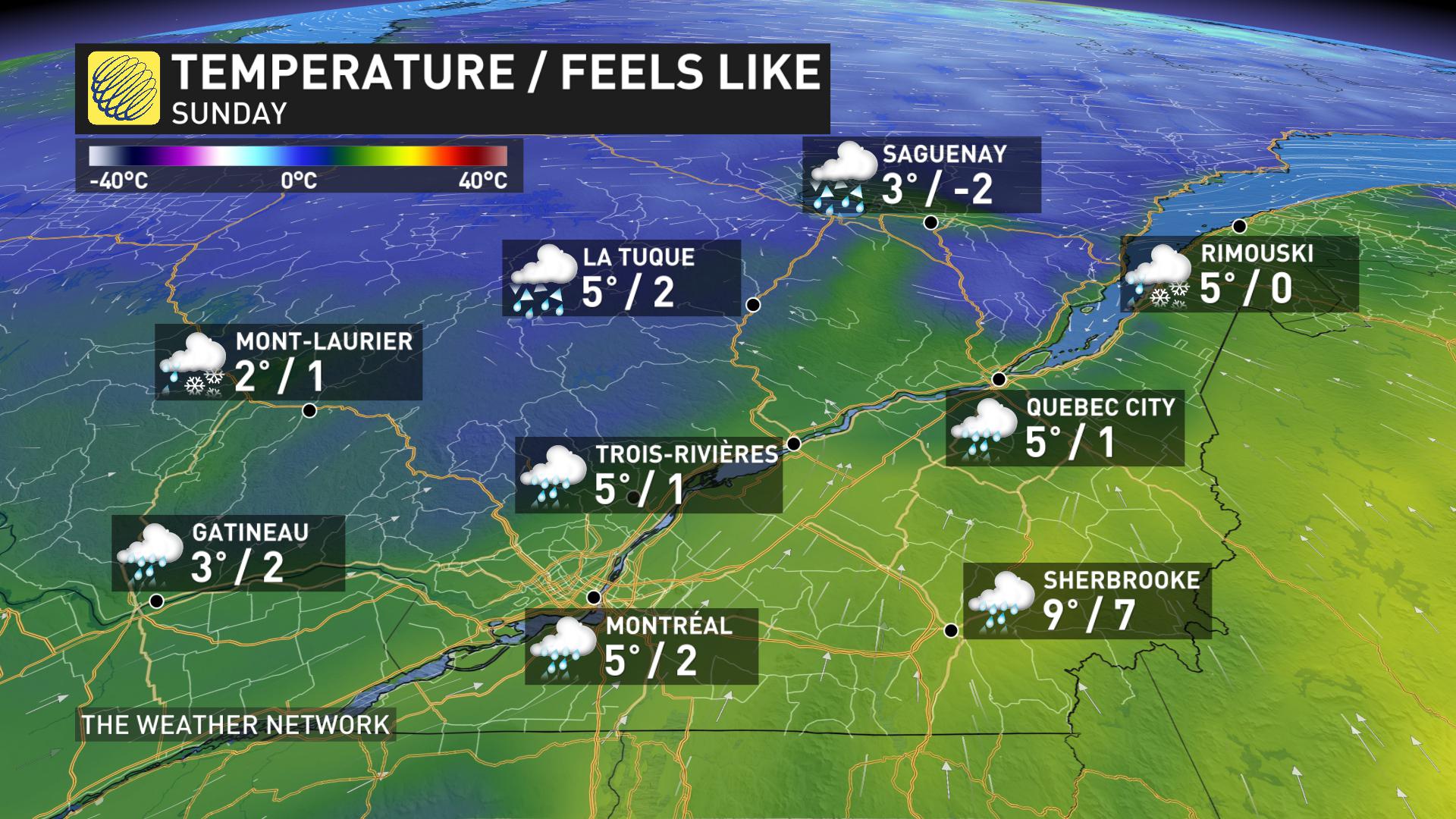 Through Sunday, most areas close to the St. Lawrence River Valley will see the snow change back to rain, but that transitional attempt will lead to messy precipitation through the day, particularly in Quebec City, the Gaspé peninsula and north of the St. Lawrence. In western Quebec, including the Laurentians, this will be primarily a snow event, with accumulations of 5-10 cm likely.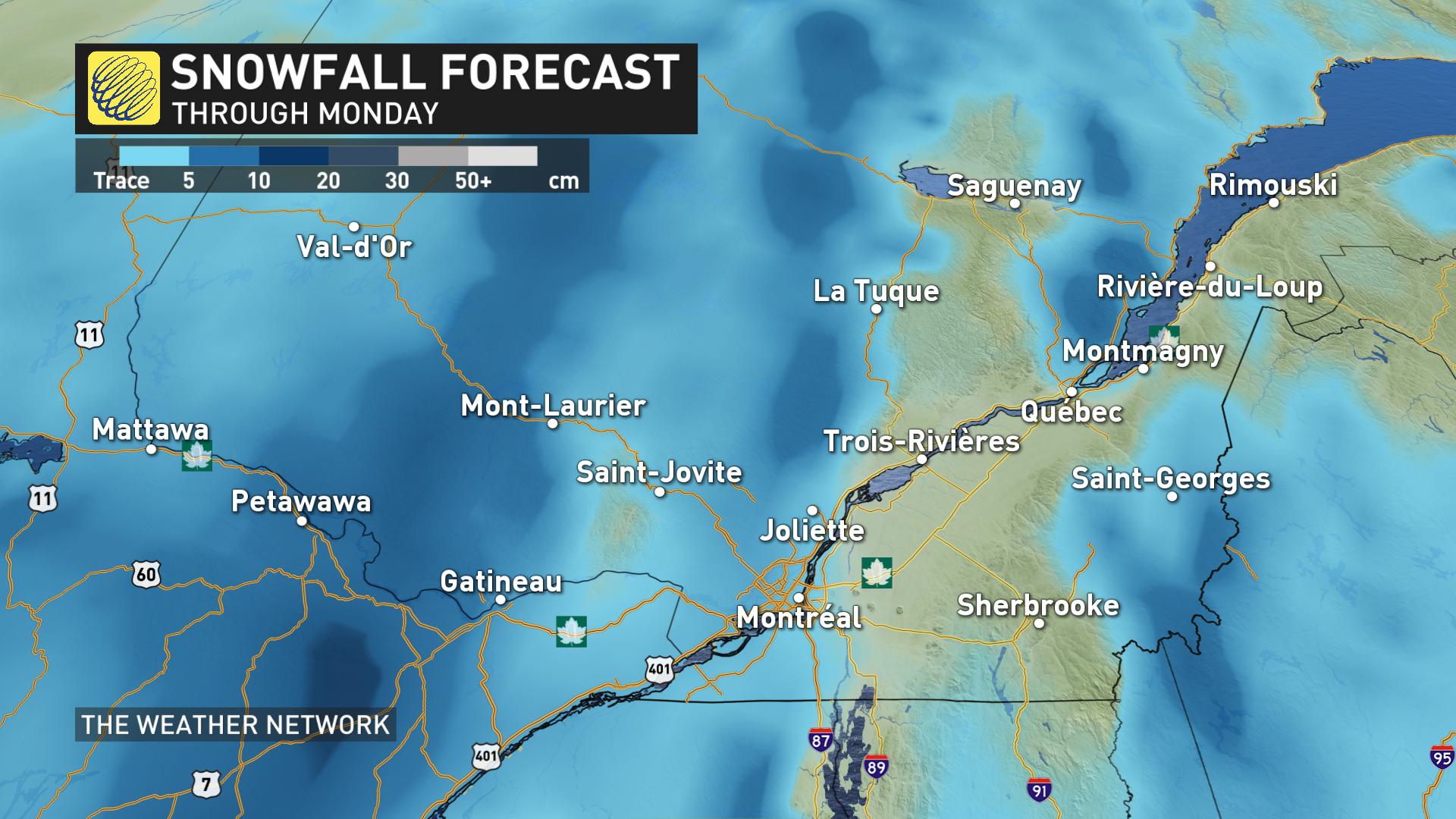 By Monday, the storm will be spinning over northern Quebec, but the cold air will remain in place and a weak disturbance will arrive in its wake, producing passing rain and snow showers.
LONG RANGE & HALLOWEEN OUTLOOK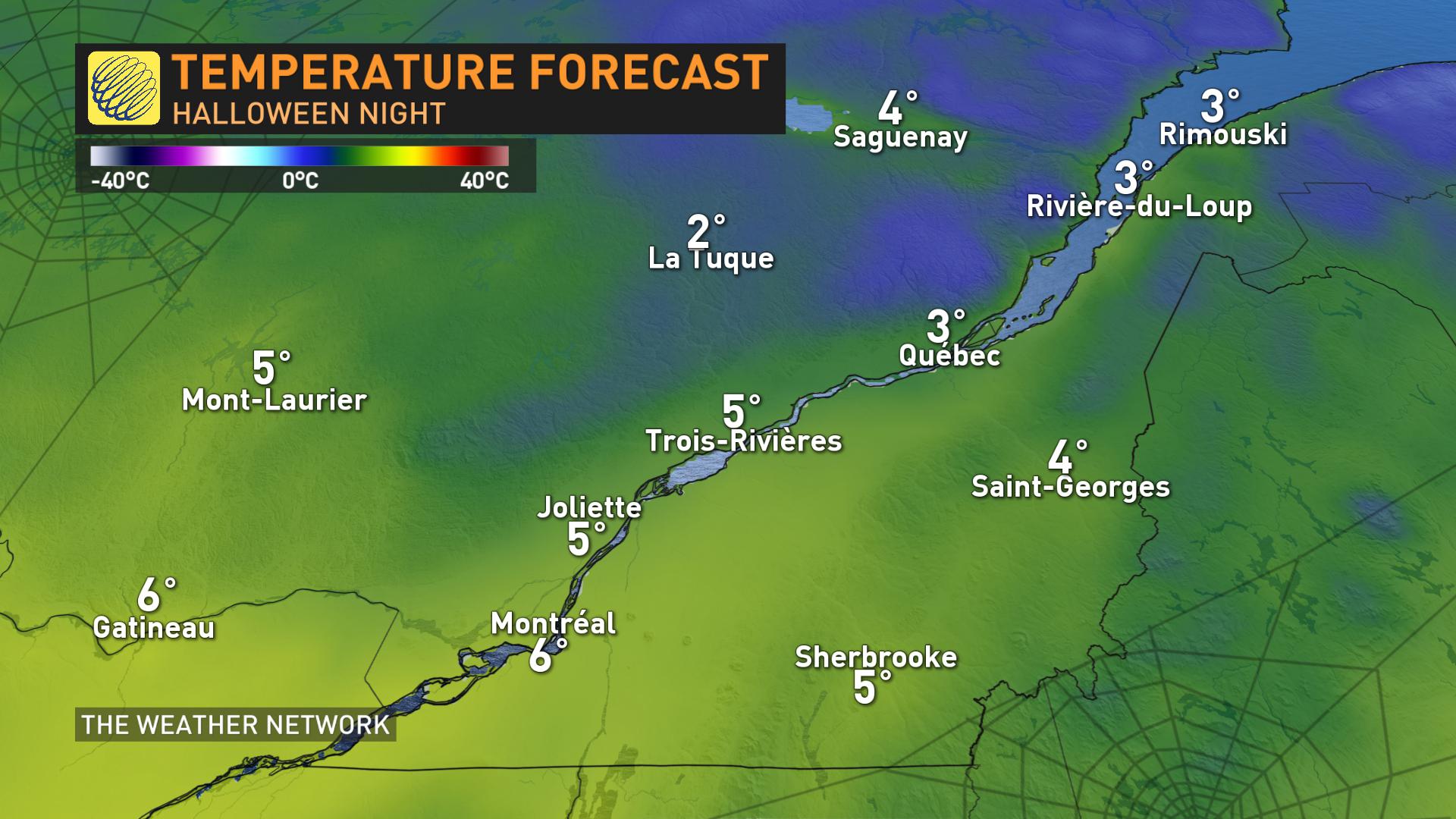 Halloween, at this point in time, looks to be relatively mild and dry for those trick or treating in the evening hours. For more details, watch the video below with meteorologist Tyler Hamilton.
VIDEO: QUEBEC HALLOWEEN FORECAST
Beyond Halloween, the milder trend will stick with us for the first few days of November, however, a period of colder weather is expected to return during November 4-8 in southern Quebec and Ontario. 
"During mid-November (November 10-25), we expect a milder pattern, but keep in mind that "normal" temperatures steadily falls through November," says Weather Network's meteorologist Dr. Doug Gillham. "While some back and forth swings in temperature are still expected, above seasonal temperatures should dominate. Late in the month (timing uncertain) we expect that a more consistently cold pattern will return to our region."
WATCH BELOW: HUNTING OR HAVING FUN? FOX FOUND JUMPING ON TRAMPOLINE