QUEBEC | Winter driving
Parade of storms target Quebec with heavy rain, wind, snow
Digital writers
theweathernetwork.com
Thursday, November 1, 2018, 9:30 AM - Quick on the heels of Wednesday's rainy -- and, at times, icy -- system, another round of rain is set to move into southern Quebec. This time, it's sub-tropical moisture surge into the region, bringing rising temperatures, but at the price of additional rounds of heavy rain. It won't be rain for everyone, however; we're also watching for some snow to fall through the Laurentians. We take a look at this soggy set-up, below.
(BE PREPARED: Stay up-to-date on the alerts in your area)
---
WEATHER HIGHLIGHTS:
Next system moves in overnight Thursday into Friday
Heavy rain risk in the south, snow and potential for freezing rain Laurentians, into St. Lawrence Valley
Multiple waves bring additional rain, snow into weekend
---
WATCH BELOW: TIMING THE NEXT ROUND OF RAIN
SWATH OF HEAVY RAIN TO START NOVEMBER
The break from Wednesday's wet weather will be brief as we watch another system track into the Great Lakes region with abundant Gulf moisture from the southern U.S. A swath of heavy rain will impact Quebec by Thursday night and into Friday.
"We could also see another batch of snow for parts of western Quebec and the freezing rain risk creeps into the similar areas that face it with [the last] storm as the precipitation encounters some colder air," says Weather Network meteorologist Jaclyn Whittal. "Snow is also expected along the higher terrain of the Laurentians, with a risk for freezing rain at lower elevations through the valleys."
After a brief break Friday night, yet another wave of moisture moves across the area through Saturday morning and afternoon with strong, gusty northwesterly winds picking up behind the system. Gusts between 50 and 70 km/h are possible with locally strong winds in some places. 
WATCH BELOW: WIND GUST FORECAST
CLASSIC FALL STORM FOLLOWS
Signs also point to a "classic fall storm" by the middle to end of next week, marking the latest impact in a relentless storm parade. 
"A big fall system could bring much more in the way of rainfall, strong wind gusts and some snow," Whittal says.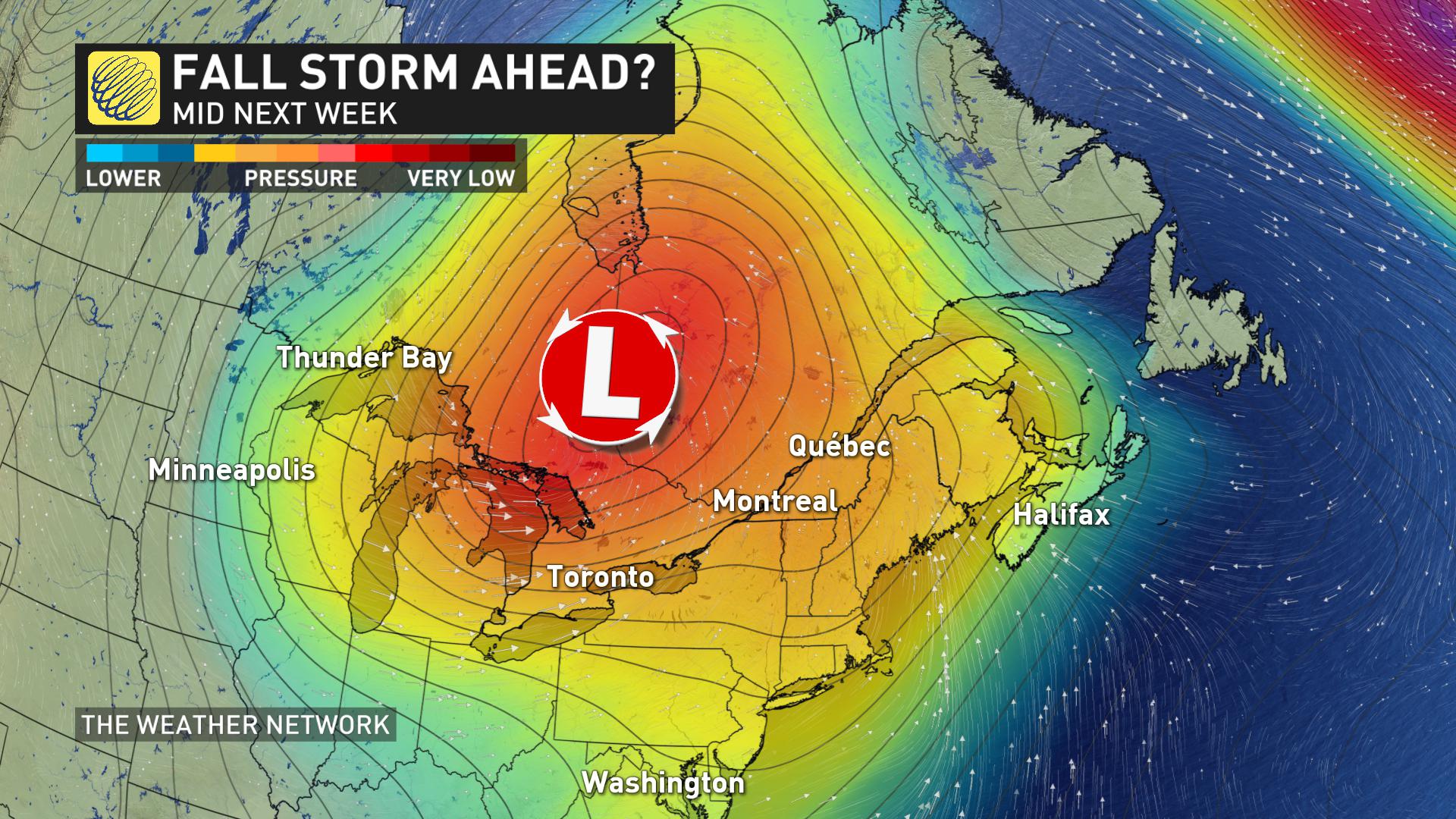 Be sure to check back for updates on these developing systems. 
WATCH BELOW: RECORD BREAKING FLOODING LEAVES 75 PER CENT OF VENICE UNDER WATER