END OF OCTOBER STORM | North America
Signs of a tropical-infused winter storm for late October
Erin Wenckstern and Tyler Hamilton
Meteorologists
Saturday, October 20, 2018, 3:21 PM - October has a well-deserved reputation for breeding powerful fall storms that smack us with early season snowfall across eastern Canada and late October looks to live up this characteristic. 
The pattern unfolding across the country is setting off atmospheric warning flares that the end of the month could whip up a potent storm for the region, but what makes this even more intriguing is that the potential winter storm would be kicked off by a tropical system in the eastern Pacific Ocean.
Where, when?
We cover what we know (and don't know) for the finals days of October.
Keep on top of active weather by visiting the ALERTS page.
---
WEATHER HIGHLIGHTS
Tropical system traverses the eastern Pacific Ocean and meanders over the southern U.S. next week
Atmospheric pattern supports storm development with a deep trough for the final days of October
Potential impact corridor from Great Lakes, southern Quebec and into Atlantic Canada
Time frame of storm between October 26-30
---
THE SETUP
A couple fundamental changes happen towards the end of October as troughs in the jet stream get a little more daring and adventurous, moving southward with more confidence.
VIDEO: THE SOUTHWARD MIGRATION OF TROUGHS IN NORTH AMERICA
All of this becomes more common because of our diminishing sun angle. As the solar influence wanes in the Northern Hemisphere, cold air builds in northern Canada and the Arctic, waiting patiently to be transported. The bold and southward-moving troughs are the perfect conduit to push these pockets of cooler air towards the lower latitudes in North America, which when confronted with warm, moist air across the south, often results in powerful storm development along their meeting zone.
JET STREAM TO HELP CARVE OUT PATTERN CHANGE:
FORECAST
In late October, one of those strong troughs is forecast to dive south into eastern North America and potentially encounter the ultimate package of warm and moist air across the southern U.S.: a remnant tropical system that formed over the eastern Pacific Ocean. On top of that, the strong sub-tropical jet stream will be in overdrive across the south, merging with this digging trough, acting to add more fuel to the fire and strengthen the system even further.
For a few days now, forecast models and their ensembles members (same model, but conditions/parameters are changed subtly to perturb the outputs) have been consistently showing this pattern evolving and sniffing out a low pressure signal along the east coast of the U.S., giving us a higher level of confidence and a hint that we should monitor this forecast period.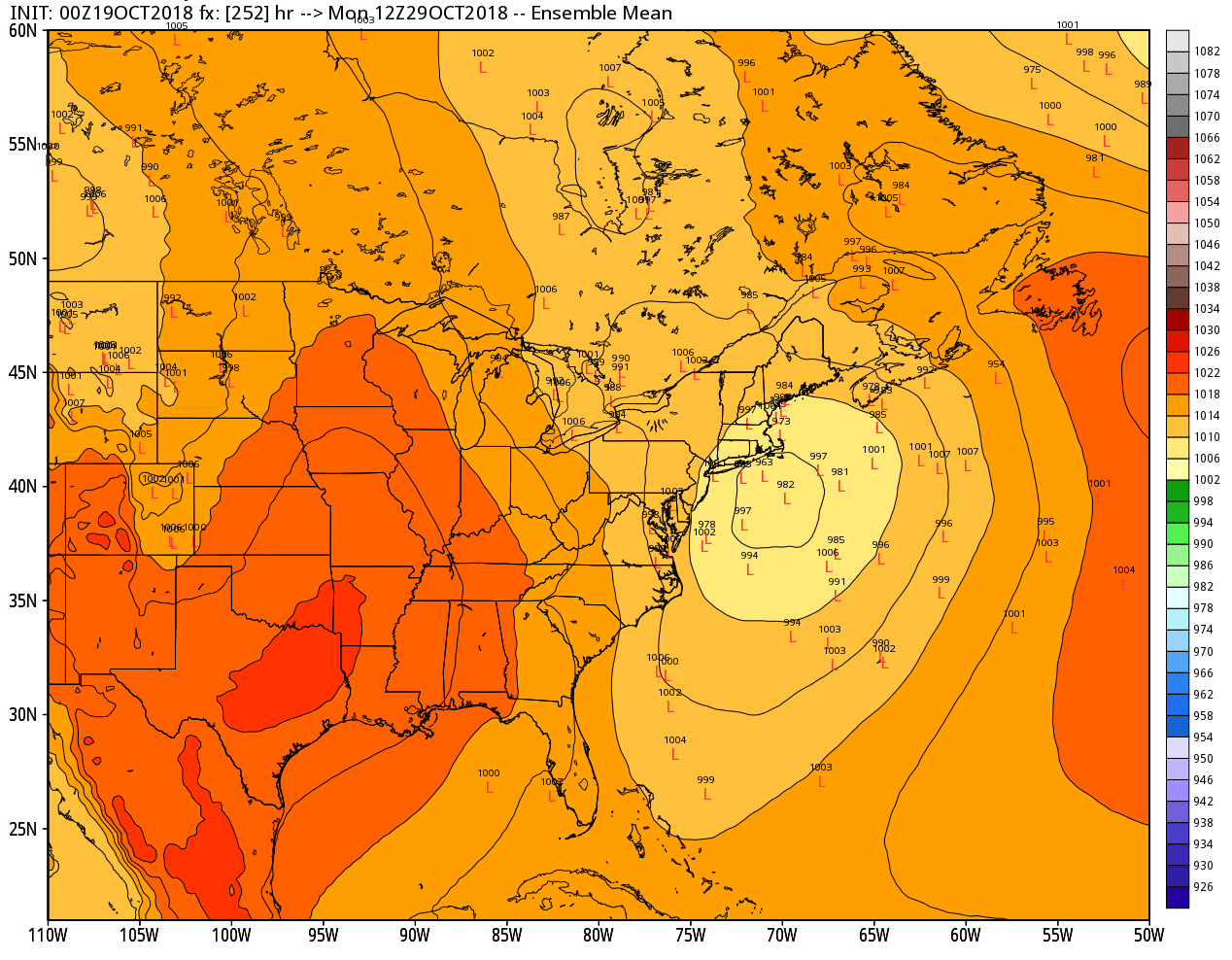 Ensemble output of low pressure detection. Clustering is found through the Great Lakes and along the eastern seaboard, signaling higher confidence in storm development within this region. Courtesy:WeatherBell
When forecasting, it's easy to get caught up in run-to-run weather model outputs. One day a model spits out a major blizzard, the next day it runs the output again and it completely abandons the idea. Let me tell you, it can be a real emotional and frustrating roller coaster to be on, but a seasoned forecaster will tell you to not get caught up in these inconsistencies, but rather to focus on the pattern behind it all. 
It can be similar to the volatility of the stock market – these daily weather models provide a brief snap-shot of the future weather conditions, but long term forecasters use pattern recognition to help nail down the probability for significant weather.
In the October 26-30 time frame, our atmospheric pattern screams storm potential, giving you all the right ingredients on a silver platter to produce a powerful system. Ingredients include:
Digging trough in the jet stream over eastern North America -- supplier of cold air and dynamics
Tropical system traversing the southern U.S. -- supplier of warm and moist air
Merging of the polar and sub-tropical jet enhances dynamics and supports strong storm development
We now ask ourselves: do these ingredients combine together to produce a tropical-infused winter storm, or are they out of sync and miss the opportunity? Even though we're peering into the 7-10+ day long range forecast and therefore can't answer that crucial question, we can still provide a few answers.
WHAT WE KNOW
It's entirely plausible that the trough fails to pick up and interact with the tropical system in the deep south, resulting in this system to skirt off the eastern seaboard with no Canadian impact. In that scenario, eastern North America would be spared an early season winter storm, but take a direct trip into a significant cool down and subsequent lake-effect snow squalls in Ontario.
But if it all comes together, then we're looking at a significant storm in a majorly populated corridor of North America. Storm development, if any, looks to be between October 26-30. Areas of potential impact will span from the Great Lakes, southern Quebec, the northeast U.S. and into Atlantic Canada. All winter hazards would be on the table, including heavy snowfall, powerful winds and heavy rain. Who sees what is still something we can't tackle yet, so for now we will continue to live in model land and slowly unveil the evolution of this system.
Stay tuned for more details.
WATCH BELOW: 'SINGING' ICE SHELF IN ANTARCTICA