HURRICANE SEASON | Category 5
Explosive year for hurricanes as Willa makes 9th Cat 5 storm
Caroline Floyd
Meteorologist
Monday, October 22, 2018, 7:07 PM - This year's hurricane season has added another dubious distinction to its already impressive list, as Hurricane Willa strengthened dramatically over the weekend to become the ninth storm worldwide to reach Category 5 intensity. That puts 2018 into a tie for second place when it comes the record for 'most Category 5 storms in a year', and there are likely yet more to come.
(Related: How Willa may go from Category 5 storm to nor'easter)
DANGEROUS DOZEN? 2018'S CATEGORY 5 STORMS
While the official record extends only as far back as the beginning of accurate global satellite coverage -- a perhaps surprisingly recent event, in 1990 -- only 1997 has seen a greater number of the monster storms, when 12 raked their way across Earth's oceans.
But this year's roster of Willa, Kong-rey, Trami, Mangkhut, Jebi, Maria, Walaka, Lane, and Marcus will likely gain a few more members before all's said and done. Hurricane Michael, the strongest storm on record to make landfall in the Florida Panhandle, had winds only 2 mph shy of Category 5 status before it made landfall. August's Hurricane Hector, in the Central Pacific, also missed out on Cat 5 status by only 2 mph. Either -- or both -- of these storms may be deemed Category 5 in the post-season review ahead, boosting 2018's total to 11. And Typhoon Yutu, currently building in the Eastern Pacific, is expected to reach Category 5 intensity as it moves through the Philippine Sea this week.
2017 made its own mark in the history books, with the devastating Atlantic hurricanes Harvey, Irma, and Maria, and Pacific typhoons Lan and Noru, but overall it was an usually quiet year for Category 5 storms, with only three developing. The running average from 1990 to 2017 is about 5 per year.
EXPLOSIVE INTENSIFICATION -- SIGN OF THE TIMES?
One of the more troubling features of a number of 2018's storms is how fast they've gone from minor threats to monster storms. Hurricane Michael took forecasters by surprise when it surged from newly-minted tropical storm to high-end Category 4 hurricane in just three days. Willa topped that feat, developing from a weak tropical depression to a massive Category 5 storm in just 54 hours -- tying the records of the Atlantic Basin's Wilma, from 2005's staggering hurricane season, and 2017's devastating Maria.
This kind of rapid intensification is one of the major areas of research -- and concern -- when it comes to how hurricanes will change as we move through 21st century. One of the world's leading researchers when it comes to tropical storms, MIT's Dr. Kerry Emanuel, says that our warming climate will not only make hurricanes stronger, it will increase the rate at which they intensify, and that's bad news for our coastal cities.
Speaking to Weather Underground after Hurricane Michael decimated parts of Florida, Dr. Emanuel said, "My own work shows that rates of intensification increase more rapidly than intensity itself as the climate warms, so that rapidly intensifying storms like Michael may be expected to become more common." Given that our best defense against these storms, at the moment, is adequate warning and preparation time, this is dire news, indeed. Storms that happen to hit this peak intensification just before landfall may well catch forecasters and communities alike off guard, making it too late to get out of the way before they crash ashore.
Both Michael and Willa took advantage of warm sea surface temperatures along their paths. Dr. Emanuel and others have estimated that average hurricane wind speeds should increase by above 5 per cent for every 1 degree Celsius increase in ocean temperature.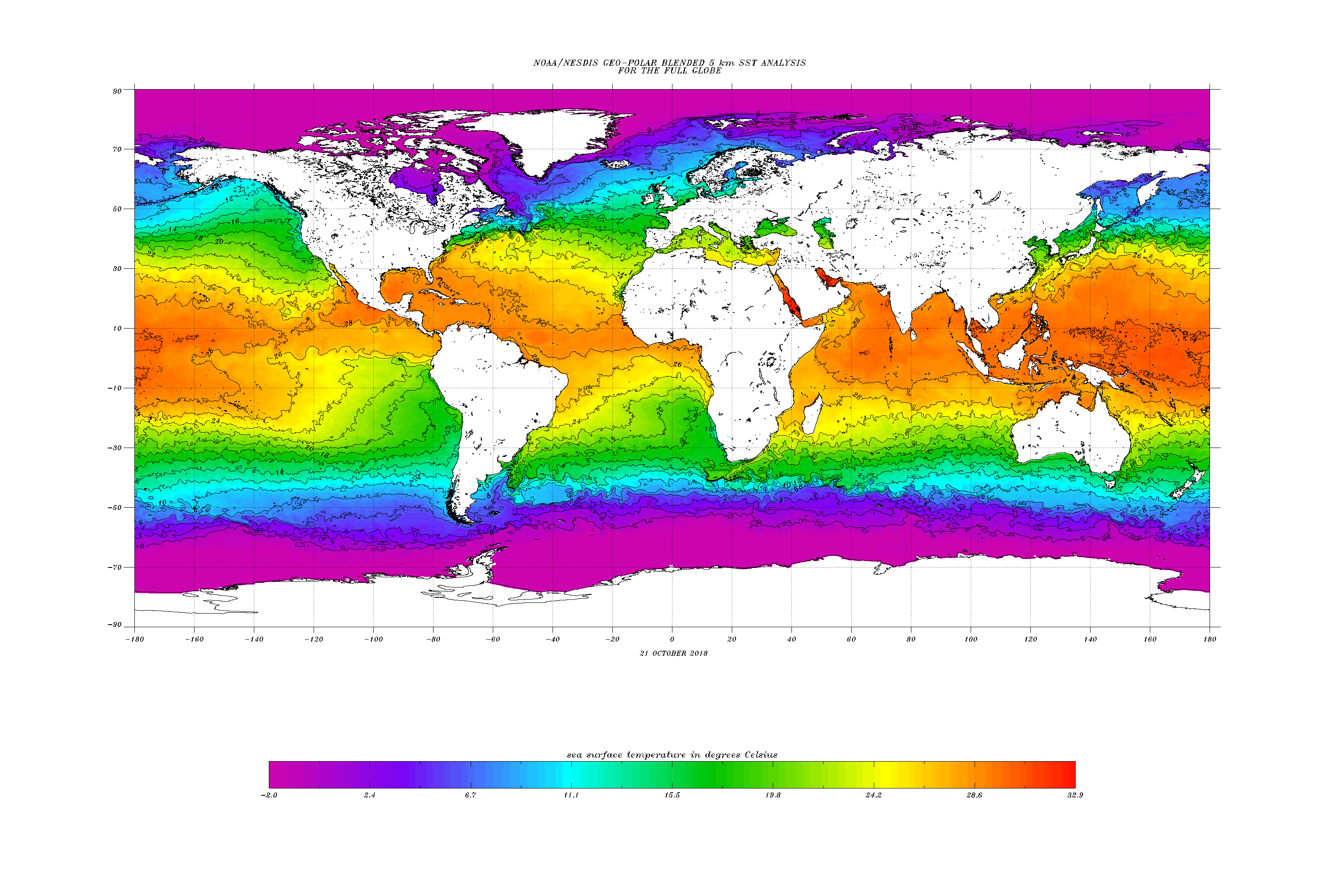 Sea surface temperatures in mid-October 2018. Image courtesy NOAA.
WHAT'S BEHIND THE BURST OF ACTIVITY?
The million dollar question (or, maybe more accurately, the 28 billion dollar question -- the estimated cost of hurricane damage in the U.S. each year) is what makes one year a breeding ground for monster storms, and another year relatively quiet. And while it's an important question, it's probably also one we're not likely to get an answer to anytime soon. While the basics for tropical storm formation are clear -- warm ocean waters and cooler, humid air -- as with any storm system, there are a myriad of small and large scale interactions in the atmosphere and the ocean that contribute to any one storm's eventual development (or lack thereof).
The advent of things like satellites and hurricane hunter aircraft, as well as the increasing sophistication of computer models, suggest that our ability to forecast the tracks of hurricane will continue to improve (a 5-day track forecast today is as good as a 3-day track 10 years ago). But adding the underlying challenge of a changing climate to the mix only complicates an already difficult problem when it comes to intensity forecasting.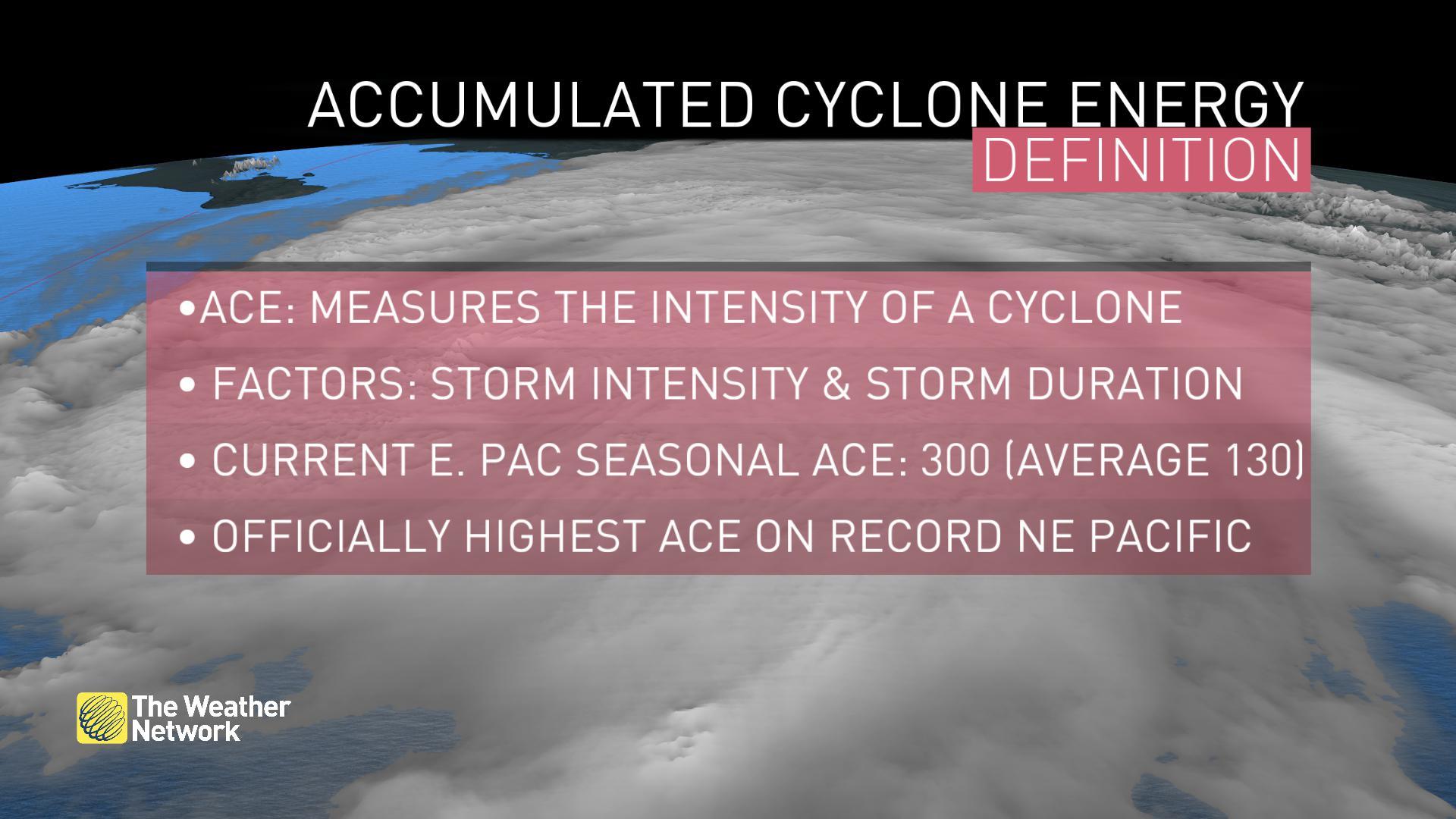 WATCH BELOW: SETTING AN ACE RECORD
In addition to the familiar Saffir-Simpson scale, which rank a hurricane's maximum winds on a scale of 1 to 5, other ideas for measuring the intensity of a storm may become more important as we're faced with these evolving storms in coming years.
Accumulated Cyclone Energy (ACE, above) and Dr. Emanuel's "power dissipation index" both consider the amount of energy 'used' by a storm in its lifetime, for instance; something that many researchers expect to increase over the next century. Other concerns for future storms are in the increasing amount of rain dropped by more slowly-moving storms.
Sources: Weather Underground | MIT/Dr. Kerry Emanuel 
WATCH BELOW: WATCHING WILLA -- IMPACTS FOR CANADA