BRITISH COLUMBIA | The King Tide
The king of winter, eyes on the Pacific tides this season
Tyler Hamilton
Meteorologist
Tuesday, November 6, 2018, 1:09 PM - The king tide will be back this fall and winter. The king tide isn't just a normal tidal cycle – but one on steroids. Many factors come into play when forecasting high water levels, but we have to factor in a weak El Niño playing a role this winter season. These king tidal cycles are extremely sensitive time periods for coastal B.C., as vigorous storm systems can cause significant coastal erosion and in rare cases, inundation of lowest lying areas around the Lower Mainland and Vancouver Island. What days are you at risk this year?
---
RECIPE FOR A COASTAL FLOODING EVENT
Deep area of low pressure
Winds blowing in a favourable direction
strong La Nina/El Niño (ENSO) event
king tide event
---
(Share your weather | Upload photos and video to our gallery)
WATCH BELOW: KING TIDES EXPLAINED
What are the highest tides, including surge recorded in Vancouver and Victoria?
Here are the highest tides (plus surge) ever recorded...
MAXIMUM TIDAL HEIGHT RECORDED IN VANCOUVER: 5.61 METRE (0.9 METRE SURGE)
MAXIMUM TIDAL HEIGHT RECORDED IN VICTORIA: 3.71 METRE (0.57 METRE SURGE)
These are important numbers, but it also illustrates how these records are in jeopardy every single year. For example, the highest tide possible for Vancouver is approximately 5.0 metres during a king tide event, which would require only a 0.6 metre surge to coincide during a king high tide to break the previous all-time record. Keep in mind, the return period for a 0.6 metre surge event is just over one year, on average; consequently, a storm surge of that magnitude happens fairly frequently.
EL NINO FORECAST: EL NINO WATCH IN EFFECT
The latest update on the El Niño forecast give odds greater than 70% to see weak El Niño conditions this winter, courtesy of IRI/CPC: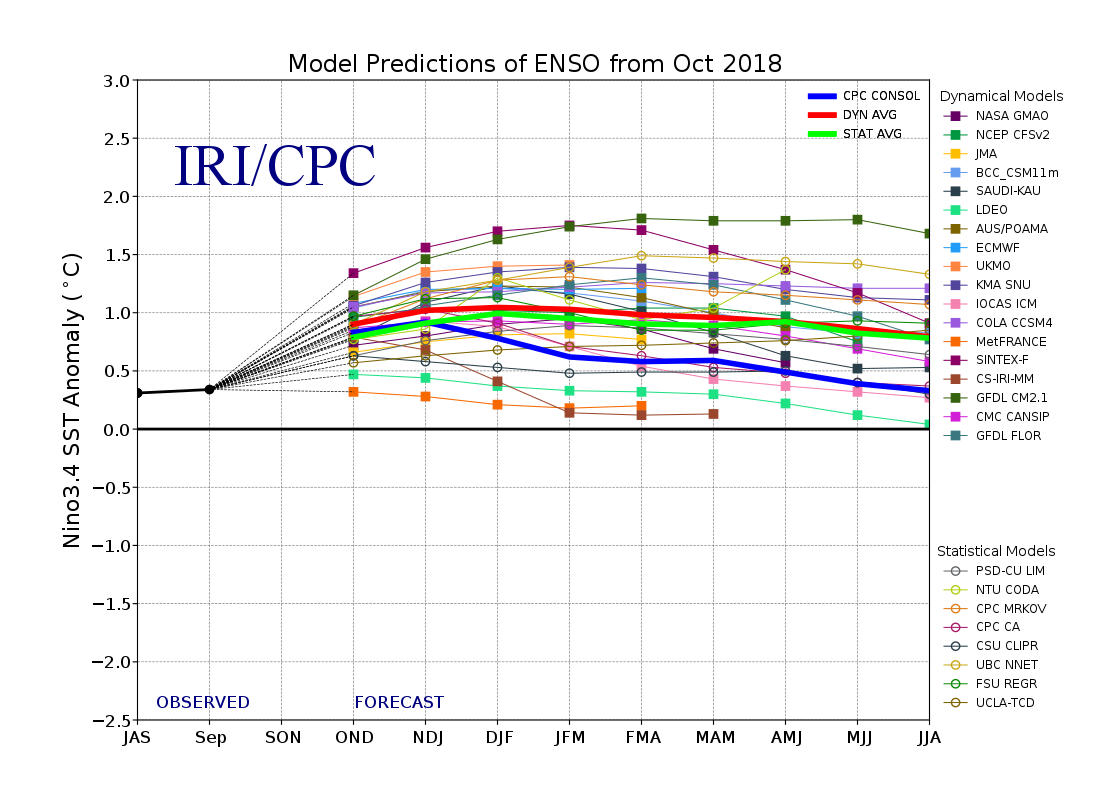 The storm track, the exact trajectory of a low pressure system, remains the greatest influence on water levels, on a day-to-day or hour-by-hour basis. If a strong storm moves across Vancouver Island during a king tide, we're extremely susceptible to localized flooding. An example of a worst case scenario track is the graphic below:
The storm track is extremely tricky to predict in the long range, most of the systems that have impacted the B.C Coast this winter have had weaker pressure gradients (slower wind speeds), but high precipitable water values due to moisture transport from the tropics. Sea surface heights are also neutral along coastal British Columbia, but are slightly elevated because of 'the blob' offshore. With the El Niño anticipated to be on the weaker end or even neutral, significant coastal sea surface heights are not expected this winter season, which does limit the threat of coastal flooding.
IMPORTANT HIGH TIDE DATES
RARE: THOUSANDS FLOCK TO SEE STRANGE TIDE PHENOMENON