B.C's wet, windy, unsettled conditions spill into week ahead
Tyler Hamilton
Meteorologist
Monday, March 7, 2016, 8:57 AM - A broad, upper trough is swirling off the B.C. coast and will be in the driver's seat over the coming days. Often, a weak disturbance can rapidly intensify south of the parent low and upper trough as they approach the B.C. coast.
Models for this week have subtle nuances and are still trying to resolve the finer details which can prove difficult in the data sparse eastern Pacific Ocean, but as of now the most damaging winds look to remain offshore on along western fringes of Vancouver Island as we head toward Wednesday evening. I'll show you what I mean.
Weather Bingo: Pick your own weather adventure: a wide array of weather conditions exist below with 21 weather models run simultaneously, each predicting different outcomes.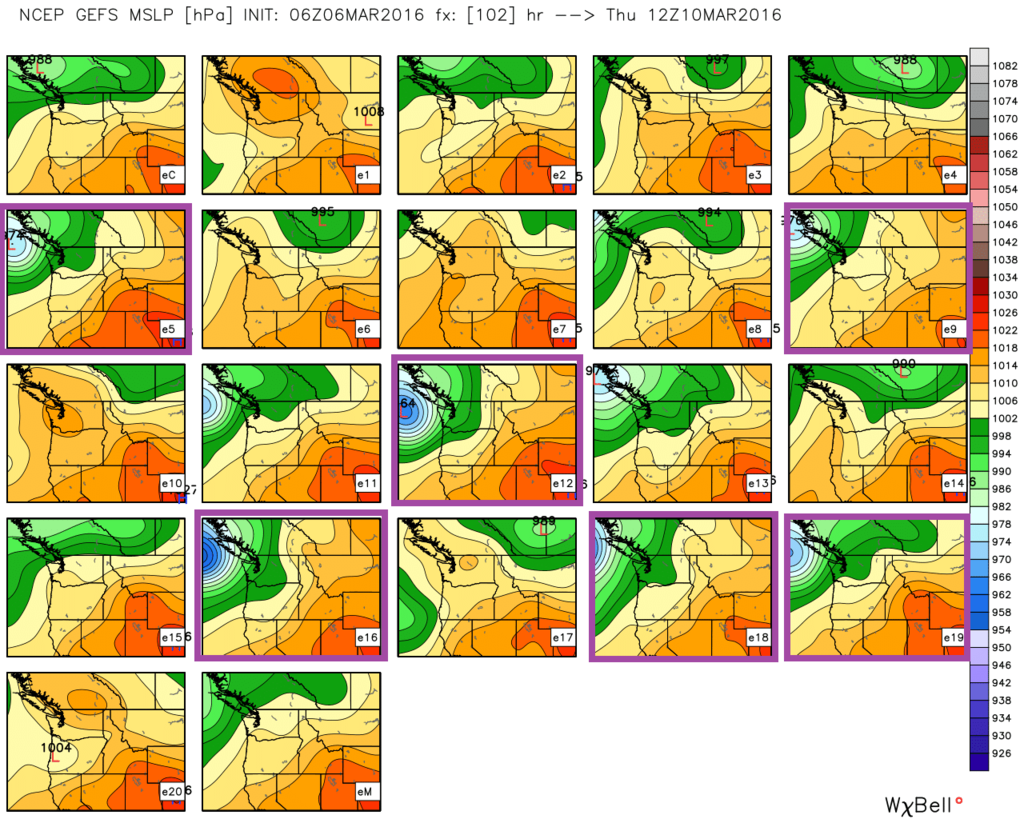 This would be the ultimate weather bingo call-out for storm watchers and weather enthusiasts for southern B.C. and parts of Vancouver Island. These models highlight the strongest, most powerful potential B.C. storms off Vancouver Island. Unfortunately, there is still a little bit of uncertainty with the systems this weekend, but there's higher confidence in a wet, windy, and unsettled conditions linger all this week at this point.
Highlights & Timing
By Tuesday evening we'll have a classic frontal system with rain and wind
Wednesday evening to Thursday we'll see a potent stronger system -- low forecast confidence with the track and intensity
Track between Haida Gwaii and northern Vancouver Island is most likely
B.C. Mountain Snow Update
Whistler-Blackcomb ski resort has recorded over 9 metres of cumulative snowfall by this weekend, and the resort is currently on the quest towards an average snowfall season. On Sunday, Whistler broke the 1000 cm barrier. Many El Niños in the past suggested this year would bring slightly below normal snowpack to B.C.'s South Coast, but this robust El Niño continues to defy the trend as we begin early March.
During the course of the week, I can safely crown the B.C. coast mountain range as one of the snowiest places in North America, but there's noticeable snow accumulation south of the Cascades into Portland, and as far south as the Sierra Mountains. The snow highlighted above in orange illustrates the effects of a moist, wet southwest flow and the forced ascent of the air as it reaches the coastal mountains of B.C. which will also enhance snowfall rates.
The storm track begins to migrate toward the Sierra Mountains in California by late weekend into early next week as a broad pattern shift takes place.
What kind of totals to expect through the week?
Amounts will vary through the coastal mountains, but 30 to 60 cm of fresh powder is to be anticipated to buffer what is anticipated to be a fantastic spring skiing season for portions of the Pacific Northwest, as highlighted by our spring forecast.
During the first few days of March, freezing levels persistently a little below seasonal with most frontal systems remaining under 1400 metres.
Snowpack Comparison
Spot the difference?
By April, some parts of the South Coast mountain range may approach over two times the cumulative snowpack when compared to 2014-2015. Analyzing the output of a Coastal Mountain snow pillow (see below) you can see we're currently mirroring the climatological mean seasonal snowfall with a likely snowpack peak expected in April! Drought concerns will be limited this year, especially when compared to last year.