OUT OF THIS WORLD
|
Earth, Space and Everything In-Between - a daily journey through weather, space and science with meteorologist/science writer Scott Sutherland
Giant iceberg A-68 is on the move! Catch up with it here
Scott Sutherland
Meteorologist/Science Writer
Thursday, September 6, 2018, 5:54 PM - It's been over a year since giant iceberg A-68 broke off from Antarctica's Larsen C ice shelf, and it is now finally on the move!
On July 12, 2017, an immense crack in the Larsen C ice shelf completed its months-long spread across the ice, resulting in the calving of iceberg A-68.
This immense chunk of glacial ice, which was larger than Prince Edward Island when it first broke off, now ranks as the sixth largest Antarctic iceberg ever seen, according to Brigham Young University's Antarctic Iceberg Tracking Database.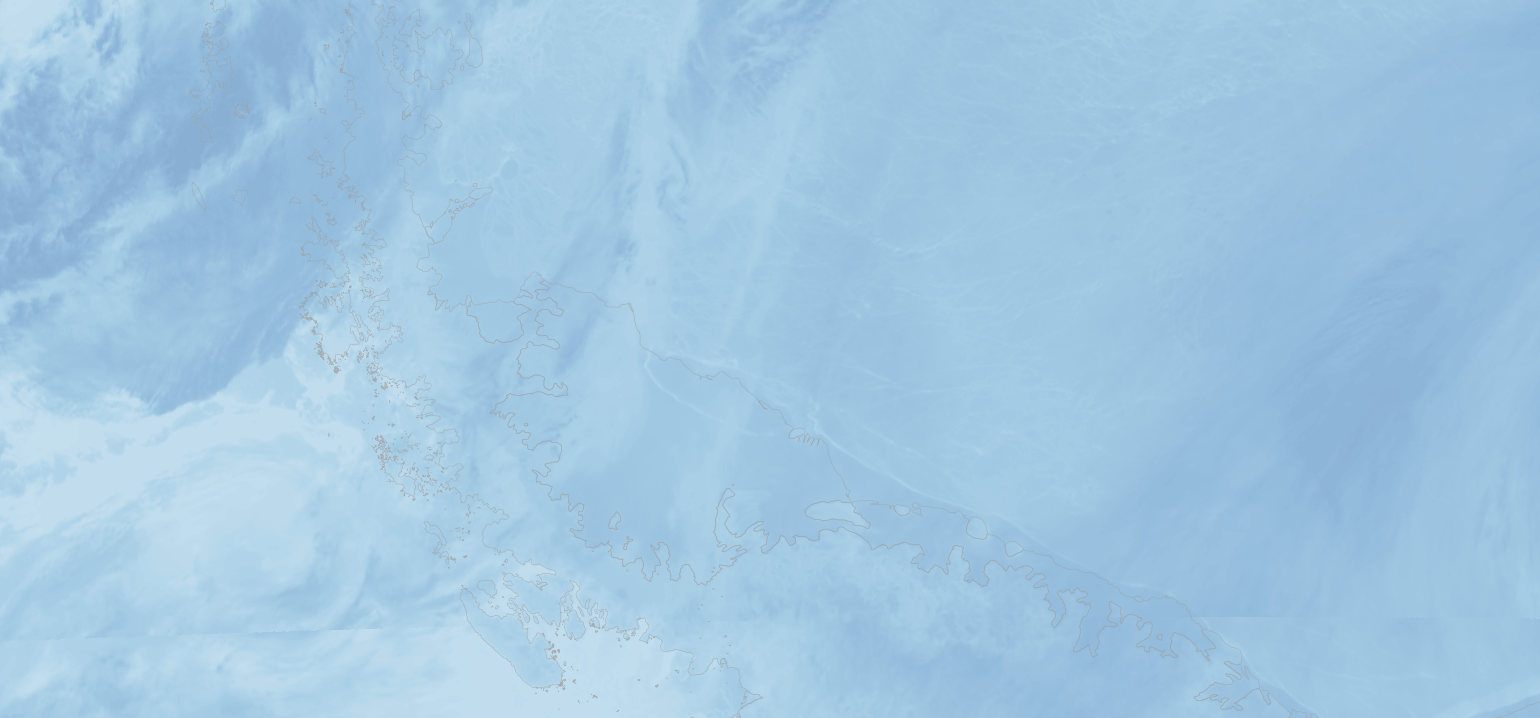 Comparison between Iceberg A-68 and Prince Edward Island, from July 12, 2017. Credit: NASA Worldview/Google/Scott Sutherland
Although A-68 has shifted back and forth along the new leading edge of Larsen C, taking a bit of a battering and losing a large chunk (which was then named A-68B), the flow of wind and sea ice kept it close to home.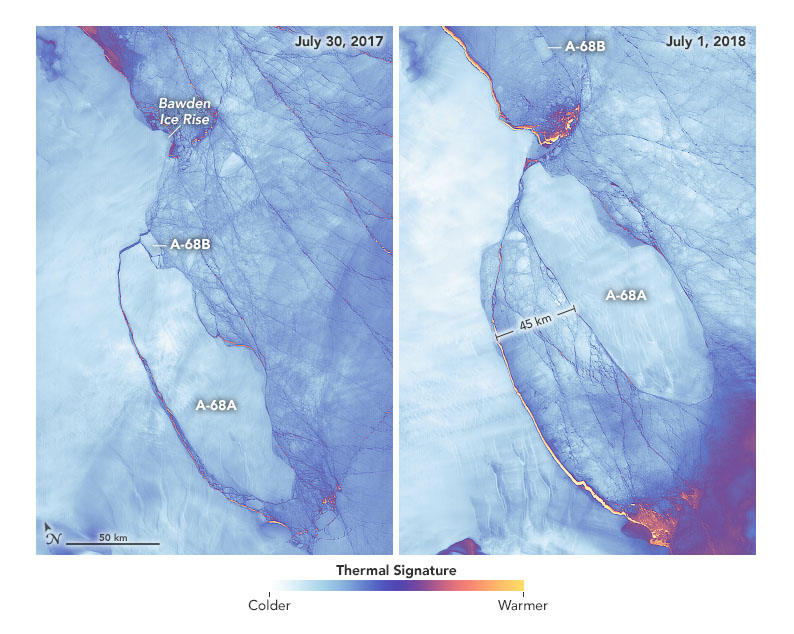 Icebergs A-68 A and B, on July 30, 2017, and July 1, 2018. Credit: NASA Earth Observatory
Over the past month or so, however, a shift in the winds has pivoted A-68 out into the flow of sea ice in the Weddell Sea.
"Until recently, the iceberg was hemmed in by dense sea ice in the East and shallow waters in the North around Bawden Ice Rise, satellite imaging glaciologist Adrian Luckman wrote on his blog. "Now, a strong foehn wind blowing eastwards off the ice shelf in early September has pushed the southerly end of the iceberg out into the Weddell Gyre."
"This persistent clockwise drift of ocean waters and floating sea ice flowing North past the Larsen Ice Shelf, which can be seen in the animation below as a flow from right to left, has rotated A68 out into the Weddell Sea," he added. The animation he references is one composed of data from the European Space Agency's Copernicus Sentinel-1 mission, which he posted on his blog.
The animation below, which uses 'brightness temperature' data from NASA's Suomi NPP satellite, which can show surface details even when the area is shrouded in the night of polar winter, also shows the recent pivot A-68A has undergone, out into the Weddell Sea.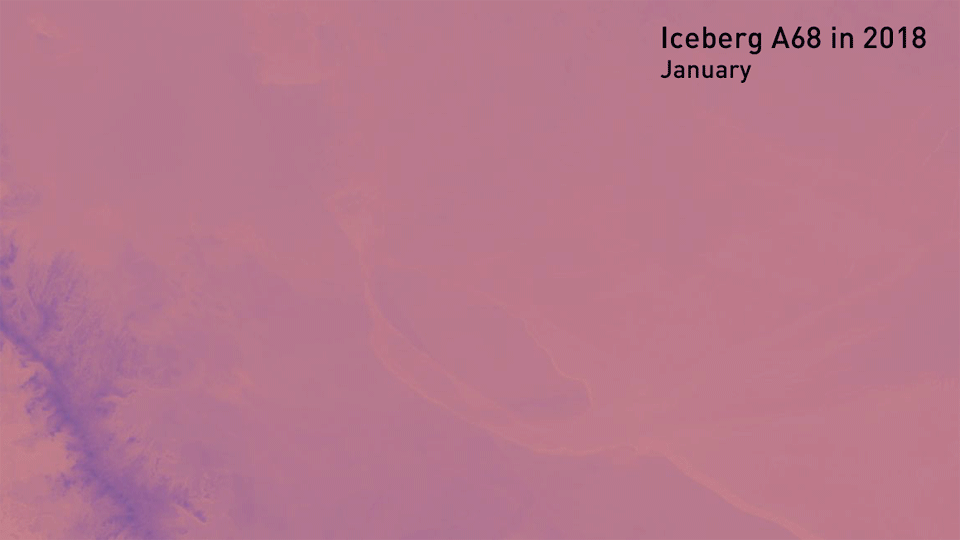 The movements of A-68A throughout 2018 so far. The animation goes month by month from January to June, then starting June 30, it shows all days when the iceberg was clearly visible to the Suomi NPP satellite's cameras. Credit: NASA Worldview/Scott Sutherland
According to Luckman, from where it is now, A-68A is in a much better position to be swept away from Larsen C by the Weddell Sea currents, which swirl the water and sea ice in that region in a clockwise direction.
Once caught up in the gyre, the iceberg will likely end up somewhere in the Southern Ocean, as it slowly leaves the Antarctic Peninsula behind.
Sources: Adrian's glacier gallery | NASA Earth Observatory | Brigham Young University
RELATED: FIRST-EVER FOOTAGE RELEASED OF ANTARCTIC ICEBERG '4 TIMES THE SIZE OF LONDON'