Fall Forecast: See what the next three months have in store
Visit this Fall Forecast Guide to the Season for the Winter Weather Preview, fall foliage viewing tips and more.
Dr. Doug Gillham
Meteorologist, PhD
Thursday, October 8, 2015, 9:32 AM - Summer weather will linger deep into September for most Canadians, followed by a sudden and extended temperature drop for many, The Weather Network predicts in this Fall Forecast for September, October and November. Above-seasonal temperatures are then expected to return later in the season before winter arrives. Precipitation, meanwhile, will be near or below normal levels for most of the country throughout fall
"Fall is a transition season and we typically see a roller-coaster ride in temperatures as we descend toward winter. This year, Canadians should expect more prolonged periods than usual in which temperatures are either above or below normal," said Chris Scott, chief meteorologist at The Weather Network. "Above-seasonal temperatures will dominate central and eastern parts of the country in September, but a switch will flip sometime in October, bringing cold temperatures and a false start to winter. By contrast, Western Canada will hold onto milder weather longer into the fall, resulting in above-normal temperatures for the season as a whole."
---
WINTER PREVIEW: See when the cold and snow arrives for your area
---
The warmest September weather relative to average will centre on the Great Lakes, where mid-summer heat is expected at times.
Temperatures for early fall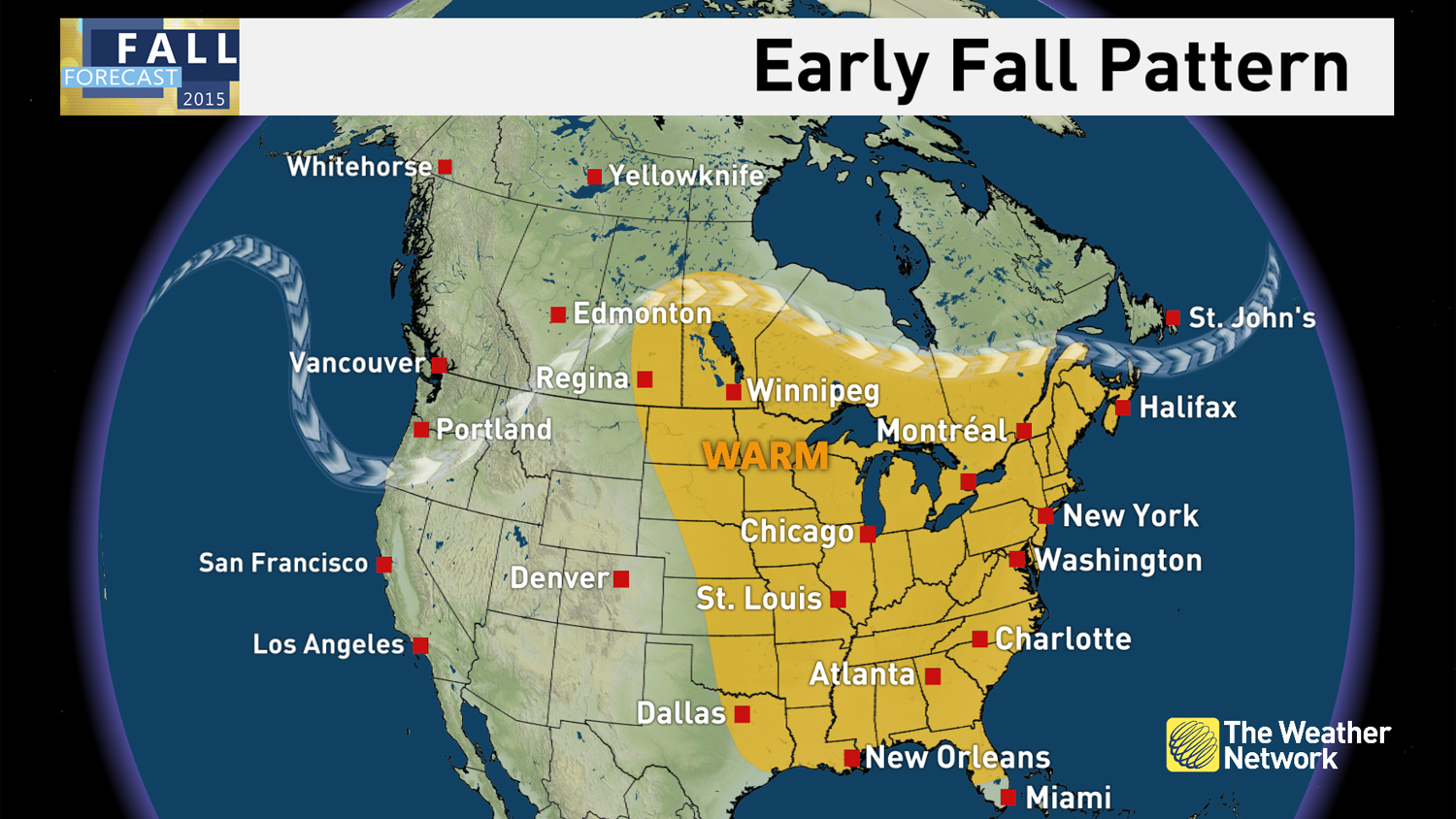 As we progress deeper into fall, however, a significant pattern change is expected. During mid and late fall, below-seasonal temperatures will spread east from the Prairies to Atlantic Canada, and dominate for several weeks. While "normal" temperatures steadily drop through a typical fall season, the transition will be more abrupt this year.
Temperatures for mid and late fall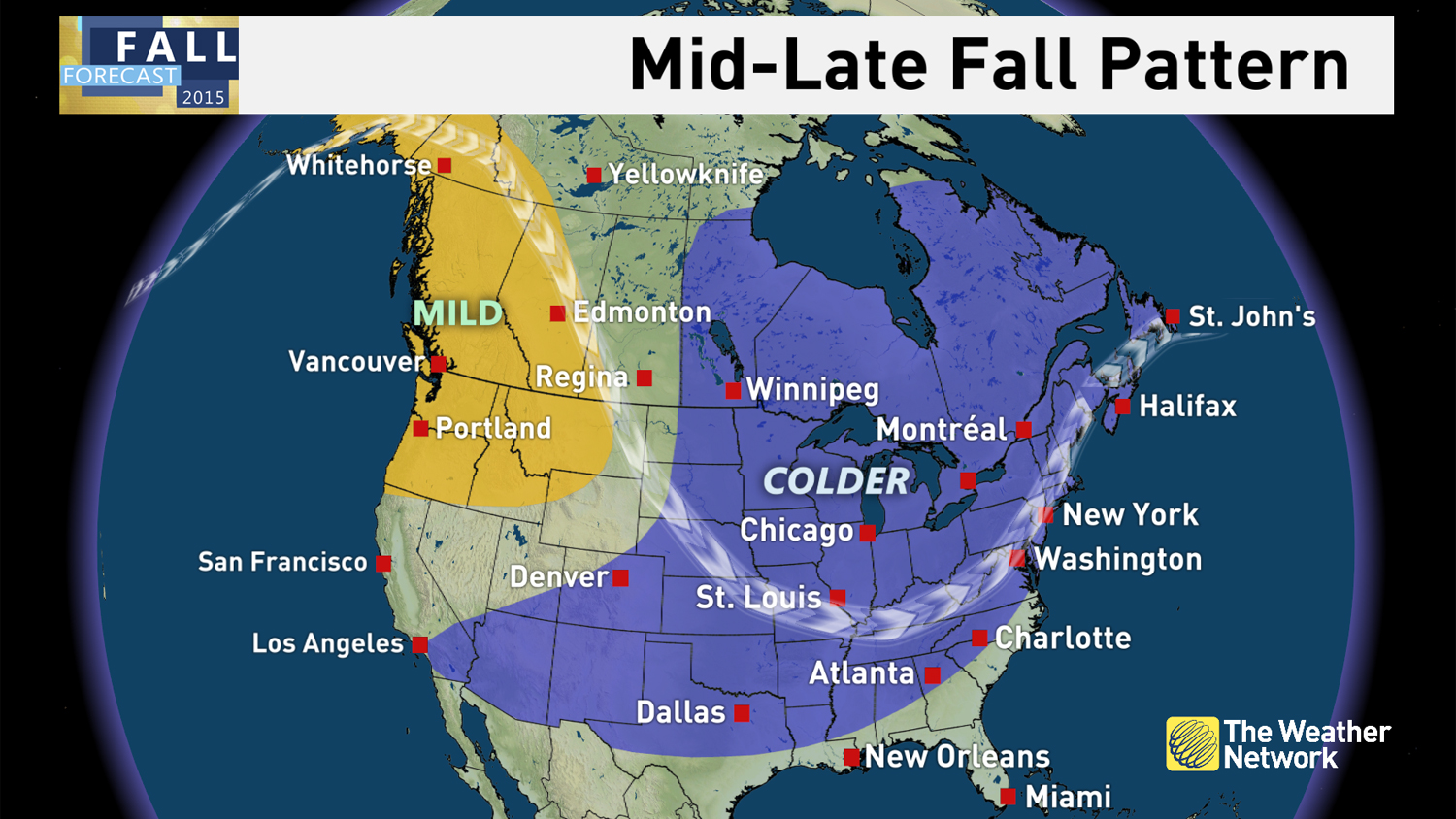 This pattern will likely include a period of wintry weather for most, but this will be a false start to winter as a milder pattern will return to this region later in November or early December.
As we look overall at the three-month period of September, October and November, the numbers will likely average to show near-normal temperatures from Manitoba to the Maritimes. This will be the result of a season in which summer lingers well into fall, followed by several weeks of weather that resembles early winter.
Across British Columbia, Alberta and Saskatchewan, above-seasonal temperatures will dominate the fall pattern, but there will be periods of below-seasonal temperatures as well, especially across Alberta and Saskatchewan. In contrast, below-seasonal temperatures will dominate the pattern for Newfoundland and Labrador, but periods of pleasant late summer weather are expected at times during September.
Average combined temperatures for September, October, November of 2015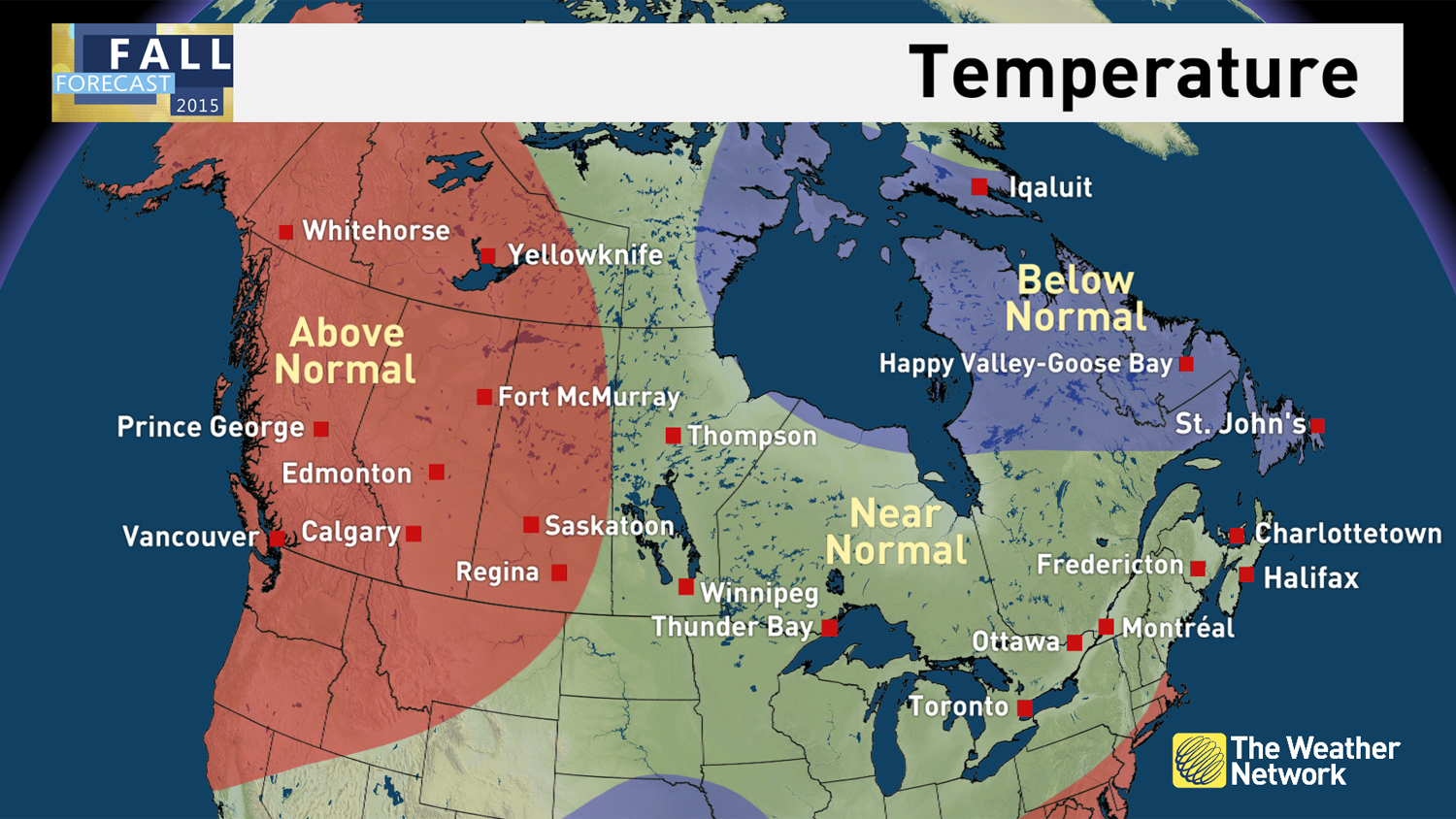 Unfortunately, it looks like the fall will not bring significant relief from the very dry conditions across central and southern B.C. While there certainly will be periods of rainy weather, below-average rainfall totals are expected for the season as a whole.
Near-normal precipitation is expected across the rest of Canada from the Rockies to Atlantic Canada.
Precipitation overall for September, October, November of 2015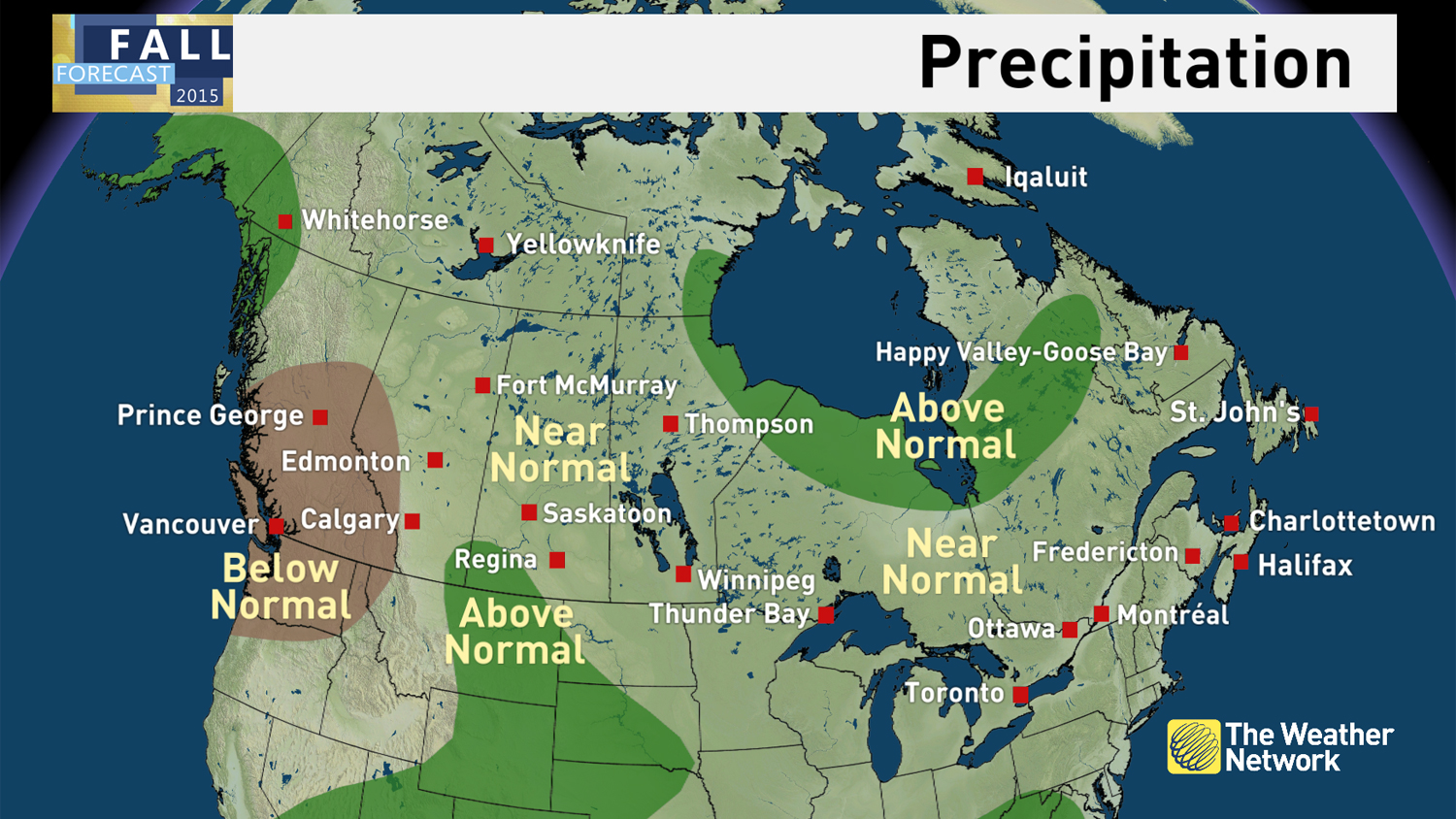 From the Great Lakes to the Maritimes, we expect fewer rainy days than normal, but a couple of significant storms later in the fall should bring precipitation totals close to normal for the season as a whole. Also, with the forecast for below-seasonal temperatures during mid and late fall, there is a higher than typical threat for a significant autumn snowfall in this region. A couple rounds of early-season lake-effect snow are expected as well.
Atlantic tropical storm season
A quieter than average season is expected with regard to the total number of tropical storms and hurricanes in the Atlantic Basin. Conditions will often be favorable, however, for development and strengthening of systems in the Gulf of Mexico and near the southeast coast of the United States. This elevates the concern for a substantial landfall impact along the U.S. East Coast (despite the low number of totals storms). Atlantic Canada could also be impacted by one or two of these systems.
Forecast Factor: El Niño
Developing seasonal outlooks involves a thorough analysis of global weather patterns and global sea-surface temperature patterns. Numerous models provide helpful clues as to how these patterns will change during the upcoming months, but an understanding of cause and effect relationships between the ocean and atmosphere will often be more accurate than the seasonal model forecasts.
One key consideration in the development of our fall forecast is the rapid strengthening of the current El Niño event. El Niño is associated with a warming of sea-surface temperatures in the tropical regions of the Pacific Ocean, primarily to the west of South America. When ocean water temperatures in this region are warmer than normal, it impacts weather patterns around the world, especially during the late fall and winter.
Forecast Factor: The Blob
Another key factor in our fall outlook is the large region of warmer-than-average ocean-water temperatures south of Alaska and west of British Columbia. This "blob," as it's being called, has been a key contributor to the dominant weather pattern across North America for the past two years -- more pronounced the past two winters -- and it looks like this pattern will continue through the fall.
Are seasonal forecasts accurate?
A common audience comment to every seasonal forecast article questions the accuracy of our daily predictions, and concludes that we can't possibly produce an accurate seasonal forecast.
While this feedback is understandable, it is important to keep in mind that seasonal forecasts are fundamentally different from daily forecasts. Our seasonal forecasts provide an overview of the pattern for the upcoming season (such as a mild winter vs. cold winter). We do not attempt to tell you if it will rain or snow at your house on a specific date.
Our forecasts for the past six seasons have been very effective in describing the dominant weather patterns for the upcoming season. This type of forecast is often easier to accurately do than to tell you what you really want to know: whether the scattered afternoon showers will directly affect you this weekend.