Eyes on tropical disturbance, potential Canada impact
Michael Carter
Meteorologist
Wednesday, October 19, 2016, 8:09 AM - The fall of 2016 has already been memorable for eastern Canada, and the season is far from over, as we look ahead to another impactful autumn storm with a tropical connection. Heavy rain, gusty winds, and even a first taste of wintry precipitation for some are all on the table, as a powerful system develops this weekend.
---
Winter Sneak Peek: Classic Winter or green for the holidays? Exclusive first look at what the winter might bring this year. | FORECAST & MAPS HERE
---
Before we get to this weekend's storm, we'll see a mid-week system bring a brief but potent warm-up and a round of showers, followed by the return of more seasonal temperatures for late week. Daytime highs will break the 20 degree mark in parts of the Maritimes on Wednesday, before falling back to the mid-teens for Thursday and Friday.
Meanwhile in the western Atlantic basin we'll have eyes on a developing area of low pressure that could become Tropical Storm Otto. The National Hurricane Center currently gives the storm a 80 per cent chance of developing into a tropical cyclone. But whether it acquires a name or not, the moisture from this system will play a key role in eastern Canada's next storm system, which will bring impacts from Quebec through Atlantic Canada this weekend.
This forecast guidance captures the situation as it develops late this week. A powerful upper-level trough digging in to the Great Lakes will cause the formation of an area of surface low pressure over the Ohio Valley. As the low tracks northeastward, the circulation around the tropical system, which may or may not be Tropical Storm Otto by this time, will cause deep tropical moisture to surge northward.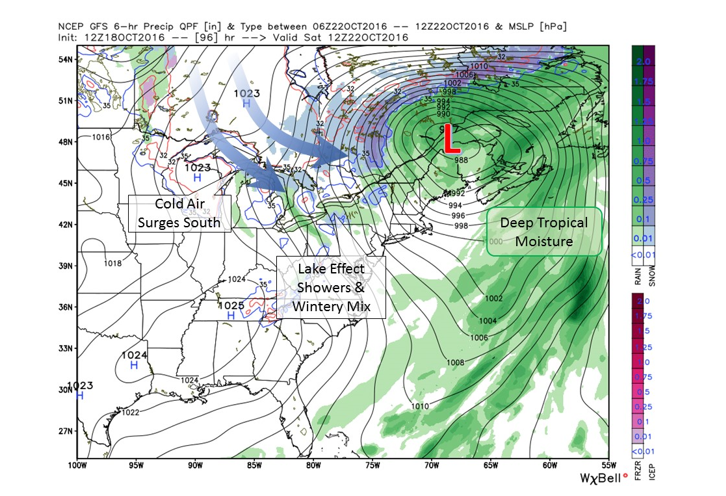 The low will deepen quickly as it tracks into Atlantic Canada by Saturday morning. Heavy rain will be widespread from eastern Quebec through the Maritimes and Newfoundland, thanks to abundant moisture provided by this system's tropical connection. It's a bit too early to start refining specific amounts, but widespread totals over 50 mm are likely, with localized amounts approaching 100 mm.
On the back side of the low, cold air will surge southward across the Great Lakes, setting the stage for a round of lake effect showers, mixed wintry precipitation, and graupel on Saturday. The strong pressure gradients associated with this system will also lead to widespread strong gusty winds – mild and southerly for the Atlantic coast, brisk and northerly for Ontario and Quebec.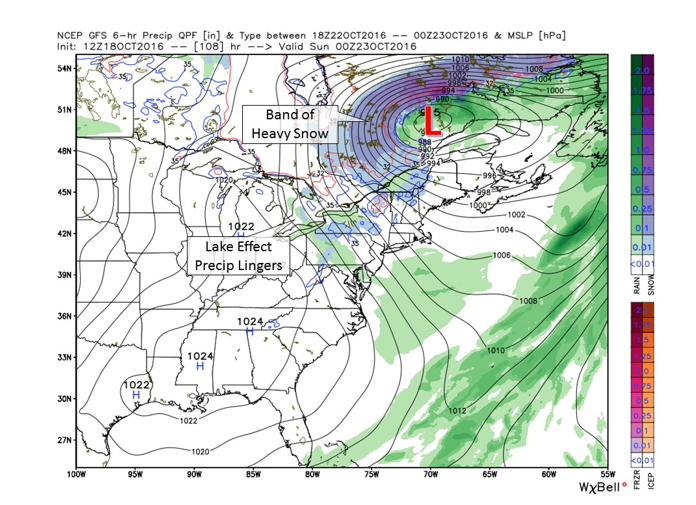 Late Saturday and through the day on Sunday, the storm will continue to wrap up over northern Quebec. As moisture is pulled around the low and back into the cold air, a band of heavy snow will develop across northern Quebec and Labrador. 
Flakes could be in the forecast late this weekend for locations such as Ottawa, Montreal, and Quebec City, and significant accumulations could occur as far south as the Laurentians.
This forecast guidance shows where the heaviest snow accumulations are likely. It's important not to focus on the specific amounts this far out, but the overall pattern does suggest an impactful weekend storm – and the first taste of wintery precipitation for many residents of eastern Canada.
WATCH: Sneak peak at winter 2016/17