INDIA | Toxic Air
Northern India plagued by toxic air, peak smog season begins
Brad Rousseau
Meteorologist
Monday, November 5, 2018, 7:25 PM - Air quality across northern India and Delhi is some of the worst on the planet, and for the fist time this season, levels of fine particular matter in the air spiked on Sunday, November 4. Fine particulate matter, PM 2.5, hit 566 ug/m3 (micro grams per meter cubed).
According to Robert Rohde, lead scientist at Berkeley Earth, concentrations of PM2.5 above 55 ug/m3 are considered unhealthy, and 250 ug/m3 are considered hazardous. The World Health Organization (WHO) guidelines on PM2.5 annual exposure say that levels should not exceed 10 ug/m3. In Delhi the average annual exposure over the last year is 109 ug/m3.
(See also: Study pins persistent North America smog on pollution from Asia)


Average particulate matter for the past 14 days. Image courtesy Berkeley Earth.
The air quality in the region is not always at such extreme levels, but based on the data from Berkeley Earth, the air quality at unhealthy to hazardous levels for the majority of the year. At some times, levels climb beyond what instrumentation can even record.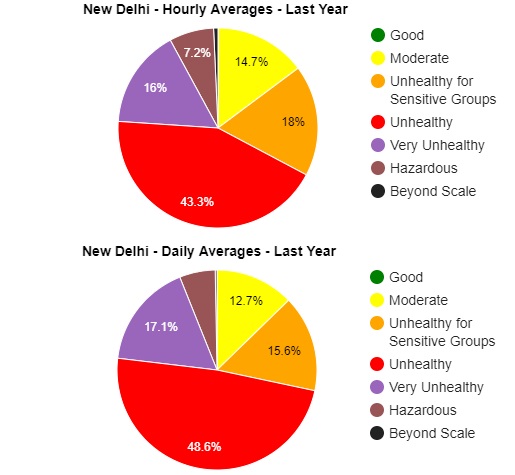 Air quality averages for the last 30 days and last year, respectively. Image courtesy Berkeley Earth.
PM2.5 levels tend to peak this time of year for several reasons. Agricultural waste is burnt off this time of year according to Rohde (see image below), and Dewali is taking place as well -- a celebration during which millions of fireworks are set off. Smoke from then combines with car exhaust, factory emissions, and smoke from the fires mentioned above to make for some of the worst air quality in the world.
The NASA Fire Information for Resource Management System (FIRMS) data which shows fires across northern India over the past severe days (red dots) and true colour satellite image showing the thick smoke across the region.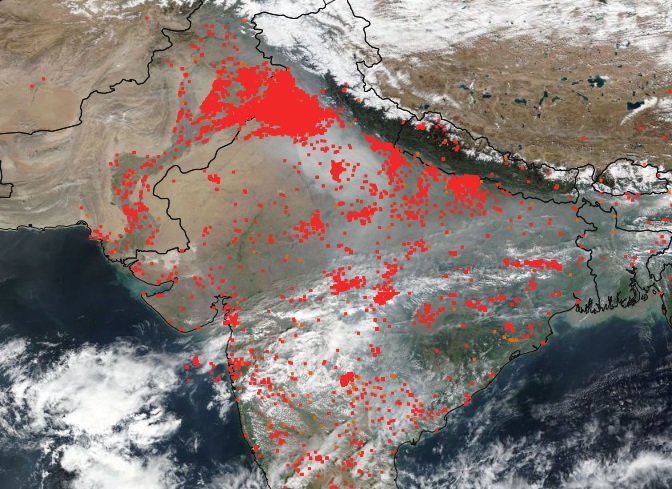 Satellite image shows smoke from fires (indicated by red dots) over India. Image courtesy FIRMS.

According to Arvind Kumar, a Delhi lung surgeon, a newborn taking its first breaths in Delhi is "gulping bad air the equivalent of smoking 20 to 25 cigarettes on the first day of his life." Kumar also told NDTV that even non-smokers in the region have black lungs from breathing the air in Delhi throughout their lives. 
Sources: South China Morning Post | Fire Information for Resource Management System | Berkeley Earth | NDTV | 
WATCH BELOW: IS SMOG CHANGING HOW WE THINK?