CANADA | Winter is Coming
Canada is out-snowing the King of Winter
Erin Wenckstern
Meteorologist
Wednesday, October 17, 2018, 6:00 AM - Well Canada, you have accomplished quite the feat so far this fall: out-snowing the reigning King of Winter, Siberia. Known for its bone-chilling, eyelash-freezing -50°C temperatures, there's often no contest when it comes to Siberia versus North America in the snowfall department, but this season has been on the extreme ends for both regions, allowing Canada to briefly steal the title.
More on why this happened and its potential significance on the winter season ahead for our nation.
(RELATED: RUSSIAN EXTREMES - EYELASH-FREEZING COLD TO SWELTERING HEAT)
---
HOW DID THIS HAPPEN?
The achievement is a testament of two things:
First, how persistent and anomalously cold the pattern was that gripped western North America in September and early October. Temperatures, on average, remained 5 to 10 degrees below seasonal (imaged below in the greens and purples) and produced widespread and even record-breaking snowfall in parts of Alberta.

Temperature anomalies for the first half of October across North America. Courtesy: WeatherBell
Second, Eurasia's slow progression into winter.
Looking at the graphs below, the 2018 snow cover for Eurasia (image 1, red line) is running below average and is near its decadal low, meanwhile North American snow cover (image 2) is peaking at its decadal high. So both Canada's early jaunt into winter and Eurasia's lack of it have worked in tandem to allow Canada to out-snow the King of Winter.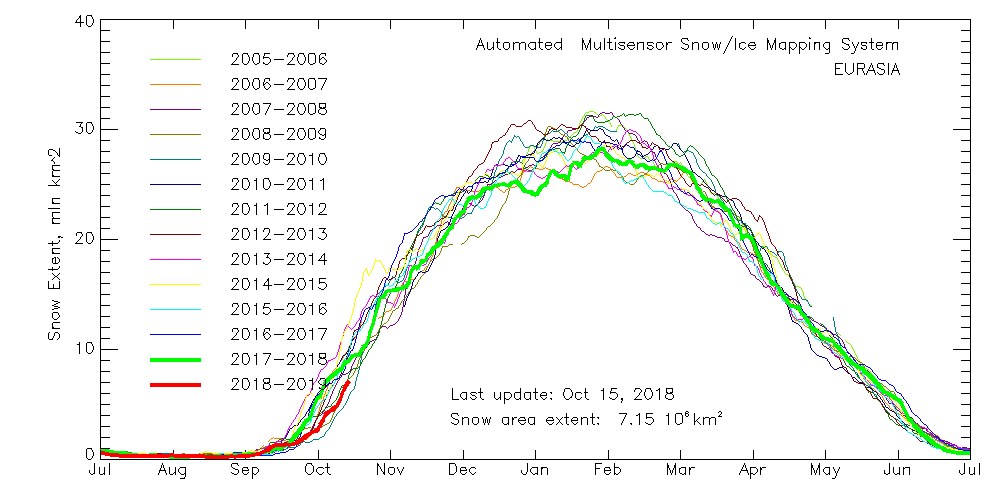 Snow area extent through October 15, 2018 (red) and the past 10 years for Eurasia and North America. Courtesy: NOAA/NESDIS
Canada, as of October 15, has approximately 7.90 million km² snow cover, while Siberia is sitting at a measly, relatively speaking, 7.15 million km².
WHY THIS HAPPENED
A large factor that kicked off the west's premature winter was a ridge in the jet stream that developed over the Pacific Ocean. It extended far into the Bering Sea and Arctic, allowing cross-polar flow from the north to pour effortlessly into western Canada and the northern Plains. But on the other side of the globe, this same pattern had quite the opposite results: Arctic air departed Siberia and found its new home over North America and as you can guess, resulted in snow cover to expand at a snail's pace.
This bold pattern also led to wacky weather stats that you can toss around at your next dinner party: Texas received its first snowfall before parts of Alaska. How? Watch the video below with meteorologist Tyler Hamilton.
WATCH BELOW: TEXAS SEES FLAKES BEFORE THIS ALASKAN TOWN
But the tides are a changin' across our great nation and as we speak, the ridge has switched gears and set up over British Columbia and Alberta. This shift has allowed the west to bask in a well-deserved warm up while the cold air flows periodically from northern Canada into the east for the final days of October.
So while western North America puts a pause on winter, parts of the east will be busy picking up the slack by welcoming in multiple rounds of snowfall, allowing us to reign as the winter champion in a meteorological battle with Siberia... for now.
Even though Canada is ahead of the game, there are signals that Eurasia fights back and snow cover increases to normal or above normal amounts by the end of the month. Now you may be thinking: why should I care and what does Siberia have to do with Canadian weather? Well, a lot, actually. Many studies have shown the snow cover extent in Eurasia throughout October, specifically across Siberia, has direct impacts on long range forecasts in North America. To put it simply, the greater the expanse of snow in Siberia, the stronger the Siberian High -- a permanent winter feature -- becomes. This in turn sets in motion effects that act to weaken our stratospheric polar vortex, causing it to wobble and split up, inviting pieces of it to travel south into North America with anomalously cold shots of Arctic air. The image below illustrates the different scenarios and the trickling down effects Siberian snow cover has to our global pattern.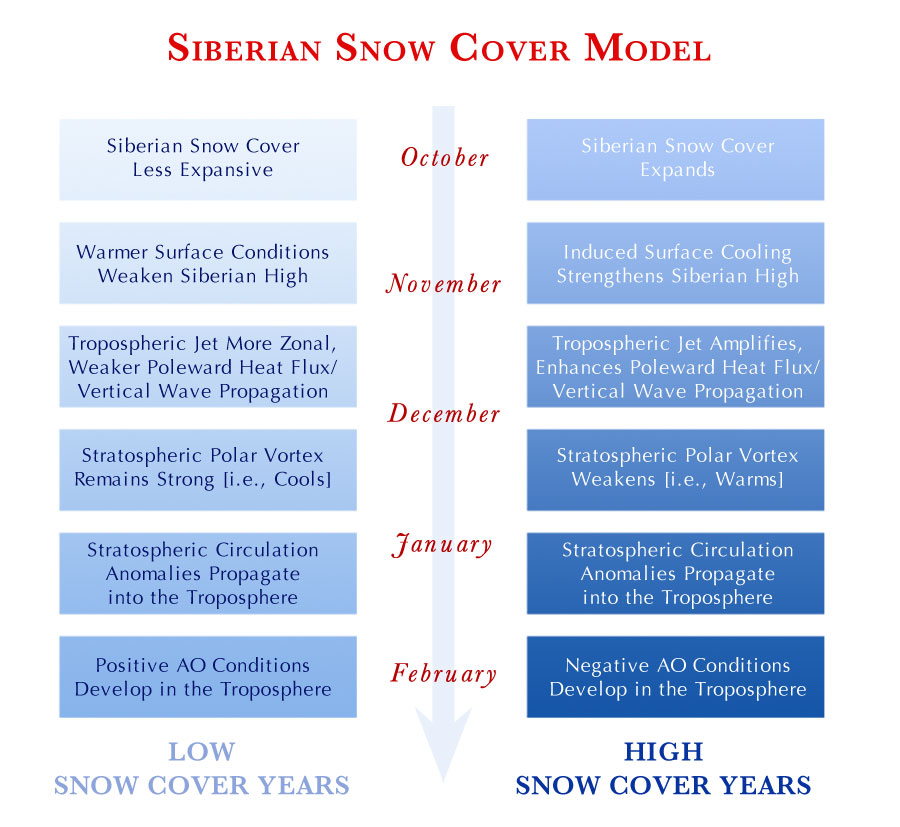 Siberian snow cover model. Courtesy: Atmospheric and Environmental Research
This, of course, is just one of the many factors that can influence a mild or frigid winter in North America.
So whether or not you care about keeping the King of Winter title, it will be important to monitor the situation in Eurasia and discover the role it will play in the months ahead back at home.
WATCH BELOW: SCENES OF THE RECORD-BREAKING SNOW IN CALGARY, ALBERTA
With stats and files from climatologist Dr. Judah Cohen, Director of Seasonal Forecasting at Atmospheric and Environmental Research.