CANADA | Food hikes
Prices of your favourite foods could soon skyrocket
Nathan Coleman
Reporter
Tuesday, December 4, 2018, 5:43 AM - The La Nina cycle is about to end and 2019 will see the arrival of El Nino once again, which means a lot of moisture in Asia and the south Pacific.
What does that mean for farmers and food prices?
Canada's 2019 Food Price Report was released Tuesday, and here's a look at how the climate is expected to impact your grocery bill.
(WINTER IS HERE: How will El Niño shape Canada's upcoming winter? Find out with The Weather Network's 2019 Winter Forecast | FORECAST & MAPS HERE)
Author Sylvain Charlebois says the problem with the climate cycle is it could mean less moisture in North America and that doesn't bode well for vegetable farmers.
"We procure a lot of vegetable out of Mexico and the US. So we are expecting major producing regions to be affected by El Nino in 2019 which means that we may actually need to pay more for our vegetables, especially in the ... winter of 2019-2020," he says.
That includes big sellers in the produce section like lettuce, celery and tomatoes.
The predicted jump is between 4 and 6 per cent.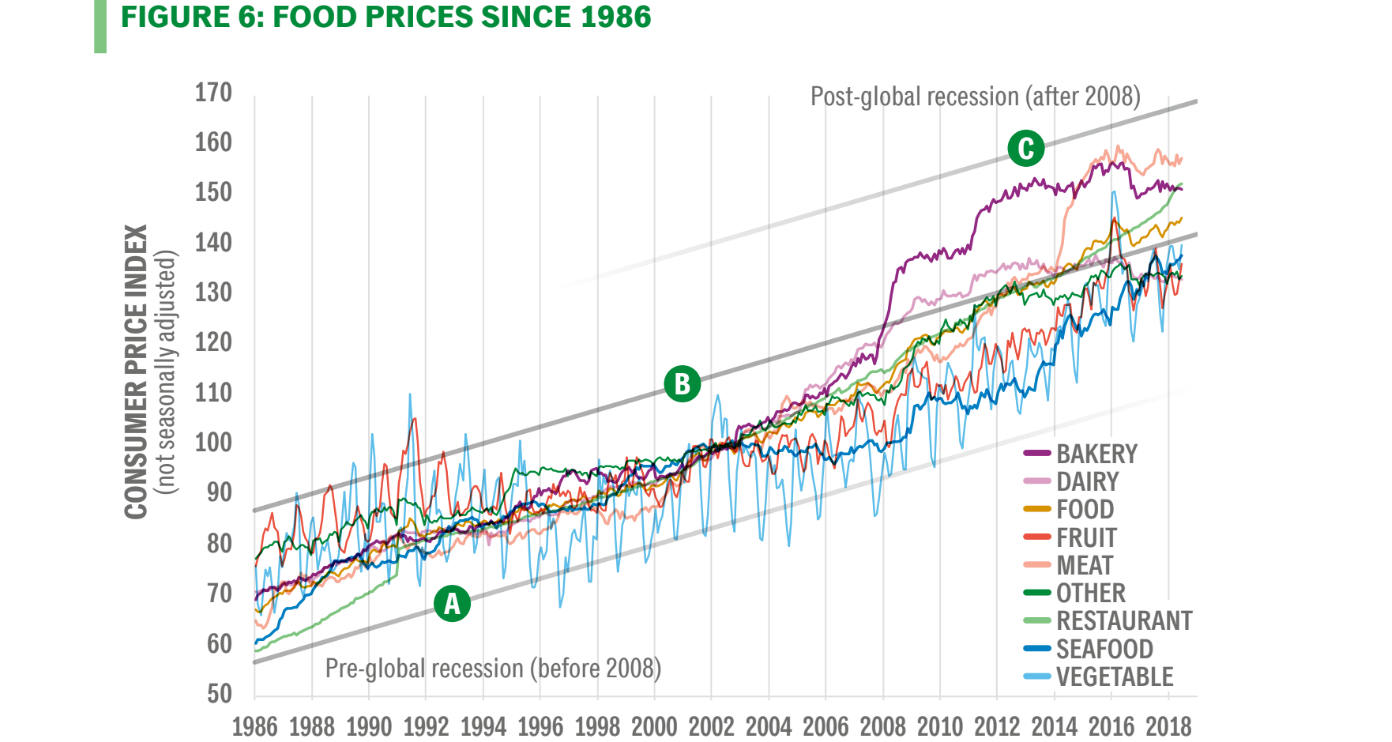 Source: Canadian Food Report
"When you look at El Nino in particular, you always have to look at a window of 2 to 3 years really, to really understand the impact of El Nino on food prices," Charlebois says.
"So early on it'll be veggies, but later it could be something else."
He says the best way to get value for your dollar is to avoid eating out, where prices have been steadily increasing with demand.
BIG HIKE FOR CANADIAN FAMILIES
"For the average family, based on a healthy food cart, annual expenditures on food are expected to rise by $411 to total $12,157 in 2019," the report says, pinpointing the rise in vegetables as one of the main drivers of the increase.
"We also anticipate out-of-home purchases of food will rise by $143 this year."
Source: Canadian Food Report
DECREASE IN COST OF MEAT PRODUCTS
While overall food prices are expected to increase in 2019,some food products are forecast to go down in price.
"For the first time in this report's history, meat and seafood will decrease in price, driven by new market entrants and a forecasted decline in demand from savvy consumers," the report says.
"Indeed, we strongly believe that meat prices will continue to spiral downwards until 2020 as we see an increase in the number of consumers reducing or eliminating meat consumption."
The full report can be found online at the University of Dalhousie website.
VIDEO: HOW SASKATCHEWAN'S LOW AMOUNTS OF SNOW IMPACTED THE GROWING SEASON