BRITISH COLUMBIA | Flooding rain
Heavy rain, foot-deep waters flood metro Vancouver roads
CBC News
Monday, October 29, 2018, 6:00 AM - Heavy rainfall overnight has led to localized flooding, creating hazardous conditions on metro Vancouver's roads.
In the City of Vancouver, crews worked through the night trying to locate and unclog storm drains in high traffic areas.
(SEE ALSO: Think you can drive through a flood? Think again)
Intersections, such as Columbia Street near West 2nd Avenue and Hastings Street near Clark Drive, saw water nearly a foot deep on the roads and sidewalks.
There were also reports of heavy flooding in the Olympic Village, as well as in parts of Richmond.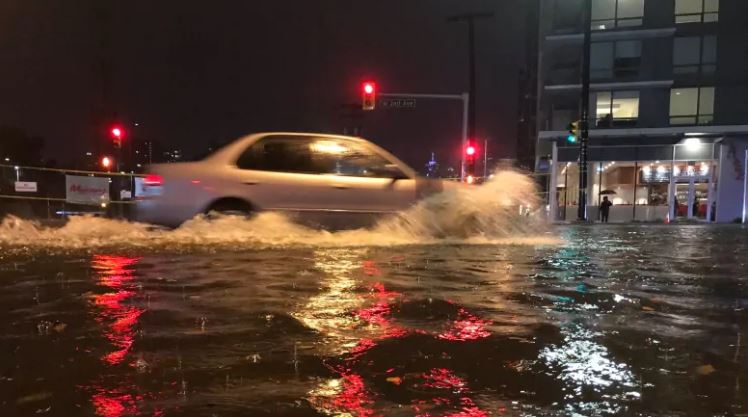 (Some city crews told CBC News the tools they normally use to unclog drains weren't deep enough for some areas. (Gian-Paolo Mendoza/CBC)
Some drivers were forced to abandon their vehicles after stalling while driving through the flooded areas.
(MUST SEE: Big snow forces 3 hour closure of B.C.'s Coquihalla Highway)
Environment Canada says Vancouver and Richmond saw between 15 to 20 millimetres of rain in just two hours.


WATCH BELOW: HALLOWEEN FORECAST FOR B.C., TRICK OR TREAT?