Eyes on Atlantic Basin: Active hurricane season predicted
Visit the Summer Forecast Guide to the Season for the 2016 Summer Forecast, Summer Weather Preview and much more.
Michael Carter and Dr. Doug Gillham
Meteorologists
Tuesday, May 24, 2016, 8:20 AM - This year will mark a distinct upswing in activity from the past three seasons as an active tropical storm season is expected in 2016, with the number of hurricanes forecast to return to near or above normal.
Early predictions issued by hurricane researchers at Colorado State University (CSU) and at North Carolina State University (NCSU) indicate that the below-normal tropical storm activity of the past three seasons will not continue into 2016, thanks in part to a developing La Niña event in the equatorial Pacific.
The CSU forecast, produced by a team led by Dr. Philip Klotzbach and the late Dr. Bill Gray, calls for an expected 12 named storms, with 5 becoming hurricanes and 2 reaching Category 3 strength or greater. These numbers would be very close to the long term climatological average of 11 named storms, six hurricanes, and two hurricanes of Category 3 strength or greater. 
The NCSU forecast indicates a more active season. The team led by Dr. Lian Xie calls for an expected 15-18 tropical storms, with 8-11 becoming hurricanes and 3-5 reaching Category 3 strength or greater.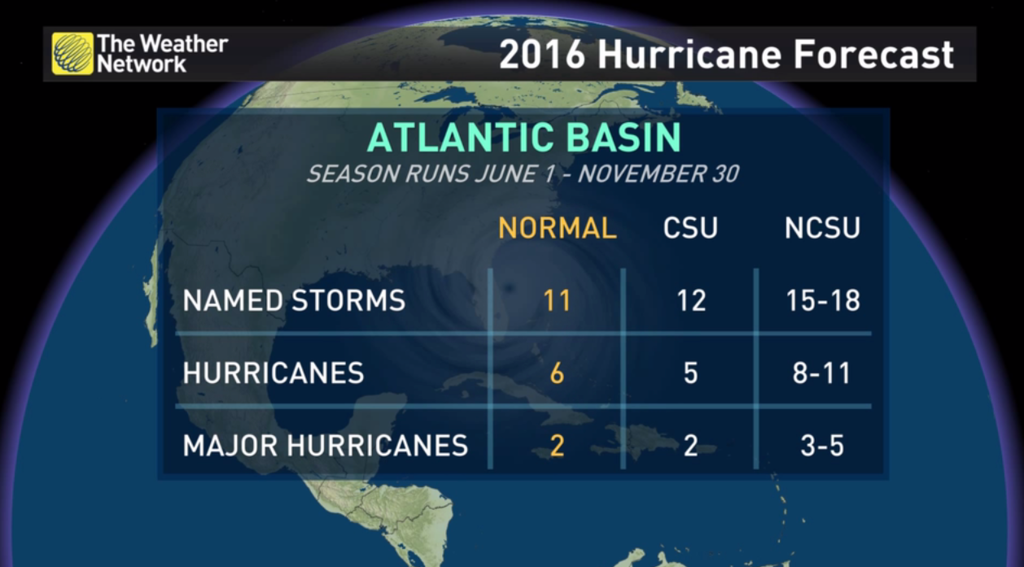 ---
THE BIG REVEAL: Will a developing La Niña affect our summer as much as El Niño affected our winter? Check back on our website for the Summer Forecast on May 25 at 6am EST and we'll help you plan your summer. | Sneak peek, here!
---
These seasonal forecasts are developed using a variety of techniques, taking into account current weather patterns around the globe, numerical modeling, and statistical analysis. The results give us an understanding of how different weather patterns, or what forecasters call "drivers" will affect the development of tropical storms. In particular, forecasters look for factors which are favorable for storms to form and strengthen – such as warm water, and factors which limit storm potential – such as wind shear.
Some of the drivers which will be in play in 2016
The major driver of global weather patterns since the autumn of 2015 has been a remarkably strong El Niño event, characterized by a pool of warmer than normal water in the equatorial Pacific. El Niño is part of a cycle, or "oscillation" – a pattern that swings back and forth like a pendulum. As we move into the early summer of 2016, we are already beginning to see the rapid reversal of the El Niño pattern as water temperatures have begun to cool. This developing cold pool is the beginning of a La Niña, the opposite phase of the cycle. 
La Niña has many effects on weather patterns across the globe, including the Atlantic hurricane basin. The flow during a La Niña event favors weaker wind shear in the tropical Atlantic, due to weaker winds both aloft and near the surface. At the same time this pattern encourages convergence, which produces the rising air needed for storms to develop. So in La Niña years we tend to see more active tropical seasons, as storms typically find a more favorable environment to develop and strengthen.
Click play to watch below: Hurricane drivers
The other major driver also has to do with water temperatures, but this time in the North Atlantic. Like El Niño in the Pacific, Atlantic water temperatures have their own cycles which affect global weather patterns. One long term cycle is known as the Atlantic Multi-decadal Oscillation (AMO). As the name suggests, this pattern moves very slowly, but we have been in a warm phase of the AMO since the mid 90s. This has helped drive increased overall hurricane activity in the Atlantic over the past 20 years. However current water temperature patterns in the North Atlantic are trending in the opposite direction - colder than normal. Whether this is just a temporary blip or signals a larger flip in the AMO cycle remains to be seen, but regardless this cold water will have impacts on the 2016 hurricane season. 
---
STORM TOOL KIT: Be prepared for severe weather with The Weather Network's online essentials: ALERTS | LIVE RADAR | UPLOAD PHOTOS/VIDEOS | LATEST NEWS | FOLLOW ON TWITTER | HIGHWAY FORECAST | AIRPORT FORECAST
---
Though the North Atlantic may be colder than normal, there will still be abundant warm water in the tropics to fuel hurricanes this season. In particular the water in the Caribbean, the Gulf of Mexico, and near the Atlantic Coast of the US are forecast to be warmer than normal. This would raise the concern that storms, as they approach land, would more easily maintain their intensity or even strengthen before landfall.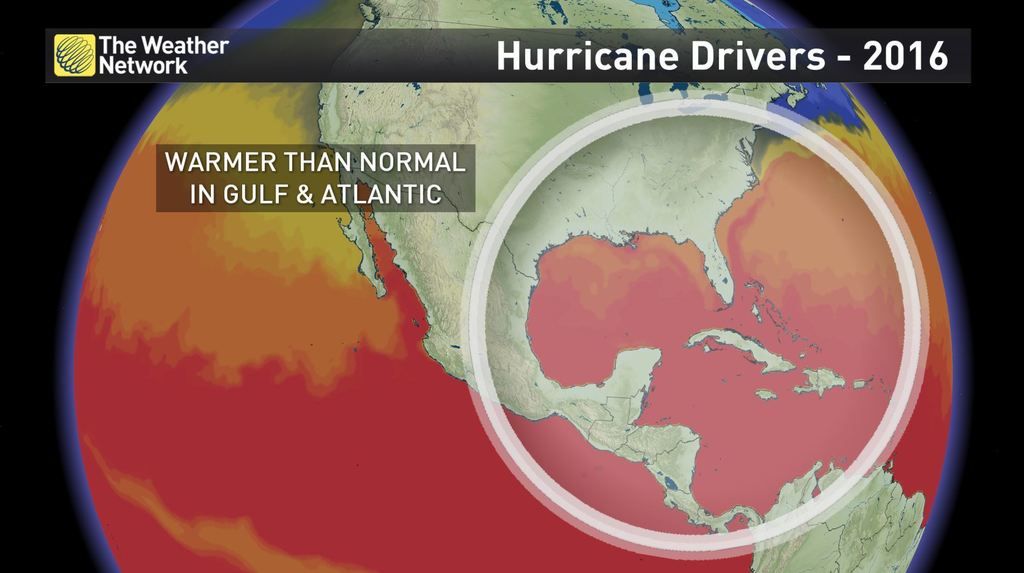 The presence of warmer than normal water near the coast, along with weaker than normal shear, are the primary drivers leading to an above-normal hurricane season forecast. However, the colder water in the North Atlantic should provide a limiting factor in some parts of the storm development region, preventing a truly exceptional season. It is always important to note that these seasonal forecasts refer only to the overall number of storms that are expected this year – not to the number of storm landfalls. 
It is impossible to predict this far in advance where any individual storms might make landfall, or where the greatest impacts will be. And even in a below-normal year we can have significant impacts from tropical storms.