ATLANTIC | Weather Bomb
Atlantic: Schools close, power outages amid vicious storm
Digital writers
theweathernetwork.com
Wednesday, November 14, 2018, 3:38 PM - Weather warnings are widespread across the Atlantic provinces with another big storm impacting travel in the air and on the roads, while leaving thousands without power. Expect more rain, damaging winds, and a healthy dumping of snow through Thursday with the coldest temperatures of the season closely following behind this beast. More on the specifics for this windy, wintry meteorological 'weather bomb', below. 
Stay on top of active weather: Alerts and warnings
---
WEATHER HIGHLIGHTS:
Heavy rain for most, significant snow for parts of New Brunswick
Blizzard conditions expected for western Cape Breton, western Newfoundland
Warnings in effect for snowfall, damaging winds
Plunging temperatures into later week
---
WATCH BELOW: TRACKING HEAVY RAIN, BLIZZARD CONDITIONS
The strongest storm of the season so far edged into Atlantic Canada on Tuesday, and will continue strengthening rapidly as it steams toward the north Atlantic through Wednesday and Thursday. Environment Canada has issued widespread weather statements and warnings covering all of Atlantic Canada in advance of what will be an intensely windy and, for some, snowy couple of days.
By Tuesday evening, heavy snow was reported across northern New Brunswick, while a band of snow preceded the rain sliding north through southern Nova Scotia, southern New Brunswick, and P.E.I. Snow is picking up in Newfoundland as well with blizzard conditions expected along the west coast of the island through Thursday. Snow will also rapidly accumulate in southeastern Labrador, where as much as 30+ cm could fall.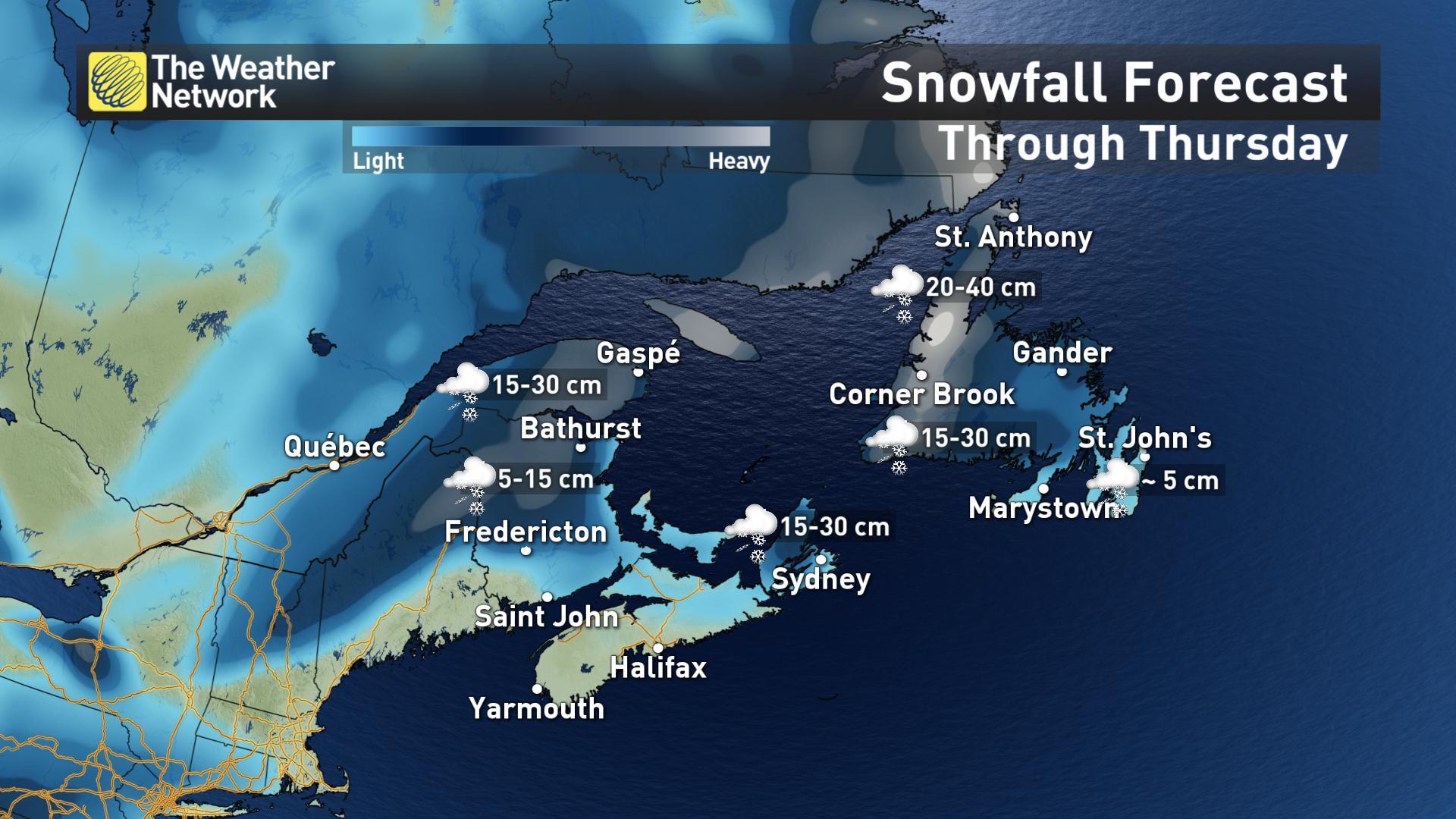 As the system strengthens, snow and rain will clear most of the Maritimes fairly quickly, although bitter winds will lead to powerful snow squalls for the Gaspe, Cape Breton, and the Acadian Peninsula. Newfoundland will be under the gun through the day on Wednesday, with similar squalls setting up for the west coast by Wednesday night.
PROLONGED HURRICANE FORCE WINDS
Even those who escape the snow won't escape the wind. The strongest gusts felt for Newfoundland and the Gulf shores were Wednesday afternoon and Thursday. They came from the northwest rather than the south, in the wake of this system, and it's these winds that will send temperatures plunging and generate white-out squalls off of the Gulf of St. Lawrence. 
WATCH BELOW: NEWFOUNDLAND WINDSTORM: REPORTER DOCUMENTS MOMENTS HIS PLANE ALMOST COULDN'T LAND


'WHITEOUT SQUALLS'
"Whiteout snow squalls are expected to continue for western Newfoundland through Thursday, eventually tapering through the evening hours," says Weather Network meteorologist Nadine Powell. "Damaging wind gusts will still be ongoing across coastal Newfoundland, however, especially the east coast of the island."
That Arctic chill will be slow to release its grip on the region, too. Colder than seasonal temperatures dominate the region into next week.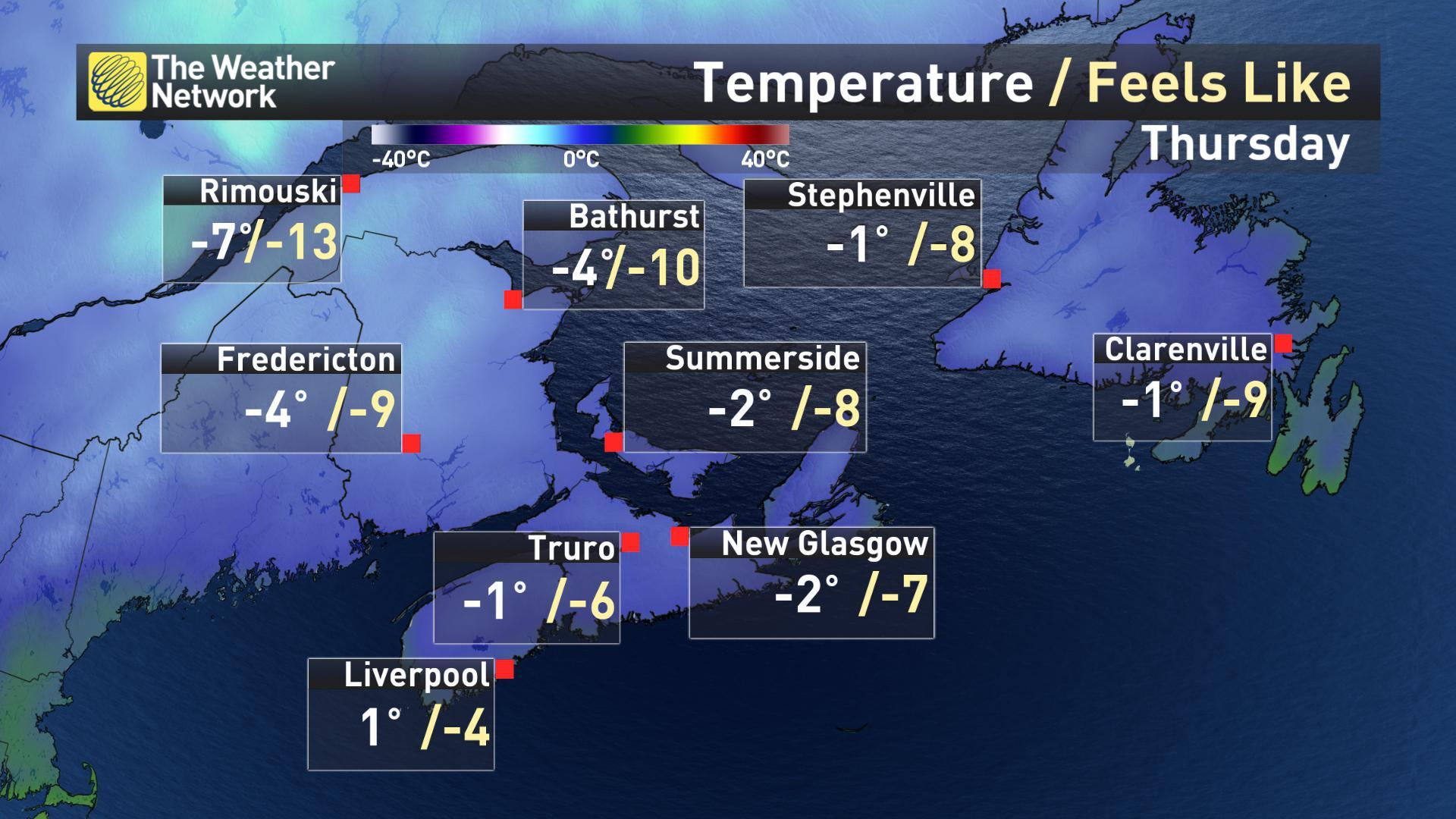 STORM SURGE WARNINGS, POTENTIAL COASTAL DAMAGE
In addition to the wintry warnings, higher than normal water levels are expected from White Bay to Cape Race, Newfoundland thanks to storm surge and pounding surf. 
"Conditions will be at their worst near high tide on Thursday morning," EC warns. "Coastal flooding and damage to sea side infrastructure is possible, especially along northwest facing coastlines...People close to the shoreline should stay on the lookout for worsening conditions."
THE IMPACT: POWER OUTAGES AND SCHOOL CLOSURES
The deteriorating conditions forced several school closures in both the Maritimes and Newfoundland on Wednesday morning, as crews responded to thousands of power outages as well. The outages come less than two weeks after a major wind storm knocked out power to more than 100,000 customers in New Brunswick. In some cases, customers were waiting for five days to have their power restored.
FORECAST CENTRE: EYEING THE NEXT SNOW-FILLED STORM THAT CLOSELY FOLLOWS CURRENT MID-WEEK BLAST
This is likely not the news you're looking for while we're still dealing with the current destructive blast, but forecasters are keeping a close eye on the next big snow system that follows late week. 
"The next system tracks into the Maritimes late Friday and into the weekend and although a bit weaker than recent storms with less of wind threat, a more southerly track means that significant snow will extend further south," says Weather Network meteorologist Dr. Doug Gillham. "That's all the way to the Bay of Fundy with significant accumulations for Fredericton, Moncton and Charlottetown as well as parts of Cape Breton Island."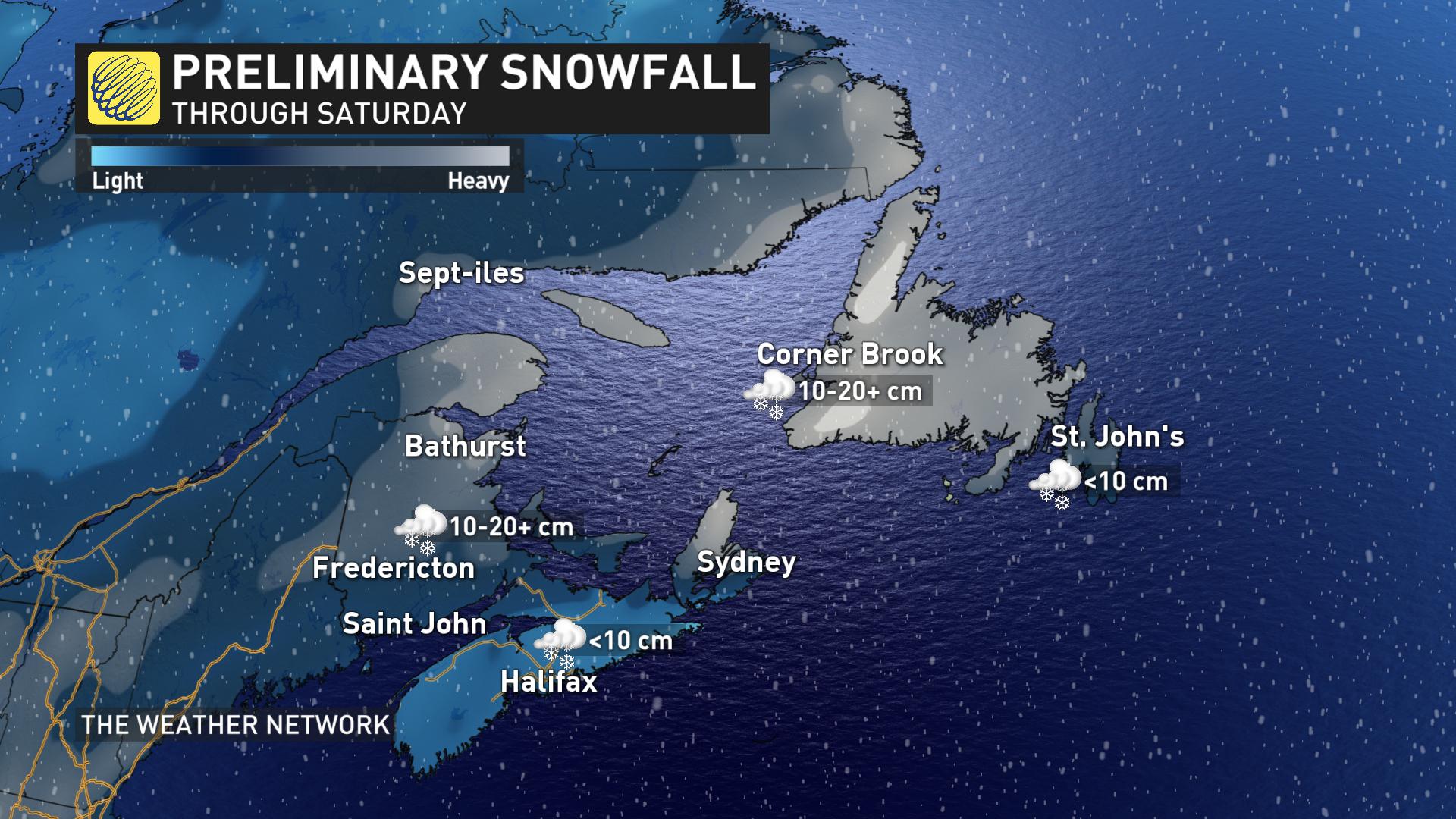 SEE IT: VISUALIZE THESE MONSTER WAVES CHURNING IN THE ATLANTIC HERE