Sunday, November 1st 2020, 9:13 pm - Eta, from the seventh letter of the Greek alphabet, is the first storm in history to be given that name.
At first glance, the newest tropical storm that popped into being in the Caribbean, east of Central America, doesn't seem too remarkable. However, there is much more to it than what meets the eye.
Coming to life as a tropical storm Saturday night, Eta currently boasts sustained winds of near 110 km/h. The U.S. National Hurricane Center's (NHC) latest update says strengthening is forecast over the next couple of days, as Eta is expected to become a hurricane by late Sunday. Its current trajectory looks to take it west through Central America.
"On the forecast track, the center of Eta is expected to approach the northeastern coast of Nicaragua on Monday, and make landfall within the Hurricane Warning area in Nicaragua Monday night or early Tuesday. The center of Eta is forecast to move inland over northern Nicaragua through early Wednesday," the NHC says.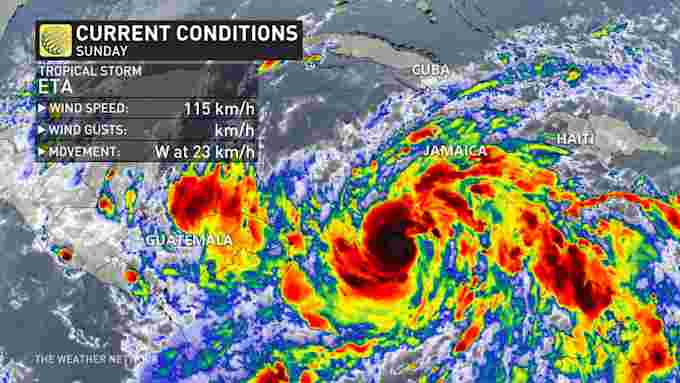 A hurricane warning is in effect for the coast of Nicaragua, from the Honduras/Nicaragua border to Sandy Bay Sirpi, while a tropical storm warning and a hurricane watch covers the northeastern coast of Honduras, from Punta Patuca to the Honduras/Nicaragua border.
A dangerous storm surge will raise water levels by as much as 1.82 metres to 2.74 metres above normal tide levels in areas of onshore winds along the coast of Nicaragua within the hurricane warning area.
Through Thursday evening, rainfall totals will be 380-635 mm, with isolated totals up to 890 mm, in central, northern Nicaragua and much of Honduras. Eastern Guatemala and southern Belize will get 255-510 mm, with isolated amounts of 635 mm, Jamaica can expect 125-255 mm, with isolated amounts of 15 380 mm over southern areas. Southern Haiti and the Cayman Islands will see 75-125 mm, with isolated totals of 255 mm.
REMARKABLE STATS
What is more remarkable about this storm is the name itself. Eta, from the seventh letter of the Greek alphabet, is the first storm in history to be given that moniker.
Hurricanes and tropical storms are given names from the Latin alphabet, but when the number of storms exceeds 21, they are given Greek names instead. That happened as early as September this year with subtropical storm Alpha, and has continued since then.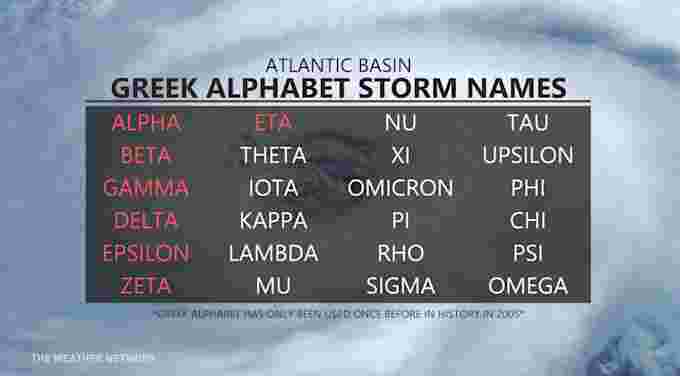 With Eta, the 2020 season now is tied with 2005. There were 28 storms in 2005, with an unnamed storm added post-season. With two months left to the year, there's a non-zero chance we may continue deeper into record territory.
In the 2005 season, the last named storm was Zeta, which actually lingered a few days into January before finally dissipating.
Another interesting figure is the number of named October storms in 2020. Based on 30-year climatology (1981-2010), the Atlantic basin typically sees two named storms in October. This year had five storms, all in the Greek Alphabet -- Gamma, Delta, Epsilon, Zeta and Eta. Three of those storms became hurricanes and Delta and Epsilon were considered major (Category 3 or higher).