Storm Centre tracks severe weather events as they are unfolding. We provide critical, real-time updates and special coverage when breaking weather is approaching or impacting your location.
Storm Centre delivers a unique weather experience to users across The Weather Network app, website and television channel. Our goal is to keep getting better at delivering your weather when it really matters.
To get the full Storm Centre experience, make sure that you download The Weather Network app.
- For iOS mobile phones, download here
- For Android mobile phones, download here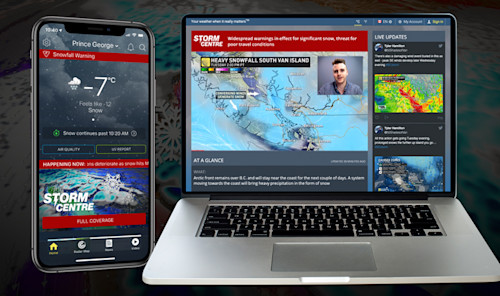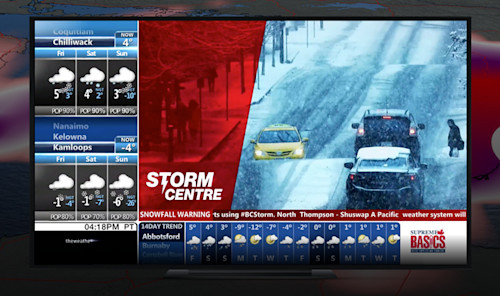 Frequently Asked Questions
What types of events can I expect Storm Centre to cover?
Storm Centre will cover severe weather events that can potentially leave a significant impact in locations where they occur. Events include snowstorms, hurricanes, tornadoes, thunderstorms, heavy rainfall, dense fog, strong winds, dust storms, wildfires, flooding, tsunamis or earthquakes as examples.
What will Storm Centre NOT cover?
Storm Centre will not cover low-intensity weather peaks typical to the season . Examples include normal snow showers or rainfall, scattered thunderstorms, temperature swings, general fog etc. These forecasts will be served via a regular feed on our platforms.
When does Storm Centre trigger live?
Depending on the nature of the event and forecast confidence, Storm Centre goes live hours or days before the event and provides critical information to help users make decisions. Storm Centre will continue to provide live updates as the event unfolds and also update users when the event has ended.
Is Storm Centre geo-targeted?
Yes, Storm Centre is targeted to locations where potentially severe impact is forecasted. We want to ensure relevance when presenting critical information to users.
On the app, users that have saved an impacted location or share their current location will receive real-time updates through Storm Centre.
On the website, users that are on city pages for impacted locations will see Storm Centre updates.
On broadcast, users that receive regional feed for impacted locations will see Storm Centre updates.
Users from locations that are not impacted can get storm updates through general news coverage.