Monday, February 11th 2019, 9:41 am - An unprecendented streak of snow days continues for parts of southern B.C. with snowfall warnings back in effect with the next approaching system.
It's been an extended break for some students in southern British Columbia amid several rounds of intense snowfall this week, and many will see a few more centimeters on Friday. Some enjoyed a bit of a snow breather on Wednesday — one that even featured clear blue skies for some — but now, more active weather is on its way to round-off the work-week as another Pacific system slides down the coast. We take a look at who stands to see yet another helping of snow as the week wraps up, below.
---
WEATHER HIGHLIGHTS:
Snow showers linger through Friday
Temperatures moderating means some mixing for lower elevations with next system; still a chance for more snow in Vancouver, Victoria
Keep up to date with watches and warnings by visiting our ALERTS page
---
WATCH BELOW: TIMING THE NEXT SYSTEM
Snowfall warnings are back in place for B.C.'s South Coast for yet another system that threatens snow and freezing rain as it slides down the coast through Friday. The warnings include Metro Vancouver, Howe Sound, Whistler, the Fraser Valley, the Sunshine Coast and the eastern side of Vancouver Island.
And with the arrival of milder air with this system and the combination of prolonged outflow conditions, a risk of freezing rain also exists into Friday morning.
"Prepare for quickly changing and deteriorating travel conditions," Environment Canada days. "Rapidly accumulating snow could make travel difficult over some locations."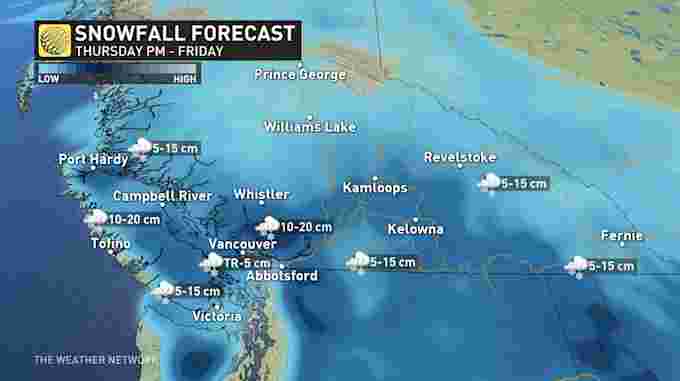 SNOWFALL AMOUNTS
These snowfall amounts from this latest winter storm will only add to the beefy totals from the back-to-back systems earlier this week.
"Through Friday, we'll see a trace to two centimetres for Metro Vancouver with 5+ cm expected in Abbotsford and Surrey," Hinds-Powell says.
Between 5-10 cm is forecast for the Fraser Valley with as much as 20 cm possible for the North Shore Mountains.
So far this month, Victoria has already picked up nearly 58 cm of snow, while Vancouver has recorded 25 cm.
"That's by far surpassing Vancouver's climatological monthly average of 6.3 cm for February," adds Hinds-Powell.
RECAP: BACK-TO-BACK-TO-BACK SNOW DAYS
Hefty snowfall totals were reported across southern Vancouver Island and parts of the Lower Mainland for the first half of this week, prompting widespread school closures amid dangerous travel conditions.
(THE DEBATE: Snow days: A challenge for some, getting 'easier' for others)
Monday marked the sixth snowiest day on record for Victoria, with 26.4 cm recorded for the one day alone. A sample of trending phrases on social media — #snowday2019, #snowcouver, #SnowMageddon2019 — gives a good indication of the mixed emotions the heavy snow sparked in residents.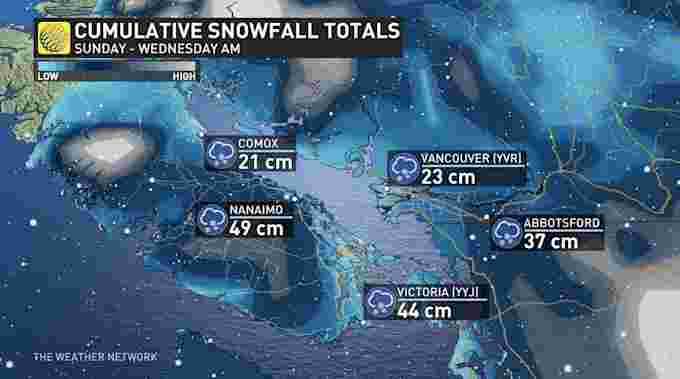 BITTER COLD WIND CHILL EASES
These rounds of snow have gone hand in hand with the persistent unusually cold pattern that has been settled over B.C. for the past several weeks.
Winds are expected to slacken for the remainder of the week, and temperatures, particularly near the coast, will start to rebound into the mid-single digits.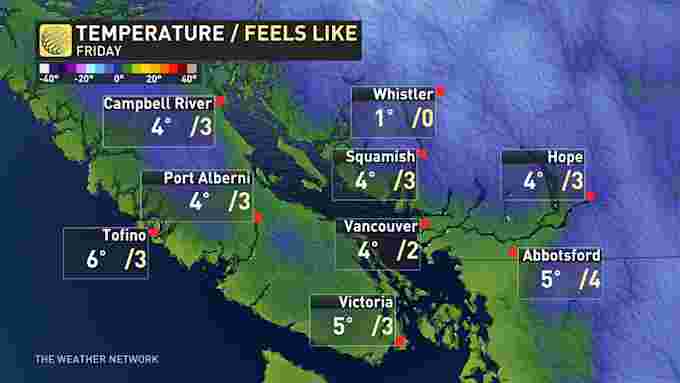 Stay with us here at The Weather Network for your latest forecast updates.
Mobile Users: Don't be surprised by winter weather! Get weather notifications directly to your device, HERE.
WATCH BELOW: ENJOYING THE SNOW IN VICTORIA