Wednesday, February 26th 2020, 5:30 am - With winter officially coming to an end, and some parts of Canada already starting to see some spring-like temperatures, we're taking a closer look at the patterns that will drive your weather over the next three months.
Most Canadians have already been teased by a taste of early spring after a mild winter that lacked consistently cold weather. However, that doesn't mean that we will just coast through to summer with mild weather. While early spring will continue to bring periods of mild weather, the season will also bring a heightened risk for periods of colder than normal weather. In addition, large parts of the country will have a wet spring. We breakdown what each province can expect, below.
NATIONAL TEMPERATURE PATTERN
Spring is notorious for bringing changeable weather and this year will be no exception. Periods of warmer than normal weather are likely across the country, but extended interruptions will test our patience at times. For much Canada, these alternating periods of warm and cold weather will offset each other with near-normal temperatures for the months of March, April and May as a whole.
For the eastern half of Canada, this means a warmer spring than the past two years. However, colder than normal weather is expected from northern Manitoba to northern Quebec and for parts of Nunavut. Meanwhile, temperatures are expected to tip to the warm side of normal across British Columbia, western Alberta, Yukon and parts of the NWT.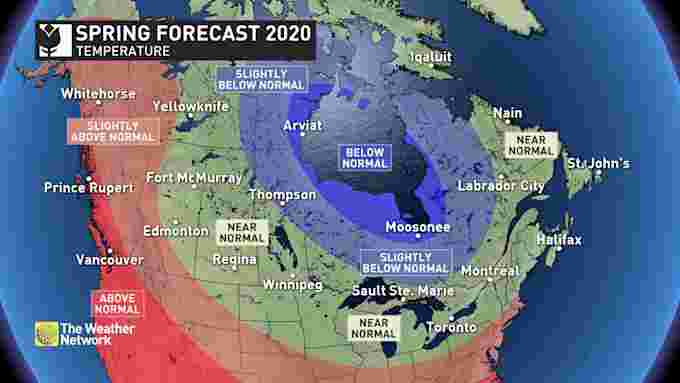 NATIONAL PRECIPITATION PATTERN
Most of Canada is expected to see either near-normal or above-normal precipitation during the spring season. While it is inevitable that some areas will end up dry, at this point we do not see any long-range signals pointing to widespread dry conditions. Wetter than normal weather is expected this spring for the Great Lakes region, along the St. Lawrence and into the Maritimes. A wet spring is also expected across the northern Plains of the United States and some of this wet weather is expected to extend into parts of southern Manitoba and Saskatchewan near the U.S. border.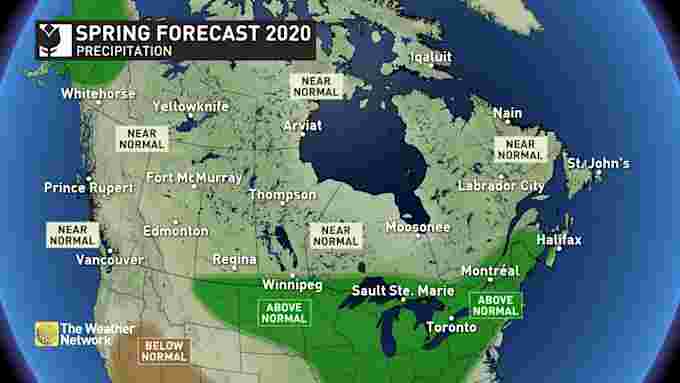 Below is a more detailed look at the conditions that we expect for each region across Canada during March, April and May.
BRITISH COLUMBIA
Spring usually comes first to this part of Canada and, overall, we expect a warmer than normal spring across the region. However, the season will get off to a slow and inconsistent start with periods of colder than normal weather during March and possibly into early April. When warmer weather does arrive, we will have to closely monitor the risk for spring flooding. Near normal precipitation is expected through the season.
While many may be disappointed by periods of cooler spring weather, this is good news for ski areas. After a slow start to the season, the snowpack is now close to normal across much of the province and above-normal snow depths are found in the Rockies. A delay in the arrival of consistently warm weather will allow the ski season to extend deeper into the spring.
WATCH: MARCH CHILL TO DAMPEN THE CHERRY BLOSSOM EXPLOSION
ALBERTA, SASKATCHEWAN AND MANITOBA
While winter lacked consistent cold, this spring will struggle to produce consistent warmth. Several weeks of colder than normal weather is expected as winter takes some parting shots before we settle into a warmer pattern. Near-normal precipitation is expected for much of the region, but a wetter pattern is expected near the U.S. border of Manitoba and Saskatchewan.
Above-normal snow depths on the Rocky Mountains means that we will have to closely monitor the risk for spring flooding along many creeks and rivers in Alberta. The Red River region is also at risk for flooding as the region went into winter with saturated ground. In addition, there has been an abundance of snow in upstream areas of the United States that drain into the Red River.
DON'T COUNT ON STABILITY ACROSS THE PRAIRIES WITH SOME MAJOR SPRING INTERRUPTIONS LIKELY
ONTARIO AND QUEBEC
A changeable and wet spring is expected across the region. Temperatures will be colder than normal across northern areas and near seasonal across southern areas. Overall, temperatures will be noticeably warmer than the previous two springs. However, an interruption to the pattern is expected with several weeks of colder than normal weather before consistent warmth arrives. This pattern is somewhat reminiscent of what we saw during the fall which featured extended periods of warm weather that was offset by several weeks of colder than normal weather during November.
ON EDGE: GREAT LAKE WATER LEVELS LEAVE LITTLE WIGGLE ROOM
An active pattern should continue to bring above-normal precipitation to the region. This will bring a heightened risk of spring flooding to areas that have a deep snowpack and along the shores of the Great Lakes.
QUEBEC: ACTIVE STORM TRACK SPILLS INTO SPRING
NEW BRUNSWICK, NOVA SCOTIA, PRINCE EDWARD ISLAND, AND NEWFOUNDLAND AND LABRADOR
Spring will feature the typical back and forth swings in temperature which should come close to offsetting each other. An active storm track will bring near to above-normal precipitation to the region, including a few more high impact winter-like storms. As for the threat for spring flooding, the snowpack is currently less than it has been during recent years, contributing less to the threat. However, snowpack is not the only factor when it comes to flooding, especially in New Brunswick. Ice jams, the rate of melt of the snowpack and further precipitation in March could add to the threat so that will need to be continuously monitored through the next couple of months.
SEE: SOME LATE WINTER WEATHER THREATENS EARLY PARTS OF SPRING
YUKON, NUNAVUT AND NORTHWEST TERRITORIES
An unusually strong polar vortex will keep colder than normal temperatures across parts of the region well into the start of spring. However, temperatures will trend closer to normal as the season progresses. Above-normal temperatures are expected to dominate across the Yukon, especially during the second half of the season. Above-normal precipitation is also expected across parts of the Yukon with near-normal precipitation elsewhere.
UNUSUALLY STRONG AND STUBBORN POLAR VORTEX TO START METEOROLOGICAL SPRING