Two landspout twisters kick off Manitoba's 2021 tornado season
Friday, 21 May 2021 12:54 AM
No injuries or damage were reported in the wake of the two tornadoes, both of them rated EF-0.
Manitoba received its first two tornadoes of 2021 over the past few days, though there are no reports of any damage or injuries.
Environment and Climate Change Canada (ECCC) and the Western University-based Northern Tornadoes Project confirmed the two tornadoes Thursday, both rated EF-0, the lowest on the Enhanced Fujita Scale, with winds in the 105–137 km/h range.
One occurred on Friday, May 14th, at 1:45 p.m. near Roblin, while the other touched down the following day at 4:30 p.m. in the Sandy Bay area.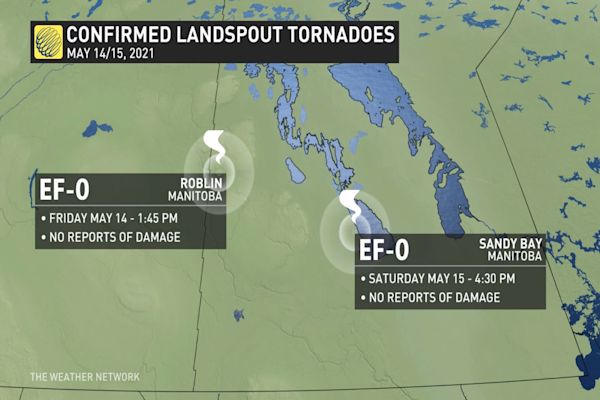 Manitoba averages around nine tornadoes per year, some of which can be quite powerful, depending on the conditions. In 2007, the small town of Elie was the target of Canada's only F5 tornado, though luckily no one was hurt.
Manitoba's twisters aren't the first in Canada this year. That honour goes to Saskatchewan, where an EF-0 tornado touched down near Saskatoon on Wednesday, May 12th. A second tornado, described as low-intensity by Environment Canada, which otherwise did not give it a rating, was spotted on Saturday, May 15th, at Saint-Méthode in Quebec. In neither case were there any reported injuries.