Thursday, May 7th 2020, 10:00 am - Some trees are highly more flammable than others. Here's what to keep in mind before you start planting.
There is no question that summer wildfires are top of mind for many people across parts of British Columbia.
As early as April this year, we saw a wildfire in Squamish that temporarily displaced dozens of people and destroyed at least three homes, and with the Natural Resources Canada (NRCAN) predicting an above-average wildfire season for western Canada, it is important to start taking the necessary steps to protect your family, property, and community from wildfire.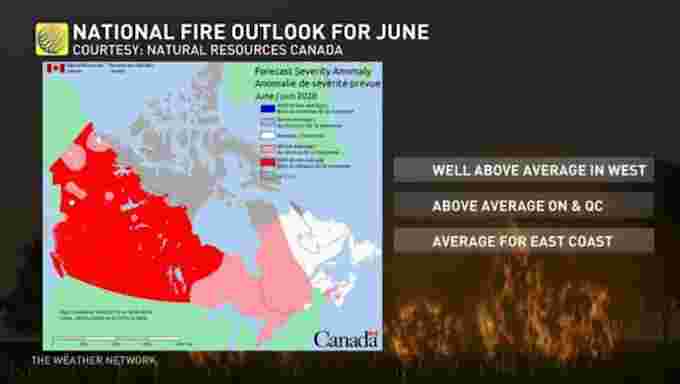 One place to start is your yard.
According to FireSmart B.C., planting the right trees can be your last defence between your home and a wildfire.
"Over time, FireSmart principles have shown that they are effective at reducing the risk related to losses in the most extreme wildfire conditions," says the government agency. "With a few simple steps, you can contribute to increasing your property, neighbourhood and community resiliency to wildfire."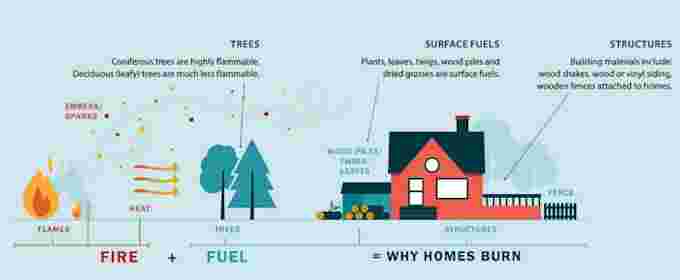 Courtesy: FireSmart
Characteristics of an effective plant include moist leaves, minimal accumulation of dead vegetation, and low amounts of sap. Trees that fit that criteria include birch, poplar, aspen, maple, alder, ash, and cherry.
On the other end of the spectrum, there are trees you should stay away from. Some trees are extremely more flammable than others -- and most of which are, unfortunately, extremely popular. These trees include pine cedar, tall grass, and spruce.
But it is not only about what you plant, but how you plant that will make the difference. According to FireSmart, you should try and plant trees three metres apart so that the fire cannot spread easily from treetop to treetop. Additionally, you should make sure that you are pruning all tree branches, and also remove any fallen or dead leaves or other debris in your yard that could potentially fuel a fire.
Your grass also plays a role. A mowed lawn is a fire-resistant lawn, and so you should try and keep your grass shorter than 10cm.
Lastly, make sure you have tools on hand and ready to go. Having a hose, rake, spade, sprinkler, and ladders available not only help your garden look great, but could also help you fight a fire. They are useful tools to help suppress approaching wildfires.
Be sure to watch the video that leads this article for more helpful information.
Thumbnail image courtesy: Getty.