Monday, September 12th 2022, 10:47 am - Wildfires in Canada and the United States are contributing to dangerous air quality levels across British Columbia.
Air quality had been clear across Metro Vancouver this summer, but conditions quickly changed over the weekend.
The 3000+ hectare Bolt Creek fire was discovered early Saturday morning. The fire on the western slope of the Cascades in Washington State quickly lofted smoke towards the northwest, the direction of the prevailing winds aloft.
Twenty-four hours later, Vancouver had the worst air quality in the world, according to IQAir, a real-time air quality service.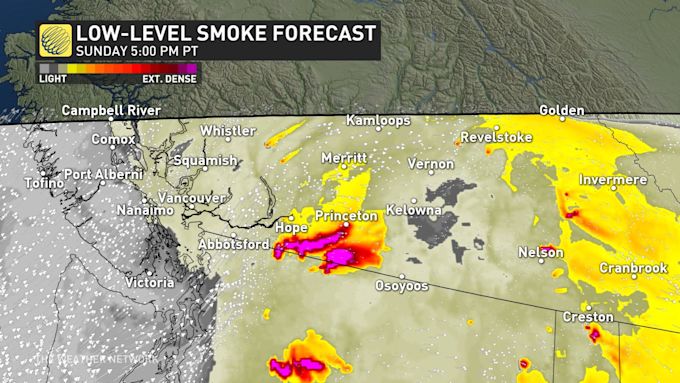 Around 3:00 pm ET on Sunday afternoon Vancouver had an air quality ranking of 199, which is the most severe ranking of all major cities on this day. Lahore, Pakistan came in second with a ranking of 161 and Dubai, United Arab Emirates came in third with a ranking of 158.
Vancouver had a PM2.5 concentration of 148µg/m³, which is 29.6 times higher than the annual air quality guideline value outlined by the World Health Organization. PM2.5 is a component of wildfire smoke that is hazardous to human health because it can travel deep into the lungs and cause inflammation and respiratory issues.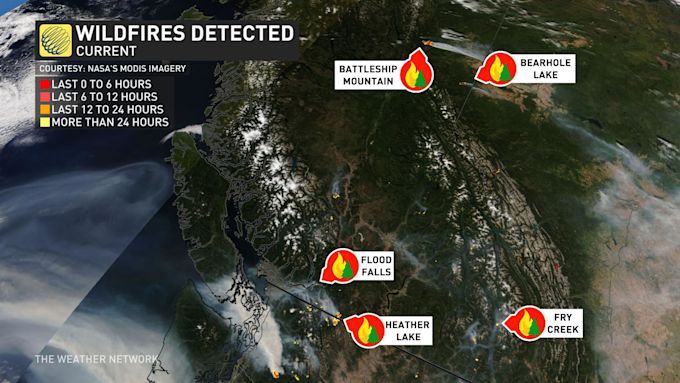 Environment and Climate Change Canada (ECCC) issued special air quality statements across British Columbia, which currently remain in place.
"Metro Vancouver is continuing the Air Quality Advisory that was issued on September 10 for Metro Vancouver and the Fraser Valley because of high concentrations of fine particulate matter, primarily due to smoke from wildfires burning in BC and the US," ECCC stated in the special air quality statement for Vancouver. "Wildfires burning southeast of Chilliwack and Hope, including two fires near Manning Park (Heather Lake) and Hope (Flood Falls Trail), are producing smoke that is impacting the region. Furthermore, winds from the south are bringing additional smoke from wildfires burning in Washington and Oregon State.
It is expected that air quality in some areas of the region may further degrade on Monday while other areas may improve. Through Tuesday, a clearing trend is expected to start near the coast and move inland. Smoke concentrations may vary widely across the region as winds and temperatures change, and as wildfire behaviour.
On Saturday, the Peace River Regional District issued an evacuation order for the entire District of Hudson's Hope after the Battleship Mountain wildfire grew and has scorched 242 square kilometres. The region is also under a local state of emergency because of the aggressive fire behaviour.
Sunday, the Fraser Valley Regional District and District of Hope issued an evacuation order for 12 properties in Laidlaw and Hunter Creek areas as well, due to the Flood Falls Trail wildfire.
Thumbnail courtesy of Mitch Miller Miller, taken in Hope, B.C.
Check back for the latest conditions across British Columbia.