Tuesday, April 28th 2020, 1:47 pm - Canada took centre stage Saturday night.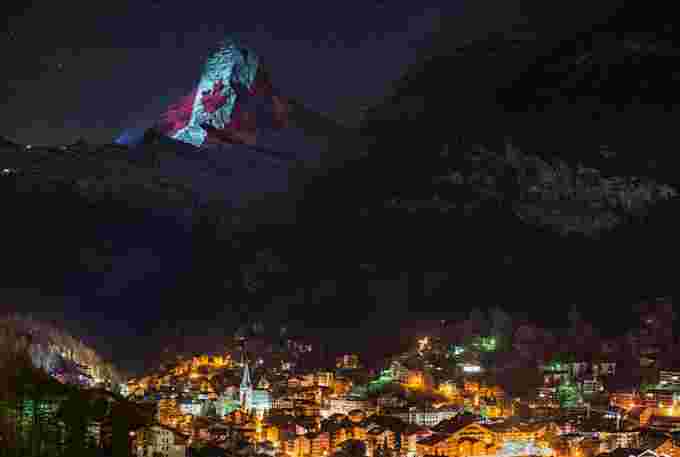 Courtesy: Facebook/ Switzerland Tourism.
The Swiss mountain resort town of Zermatt has sent a message of hope, solidarity, and love to countries battling the COVID-19 pandemic by illuminating various flags on the Matterhorn.
Canada's was in the spotlight Saturday night.
"We share our hope with Canada!" read a Facebook post on Switzerland's tourism page.
"Zermatt Matterhorn wants to give hope and solidarity to all of you."
The inspiring project, called "Light is Hope," also included projections of positive words, like "thanks" and "solidarity" and coats of arms.
Mit der Beleuchtung des Matterhorns haben wir Hoffnung gestiftet und Solidarität gezeigt. Jetzt wollen wir DANKE sagen! ❤️ #Danke #merci #grazie #thankyou #hope #Zermatt #Matterhorn https://t.co/znA4abjwvc

Zermatt - Matterhorn on Twitter
It ran from March 24 to April 26th.
"The aim of the campaign was to give people around the world a sign of hope in times of the coronavirus crisis, to show solidarity with those affected, and express gratitude to people who are helping to overcome the crisis," the town's tourism department wrote on its website.
Very cool project of nation flags projected on to the #MatterhornMountain for global #Unity against #COVID19 Thank you @zermatt_tourism! Full gallery: https://t.co/NiewOStxIX https://t.co/Ln5fY0Y6SL

𝙼𝚒𝚔𝚎 𝚁𝚘𝚛𝚔 on Twitter
"The light on the Matterhorn has now gone out. However, should the crisis rise against all expectations, the sign of hope will also light up again."