Monday, January 6th 2020, 7:50 pm - Atlantic Canada is only seeing a brief break before the snowy conditions return to the region.
After an intense winter storm brought heavy snow to Atlantic Canada, specifically southeastern Newfoundland where nearly 40 cm had been recorded on Monday morning, a new system will bring another hefty round snow this week. Nova Scotia is set to see the most significant snowfall accumulations with the potential for 10 to 20 cm in regions east of Halifax. Details and timing, below.
Visit our Complete Guide to Winter 2019/2020 for an in-depth look at the Winter Forecast, tips to plan for it and a sneak peek at the spring season next year
---
WEATHER HIGHLIGHTS:
Snow for southern New Brunswick, P.E.I., and Nova Scotia by Wednesday morning
Snow will change to light rain for Newfoundland by Thursday
Stay up-to-date on the ALERTS in your area
---
EYES ON NEXT INTENSIFYING WINTER STORM
The next round of unsettled weather is tracking into Atlantic Canada right on the heels of the winter storm that left thousands without power and resulted in cancelled classes and closed schools on Monday.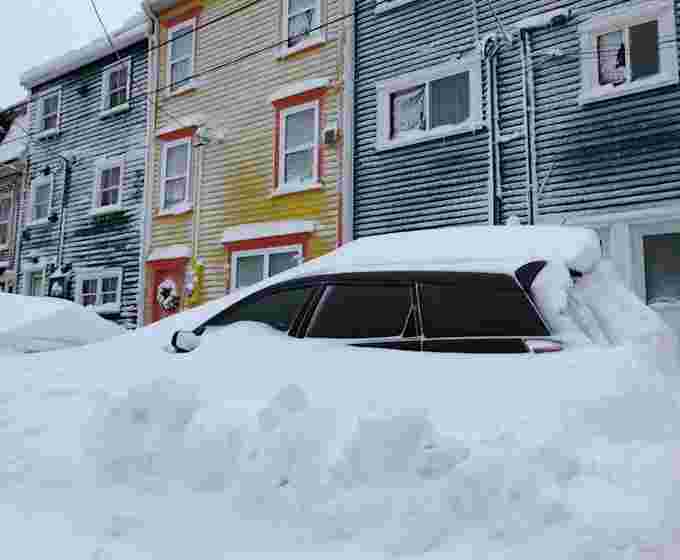 Close to 40 cm of snow reported in the St. John's area Monday morning (Nathan Coleman)
PHOTOS: Winter storm slams Atlantic Canada, brings blizzard conditions
An intensifying winter storm will track south of the Maritimes on Wednesday and will bring a widespread 5 to 10 cm of snow, while some regions east of Halifax could see up to 20 cm.
"This system will bring significant snow and strong winds to Nova Scotia including Halifax and Sydney on Wednesday," warns Weather Network meteorologist Dr. Doug Gillham, adding that snow totals will depend on the exact storm track.
A more offshore track would spare Halifax from seeing any truly heavy snow totals. A special weather statement is in effect for Nova Scotia and there is the potential for 10 to 20 cm to fall across parts of the province through Wednesday night.
WATCH BELOW: SNOWFALL TIMING
Southern New Brunswick, P.E.I., and Nova Scotia will see snow on Wednesday morning and then the system will move eastward and begin to track through central Newfoundland on Wednesday afternoon with snow beginning across the south.
The Avalon will see will temperatures slightly above freezing as the system tracks through, so there is the chance for snow to change over to light rain, which could linger into Thursday morning.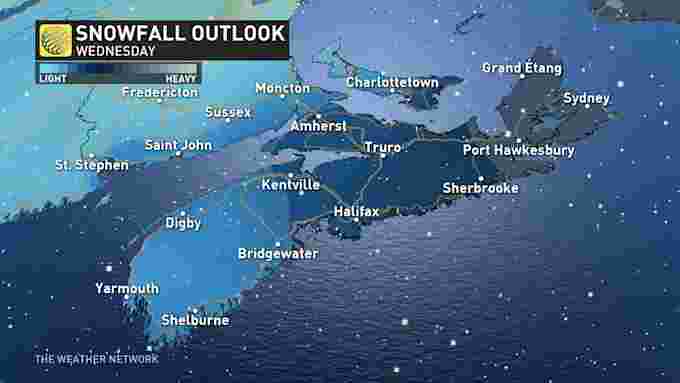 On the backside of this system, northwesterly winds will contribute to the sea-effect snow for P.E.I., eastern Nova Scotia and the North Shore on Thursday.
"Another messy and moisture-laden system will impact the region this weekend as well, but it's still too early to have confidence in the storm track and impacts," Gillham adds.
Stay with us here at The Weather Network for all your latest forecast information.
WATCH BELOW: WAIST-DEEP SNOW, HOWLING WINDS BURIES ST. JOHN'S