Tuesday, April 19th 2022, 9:03 pm - Snow will wind down in Alberta and continue pushing east across the Prairies Wednesday, as forecasters look to the next potent spring storm looming on the horizon for eastern areas late week.
Mother Nature is refusing to let the Prairies get on with the spring season this week, with multiple rounds of snow pushing through. While Wednesday will see snow begin to wind down from a clipper from west to east, forecasters are already looking to another system looming for late week for eastern sections hit with the most recent snow event. More on the timing and impacts expected through Wednesday and a first look at the next spring snowstorm for late week, below.
WEDNESDAY: SNOW EASES IN ALBERTA, PUSHES EAST ACROSS THE PRAIRIES
A clipper system brought disruptive spring snowfall to parts of the Prairies, including Alberta's QE2 corridor, Tuesday. The snow and gusty winds swirling around the developing low-pressure centre reduced visibilities at times in parts of Alberta, making for difficult travel.
Tuesday evening saw a snowfall warning issued for the city of Calgary, which will likely expire into the overnight hours. Environment and Climate Change Canada (ECCC) noted the city is a bit split weather-wise. The south side of it is seeing flurries with no major accumulations.
As of 6 p.m. MST Tuesday, Calgary airport has already received 13 cm, enough to break a daily record for April 19, which was 12.4 cm from 1985. Meanwhile, Edmonton has picked up 5 cm as of that time.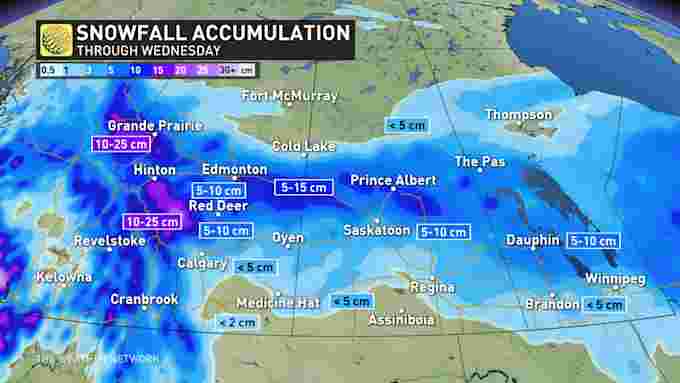 Intense bands of snow will then begin subsiding in Tuesday overnight in central Alberta as the clipper and precipitation continue pushing farther into central and southern Saskatchewan, as well as southern Manitoba for early Wednesday morning.
By the afternoon, the snow will be all but gone from Alberta as then it begins to dissipate in Saskatchewan. It will begin to wind down in the evening across Manitoba as the low pushes into northwestern Ontario.
Through Wednesday, areas along the northern and central foothills will be hit hardest thanks to an upslope flow -- with 10-25 cm of snow possible. Edmonton to Red Deer may see anywhere from 5-10+ cm, with localized spots exceeding that amount spilling east of these cities into Saskatchewan.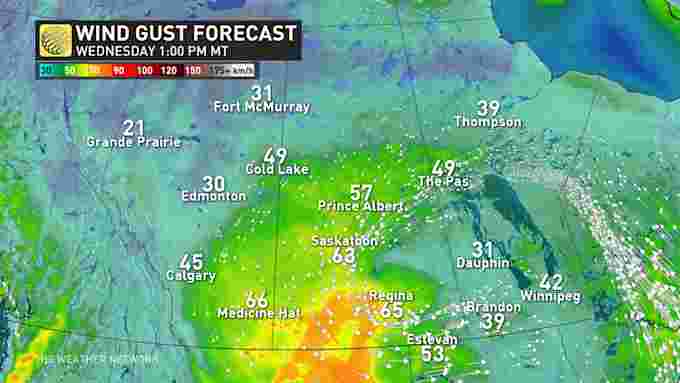 On average, Edmonton typically sees about 14 cm of snow throughout the entire month of April. Edmonton could potentially break a daily snowfall record on Tuesday, with its current April 19 tally at 12 cm set back in 1996.
"Prepare for quickly changing and deteriorating travel conditions. Visibility may be suddenly reduced at times in heavy snow," Environment and Climate Change Canada (ECCC) says in a snowfall warning.
Winds will finally begin to subside Monday overnight in southern Alberta, then redeveloping Wednesday morning for the aforementioned and southern Saskatchewan. Gusts of 60-80 km/h are expected, and with lingering snowfall, will make for poor visibility on the roads.
WAITING FOR SPRING? WHEN YOU'RE IN ALBERTA SNOW IS SPRING WEATHER
LOOK AHEAD: ANOTHER SPRING SNOWSTORM WITH BLIZZARD CONDITIONS LOOMS
Beyond Tuesday's disruptive snow, forecasters are closely watching another Colorado low, which threatens to bring another spring snowstorm and the risk for blizzard conditions across parts of the southern Prairies.
The exact track and impacts are still uncertain at this time, but it looks like the heaviest snow, and possible blizzard conditions, are expected between Brandon and Regina and then north through Dauphin and Swan River. Latest guidance also suggests it'll be a little farther west than the last Prairie blizzard, but storm totals could once again exceed 30 cm for some.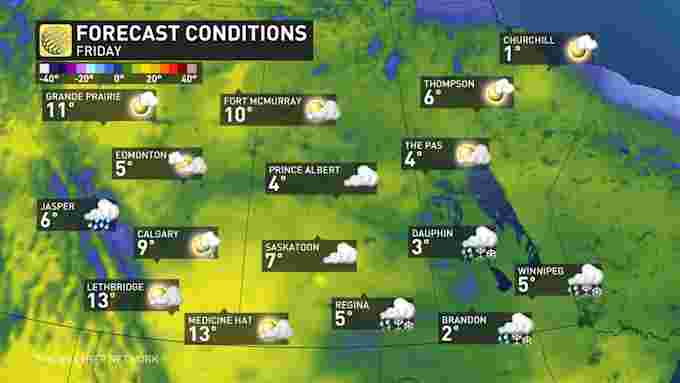 Farther to the east, snow will change to ice and rain, including across Winnipeg and northwestern Ontario.
The heavy precipitation heightens flooding concerns, and puts a delay on spring planting due to soggy or snow-covered fields, as well.
Milder conditions are expected for western parts of the Prairies late week, but the eastern half of the region will remain cooler than seasonal with a reinforcing shot of very cold air arriving during the weekend and into early next week.
Thumbnail courtesy of Willy/Twitter, taken in Calgary, Alta.
Be sure to check back for the latest weather updates across the Prairies.