Monday, January 6th 2020, 11:00 am - Which type of winter weather will reign supreme?
Over the next few months, Canadians are likely to experience cold winds, freezing drizzle, and snow.
Winter can be harsh, but what is Mother Nature's most ferocious weather weapon?
We're asking you to decide.
Download our Winter Heavyweights bracket, pick the wickedest wintry conditions, and play along at home as we reveal the winners.
HOW TO PLAY
Click this link to download a copy (right click on your mouse and then click 'save image as').
Print out the bracket and write your answers by hand, or type them onto a digital copy using a computer application. You can fill out the entire bracket in one sitting, or play along as we discuss the winners this week (see below for the schedule).
Take a photo of your bracket and share it with The Weather Network on Twitter, Facebook, or in your Instagram story. Don't forget to tag us!
Have fun!
OTHER WAYS TO PLAY
Don't have a printer handy?
Take a screenshot of the bracket and fill in your choices on your Instagram story.
Check out our Instagram story on Monday, January 6 for more information on how you can play there.
We will start revealing the winners on TV, as well as onTwitter and in our Instagram stories) starting Tuesday, January 7 based on your votes.
You can also bookmark this URL and check back. We will update it as new winners are revealed.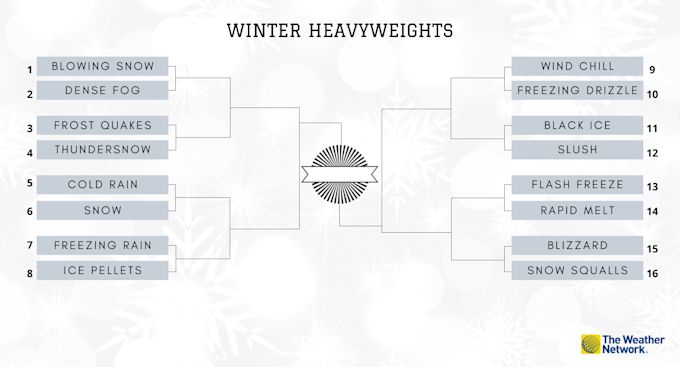 SCHEDULE
Tune into The Weather Network at 6:07 a.m. ET as Chris Murphy goes through the brackets.
May the fiercest phenomenon win!