Tuesday, August 20th 2019, 8:30 am - Winter rudely interrupted summer in the west over the weekend and a round of soggy weather now follows.
Has Summer 2019 not been up to your standards as far as warmth and sunshine go? Here's a sight that might make you appreciate it a bit more.
Thanks to an unusually fall-like system spinning over the northern Prairies, winter was able to sneak back into northern British Columbia over the weekend, turning grassy surfaces white in a matter of hours.
MUST SEE: AUGUST SNOW COATS B.C. ROADS
The timelapse video above shows the abrupt change of seasons recorded between Saturday afternoon and Sunday morning near Steamboat Hill, about 80 km from Fort Nelson along the Alaska Highway, at an elevation of about 1030 metres.
Other cameras in northeastern B.C. also spotted snow early Sunday, including near Fort Nelson itself, below 400 metres.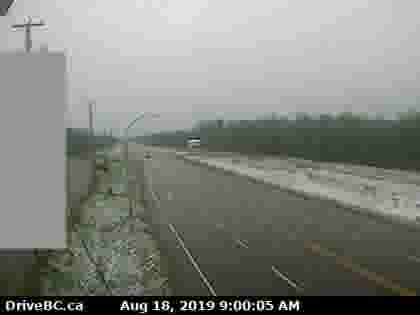 Snow near Fort Nelson. Image courtesy DriveBC.ca
Snowfall warnings were still in effect early Monday, with up to 30 cm of snow expected for some by the time the system wraps up through the day.
"Travel is not recommended," warned Environment Canada. "Visibility may be suddenly reduced at times in heavy snow."
EC also warned of heavy snow accumulation possibly causing tree branches to break.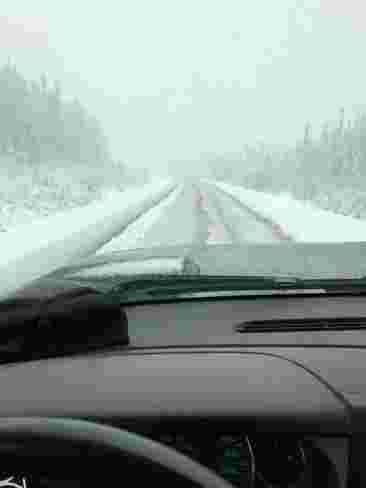 Heavy snow in Tatogga, B.C. on Sunday, August 18. Courtesy: Kyle Wiebe
While this is a very early season snowfall, it's not entirely unheard of for the region. Fort Nelson averages 0.6 cm of snow in August; the record snowfall for the day is 5 cm. It's certainly not the norm, however, with an average August daily high around 15ºC.
WATCH BELOW: MESMERISING SHOT OF AVALANCHE FROM ABOVE SHOWS IT FLOWING LIKE AN UNSTOPPABLE RIVER