Sunday, November 20th 2022, 8:27 pm - A rapidly strengthening system brings high winds and heavy snow to parts of Atlantic Canada.
It's going to be a rough 24 hours across Atlantic Canada as a rapidly strengthening bomb cyclone rakes the region with high winds and heavy snow squalls.
Travel will be dangerous if not impossible at times, especially in parts of Nova Scotia and Newfoundland.
---
MUST SEE: The first and only electric plane in Canada has arrived in Ontario
---
A roaring jet stream with winds of more than 300 km/h will help this low strengthen in a hurry, forcing the system's minimum central pressure to fall 40 mb through Monday. This kind of precipitous pressure drop meets the technical definition of bombogenesis, earning the storm its title of "bomb cyclone."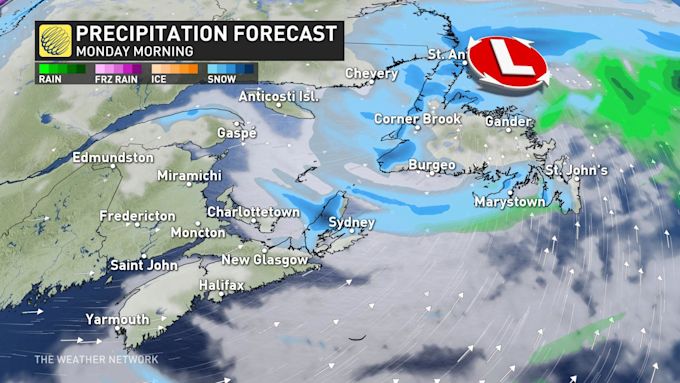 By early Monday, the system pushes across Newfoundland as it experiences swift strengthening, leading to the potential for damaging winds and dangerous snow squalls through Monday evening.
The system's rapid decrease in air pressure will create ripping surface winds that could easily exceed 100 km/h at times, especially across coastal communities of Newfoundland.
Wind warnings are in effect for much of the island through Monday, including the Avalon and Burin Peninsulas.
"Store or anchor objects so they are not tossed by wind causing injury or damage," Environment and Climate Change Canada (ECCC) said in its wind warning for the St. John's area. "Similar storms in the past have resulted in disruptions to ferry services, toppling of trees and property damage to roofs and fences."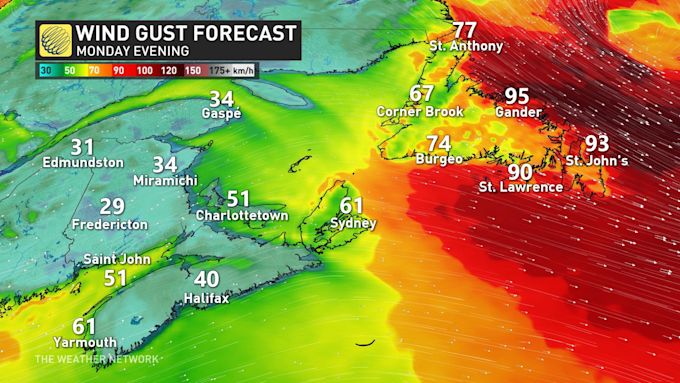 DON'T MISS: 'Weather bombs': Explosive storms that create ferocious conditions
It's not just the winds that'll cause issues for folks heading out on Monday morning. Frosty northwesterly winds blowing behind our storm will lead to heavy bands of sea-effect snow on western-facing shores across the Atlantic region.
Some of these sea-effect squalls will grow very strong. Parts of Cape Breton and western Newfoundland could easily see more than 30 cm of snow through Monday, with totals of up to 40 cm possible on Cape Breton.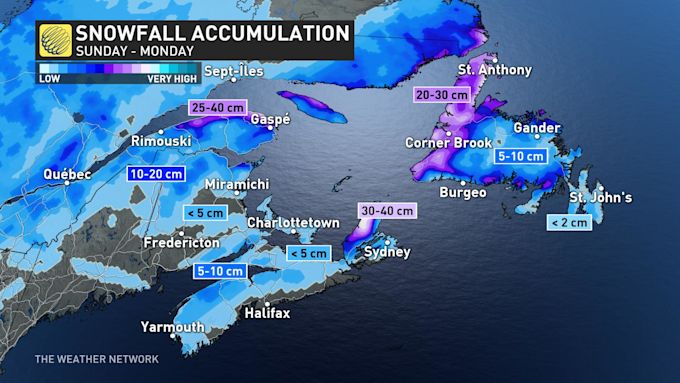 Intense, wind-driven snow will lead to periods of difficult travel. The nature of snow squalls means motorists could drive from calm conditions to a near-whiteout over short distances. It's a good idea to adjust travel plans across the affected areas and avoid driving through heavy snow if possible.
A second system will move through Atlantic Canada on Tuesday morning, bringing some rain and additional snowfall to the Maritimes and Newfoundland through the evening hours.
WATCH: Weather bomb brings powerful winds and snowfall to Atlantic Canada