Friday, June 24th 2022, 1:51 am - All modes of severe weather are possible on parts of the southern Prairies on Friday, including large hail, damaging wind gusts, and even the possibility of a few tornadoes.
--
An active week is set to end with a bang across the eastern Prairies as yet another threat for severe weather crops up across the region. Severe thunderstorms are likely across portions of the region. All modes of severe weather are possible, with one or two tornadoes possible. Pay close attention to weather alerts again on Friday. More on the storm timing and impacts, below.
---
TORNADO 101: What you need to know about staying safe
---
FRIDAY: SEVERE WEATHER LIKELY IN MANITOBA AND NORTHERN ONTARIO
Thursday was a rough day for much of the Prairies as widespread severe thunderstorms rolled across the region. More than a dozen tornado warnings were in effect at the same time at one point on Thursday evening.
Friday may not be any quieter for eastern portions of the Prairies.
A powerful squall line is expected to form across the U.S. Upper Midwest during the day on Friday. Forecasters expect this squall line to slide across the international border during the afternoon hours.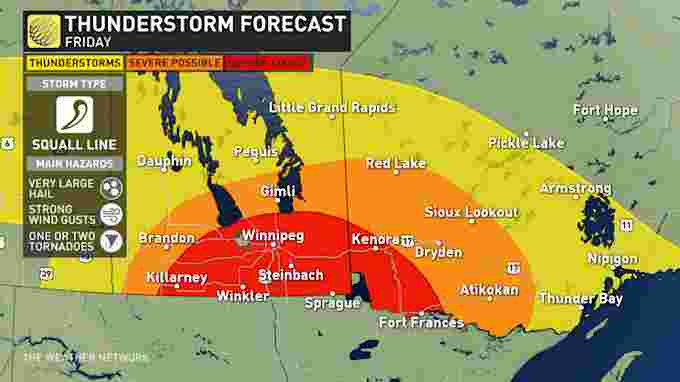 All modes of severe weather are possible on Friday as the squall line moves across southern Manitoba and northwestern Ontario. Storms could produce very large hail, strong wind gusts, and even the risk for a few tornadoes.
It'll be important to stay up-to-date with the weather watches and warnings that may impact your area.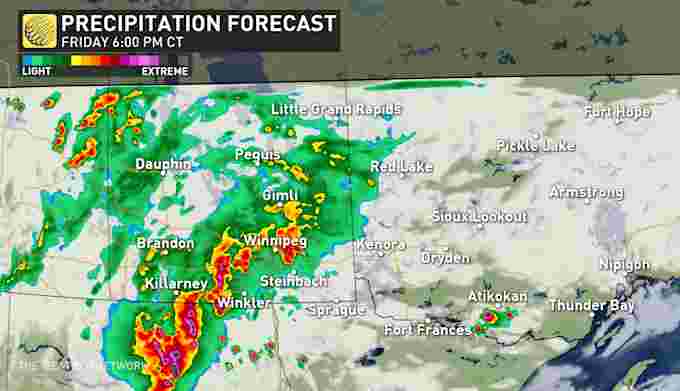 Some of the storm risk will occur after dark. Nocturnal severe thunderstorms are especially dangerous because it's easy to miss warnings while you're asleep and it's more difficult to see hazards heading your way.
WATCH BELOW: TORNADO SAFETY TIPS
LOOKING AHEAD: TEMPERATURES RISE AND FALL WITH RAIN CHANCES
The weekend will start off on a wet note across Manitoba as widespread rain spreads over the province for the day on Saturday. Scattered showers are possible farther west in Manitoba.
---
READ MORE: Here's what to stock your vehicle emergency kit with, BEFORE you hit the road
---
Sunday will see a cold front sagging south from the northern Prairies. Conditions will briefly warm up ahead of the front, with temperatures falling to near- or below-seasonal levels for much of the week.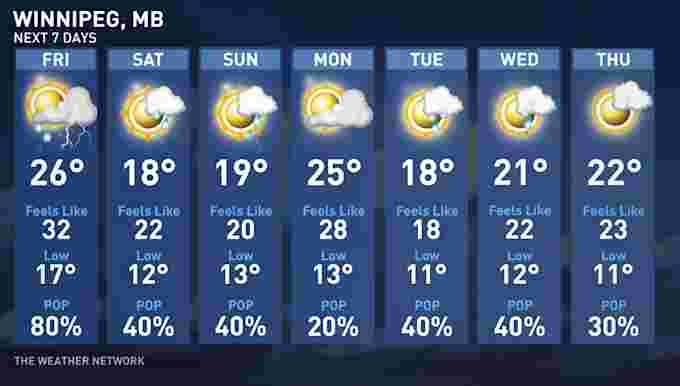 Be sure to check back for the latest updates across the Prairies.
WATCH BELOW: OMINOUS STORM CLOUDS OVER ALBERTA FIELDS