Wednesday, January 20th 2021, 7:50 pm - Winter gradually returns to southern Ontario as a clipper system threatens a widespread snow through Thursday.
Thursday looks to feature temperatures a little above zero for many in southern Ontario after a chilly Wednesday, but with the addition of some widespread snowfall thanks to a weak clipper system that will have moved in overnight. Amounts will be relatively light, no more than 5-10 cm in some northern and higher-election parts of the south, and beyond, temperatures fall once again as a more consistent cold pattern settles in heading into the weekend. More on the timing and impact, below.
---
WEATHER HIGHLIGHTS:
Weak clipper system will bring a widespread snow to Ontario through Thursday
Temperatures rise well above freezing Thursday afternoon ahead of a colder weekend ahead
Eyes on a possible Colorado low early next week, as temperatures remain on the cold side of seasonal
---
THURSDAY: EYES ON A CLIPPER SYSTEM WITH MORE WIDESPREAD SNOW
Southern Ontario saw a dash of lake-effect snow earlier in the week, and some of its coldest temperatures this season so far, with daytime highs on Wednesday in no danger of crossing the freezing mark.
Thursday does look a little warmer, with some highs a little above zero, but the effects of a clipper system that moved in overnight will still be ongoing in eastern and northern parts of the region.
In all, around 5-10 cm is expected for central Ontario, accompanied by gusty winds up to 50 km/h. Areas south of cottage country will see around 5 cm of snow or less, with the higher totals staying primarily north of Highway 401/407 – the Greater Toronto Area and much of the southwest look to pick up only a few trace amounts.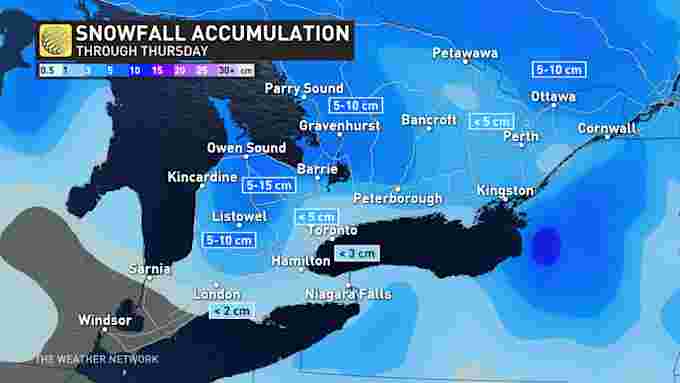 For areas further north, lake-enhanced snow will be gradually ending through the morning hours, with some areas east of Lake Superior notching 15-20 cm expected through Thursday morning.
LOOK AHEAD: MORE PERSISTENT COLD PATTERN LOCKS IN ON WEEKEND
With the passage of this clipper, a more persistent cold pattern will begin on the weekend and continue into next week. The city of Toronto could actually reach -10°C for the first time so far this winter.
"If this happens, it will be at least 20 days after the previous latest first -10°C day (Jan. 3, 2016)," says meteorologist Dr. Doug Gillham. "Only twice on record have we gotten into January without having dipped to -10°C and yet this year we are going to get over three weeks into January without reaching -10°C."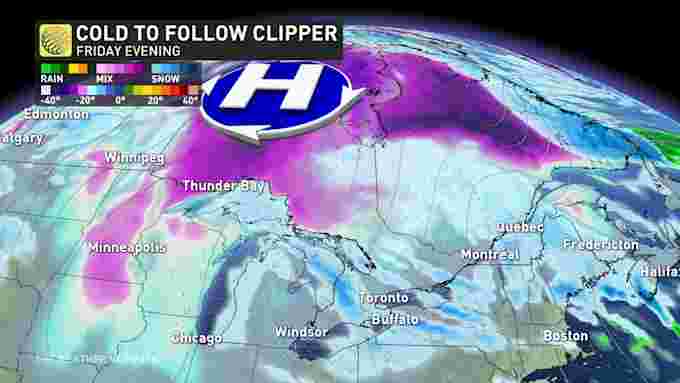 Beyond the weekend, forecasters are watching the potential for a Colorado low to approach or track south of the Great Lakes region early next week. It is too early to have confidence in the exact storm track, timing and impacts, but will be something to monitor as the weekend progresses.
"Of course, storms this far out can turn into total misses and there are models that have the storm track too far south to impact the region," Gillham says. "But, after a very quiet month, this is a potential system to watch."
Near to slightly below seasonal temperatures are expected to dominate next week.
Be sure to check back for updates on the gradual transition to more typical winter weather across Ontario.