Friday, May 27th 2022, 8:26 pm - Get ready for an interesting weekend across the Atlantic provinces as a dynamic low-pressure system sweeps through the area.
We're on track to see a bumpy weekend across the Atlantic provinces as a sprawling system arrives in the region. Saturday will see a risk for thunderstorms cover much of the Maritimes. Heavy rain is on tap for Newfoundland, while folks up in Labrador are preparing to end the month with a hefty dose of snow. More on what to expect for your weekend ahead, below.
---
DON'T MISS: Mosquitos swarming? 6 things to keep them from bugging you
---
THIS WEEKEND: THUNDERSTORM THREAT PUSHES INTO ATLANTIC CANADA, HEAVY SNOW TO THE NORTH
A low-pressure system pushing into the East Coast will bring a slug of dynamic weather to the region. Heavy rain will continue over the northern Maritimes overnight Friday into Saturday morning.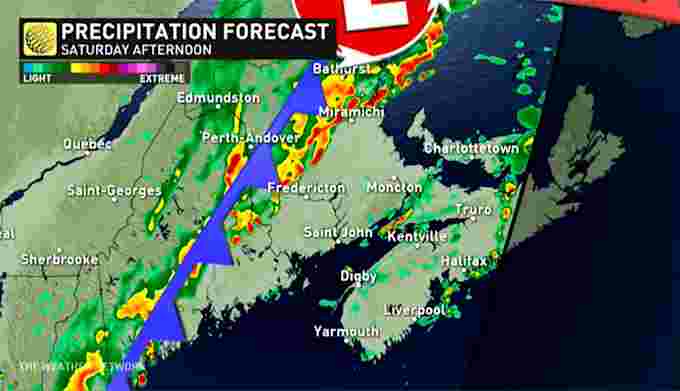 We'll see a risk for scattered thunderstorms spread over most of the Maritimes throughout the day on Saturday. The greatest opportunity for storms will pop up over New Brunswick and Nova Scotia.
Heavy rain will be the biggest threat with the storms that bubble up. Cool air aloft could lead to some small hail at times.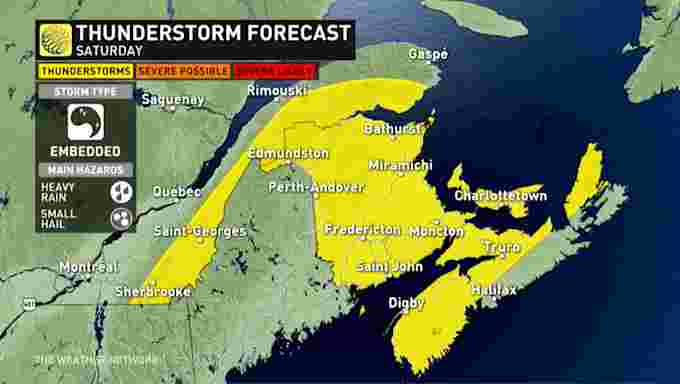 The rain will then move into Newfoundland as the low continues to push eastward, with a steady rain making for a mostly soggy day of the island on Saturday.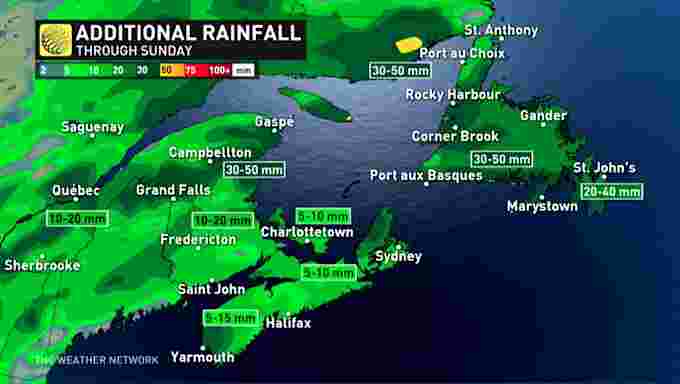 "This will be one of the largest rainfalls over the past month for the province," says Matt Grinter, a meteorologist at The Weather Network, adding that we'd have to go back to the end of April for the last 30-50 mm rainfall event for the region.
Farther north, in Labrador, a push of modified Arctic air will bring a late-spring snowstorm to some areas. Between this storm and another opportunity for snow early next week, we're on track to see 20-30 cm of snow at higher elevations across the Labrador coast, with minimal totals at lower elevations.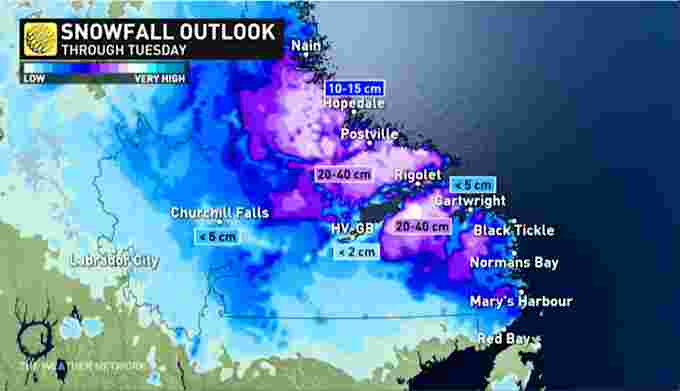 Folks across the Maritimes can expect a warm start to next week, but conditions will turn much cooler and unsettled as we head into the month of June. Daytime highs in Newfoundland will only reach the single digits.
Be sure to check back for the latest weather updates across Atlantic Canada.