Wednesday, September 8th 2021, 11:22 am - River has taken on the icy blue tones of its glacial headwaters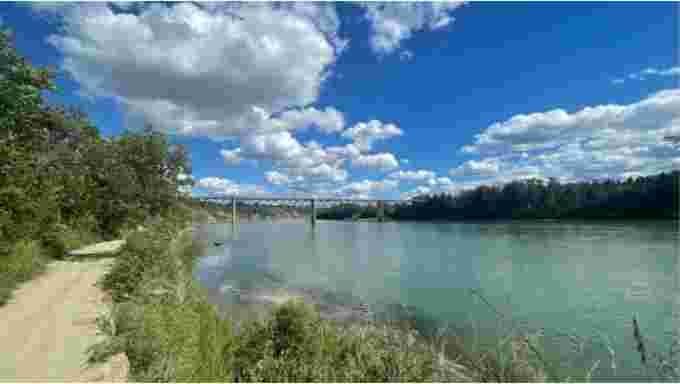 The North Saskatchewan has been a river of a different colour in Edmonton this summer. (Wallis Snowdon/CBC News)
The North Saskatchewan River looks less like chocolate milk than usual.
The clear, aquamarine waters have revealed hidden sandbars, darting fish, submerged shopping carts — and a flood of questions from Edmontonians seeking clarity on the colour change.
The river, which starts at the Saskatchewan Glacier in the Columbia Icefields in Alberta and flows through to central Saskatchewan, is usually a murky brown by the time it reaches Edmonton in summer.
In recent weeks, however, the water has taken on the hues of Alberta's glacial lakes, thanks to dry, hot weather combined with maintenance at a major dam.
"It's unusual," said Mark Loewen, a University of Alberta professor of water resources engineering. "Of all the years I've lived in Edmonton and been paying attention to the river, which is quite a few now, this is the clearest [it's been]."
WATCH BELOW: DOZENS OF NEW VIRUSES FOUND IN ANCIENT GLACIAL ICE